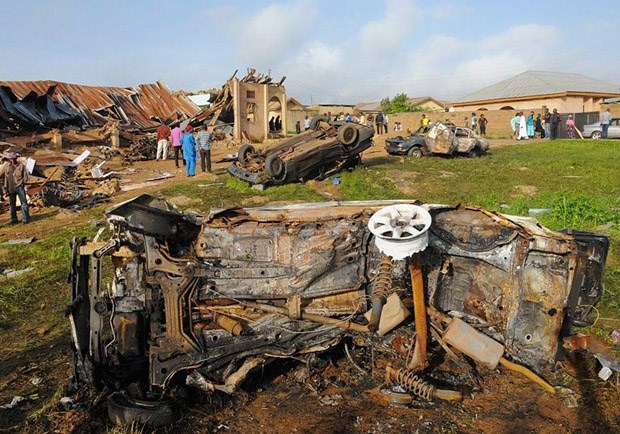 Image: EPA/STR
State governments are mulling restrictions on religious practice in order to stem the spread of sectarian violence in Nigeria—a concern underscored Monday when gunmen opened fire at an evening Bible study in the country's largely Christian south, killing at least 19 worshipers.
Church shootings and bombings have become all-too-commonplace in the troubled West African nation, especially in its largely Muslim north. But the attack at Deeper Life Church in Kogi state—150 miles southwest of the nation's centralized capital, Abuja—represents an unusual southern incursion by militants. One assailant turned off the lights in the windowless sanctuary while others used assault rifles to mow down the crowd.
The shooting follows, among other incidents, the July killing of 50 church members seeking refuge in a pastor's home in Plateau state, and the subsequent killing of Christian senator Gyang Dantong—known as Nigeria's "bridge between religions, cultures and tribes"—and others during a funeral for the victims.
June saw nearly weekly attacks on churches, continuing an unusually violent year.
Last week, police foiled the bombing of the children's section of a megachurch in Abuja, the nation's capital, as well as foiled the suicide bombing of a mosque in the capital of northern Kano state.
Reprisal attacks have increased in severity as Nigerian Christians have debated whether to turn the other cheek or seek "an eye for an eye." A prominent member of the Pentecostal Fellowship of Nigeria, Calabar pastor Emmah Isong, attributed recent reprisal attacks in Kaduna state to pent-up frustration.
"[They] were in response to the frequent attacks on Christians in their places of worship," he told Nigerian newspaper This Day. "They were fed up with such attacks and had to do something." A Kaduna pastor was arrested in connection with reprisal killings, though his involvement is highly disputed.
Nigerian states are proposing their own solutions. In July, the Kaduna state government initiated an inter-religious school exchange program to promote tolerance and trust between Christian and Muslim students, and may soon expand it to include teachers and parents. In Niger state, local leaders of the Christian Association of Nigeria (CAN) have partnered with Muslim leaders to plan a joint speaking tour to schools, churches, and mosques in order to promote peace.
More controversial are proposed restrictions on religious practice.
In July, the Bauchi state government announced plans to regulate preaching by Muslim and Christian clerics in order to "promot[e] peace and mutual co-existence." Last week, the governor of Osun state proposed stricter guidelines on Muslim preaching in order to reduce extremism. Senate president David Mark has also raised the prospect of requiring preachers to be licensed by the government.
"Where is religious preaching regulated anywhere in the world? When you begin to do that, it can be hijacked by those who started the violence in the first place." ~Ladi Thompson
Plateau state government wants to regulate the construction and location of churches in order to reduce their vulnerability to attacks. "We want worshippers to be properly safeguarded," said state commissioner Abraham Yiljap.
In June, the Ebonyi state government announced a temporary ban on religious programs on public television, prompting the local CAN leader to say the decision "will bring about total spiritual darkness for the state and her people."
Some leaders, including Philip Mwelbish, head of CAN for Plateau state and the flashpoint city of Jos, have even suggested the nation should be split in two along its north-south religious fault line.
"People thought Gaddafi was mad [when he suggested the same in 2010], but I've started to see the sense in what he said," Mwelbish told Reuters last year. "If we can't exist together with our Muslim brothers, then they can build their houses over there, and we build ours here."
Such restrictions could be positive or negative depending on how well they are targeted, said Gideon Para-Mallam, regional secretary of the International Fellowship of Evangelical Students. "Such restrictions must be responsibly targeted at those religious sects that promote violence and harm to human well-being and harmony," he said.
However, he noted that previous restrictions on religion—particularly in northern states under Shari'ah law—have affected Christianity more than Islam. "There are a number of places, especially in the universities and colleges, where Christian students are not able to meet for Bible studies and prayer meetings," he said.
Ladi Thompson, CAN's special adviser on conflict resolution and counter-terrorism, believes restrictions on religion are the wrong response. "Where is religious preaching regulated anywhere in the world? When you begin to do that, it can be hijacked by those who started the violence in the first place," he said. "[Restrictions] will further promote psychological fear, which is the aim of the violence promoters."
More support exists for interfaith efforts. "Anything that breeds understanding and mutual respect among Muslims and Christians is welcome," said Magnus Atilade, president of the Gospel Baptist Conference of Nigeria. "The more we relate and understand one another, the lesser the tension."
However, Atilade believes militants deserve the full wrath of the law. "To me, it appears the government is window-dressing the issue," he said. "Since they are terrorists, making our nation ungovernable, I believe they should be dealt with. To do anything less amounts to supporting them tacitly."
Islamist militant group Boko Haram has claimed responsibility for many attacks, warning that if Christians don't convert to Islam, they "will not know peace again."
Boko Haram has not claimed credit for Monday's attack. However, the group did take credit for a recent jailbreak of 119 prisoners in the same state. And last month, police foiled the suicide bombing of another church in the same city, Okene.
Boko Haram, which means "Western education is forbidden" in the Hausa language, is an extremist sect which seeks to impose a stricter form of shari'ah throughout Nigeria. It has shifted from targeting governmental buildings to targeting churches in recent years, and has killed more than 660 people—likely more Muslims than Christians—in the past year, according to the Associated Press.
CAN president Ayo Oritsejafor told U.S. lawmakers last month that Boko Haram seeks the "removal of the Christian presence in Nigeria" and urged its designation as a foreign terrorist organization.
"By refusing to designate Boko Haram as a foreign terrorist organization, the United States is sending a very clear message not just to the federal government of Nigeria, but to the world that the murder of innocent Christians and Muslims who reject Islamism—and I make a clear distinction here between Islamism and Islam—are accepted losses," said Oritsejafor during a hearing at the House Committee on Foreign Affairs.
The State Department has labeled a few Boko Haram leaders as terrorists but has resisted calls to label Boko Haram itself as a terrorist group because of its focus on domestic targets.
Secretary of State Hillary Clinton, who will arrive in Nigeria tomorrow to meet with Nigerian President Goodluck Jonathan during her diplomatic tour of African nations, recently noted that "the world is sliding backwards" in regards to religious freedom. The State Department's recently released 2011 International Religious Freedom report states that Nigeria's government "did not act swiftly or effectively to quell communal violence or to investigate and prosecute those responsible for such violence."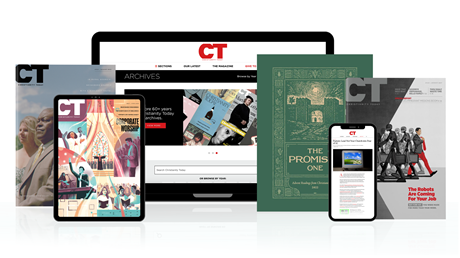 Subscribe to Christianity Today and get access to this article plus 65+ years of archives.
Home delivery of CT magazine
Complete access to articles on ChristianityToday.com
Over 120 years of magazine archives plus full access to all of CT's online archives
Subscribe Now
Nigerian States Propose Religion Limits as Gunmen Kill 19 at Bible Study
Nigerian States Propose Religion Limits as Gunmen ...