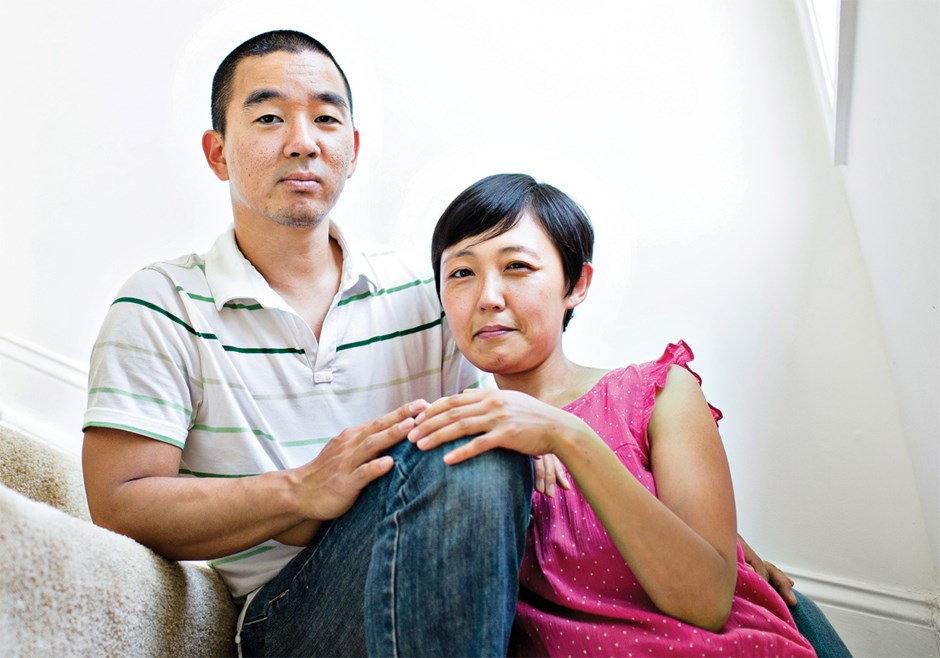 Image: Photo by Scott Suchman
It was supposed to be a doctor's visit like any other. My wife would come home and say, as she had done many times before, that everything was okay, and that she should get lots of exercise and eat fruits and vegetables—what doctors always say. We would breathe a sigh of relief, hug each other, and promptly forget that the moment had ever taken place.
But the news that winter afternoon was very different:
Peter, it's cancer. It's cancer.
Carol had been diagnosed with breast cancer, which had already spread to her lymph nodes. A biopsy revealed that her cancer was a particularly aggressive kind called triple negative, and it would resist the best available treatments. In the grim words of a doctor we consulted, this type of cancer was a potent "killer of young women," young women like my wife of eight years, the mother of my two daughters.
Still reeling, we were soon dealt another crushing blow: Our health insurance company had determined that my wife's cancer was a preexisting condition and terminated her coverage. We would be forced to pay for treatments on our own. The shock of her diagnosis had been difficult enough, but this enormous legal complication devastated our already fragile spirits.
I remember feeling a multitude of things during that time: shock, intense fear, confusion. But the emotion I remember most clearly was that of betrayal. I felt betrayed by God.
A Subconscious Theology
You see, I was a good person, or at least had tried my hardest to be one. I had devoted my entire life to following and serving God, giving up a promising career in medicine to become a pastor. I wanted to do great things for his sake, and so planted a church in Washington, D.C. My family had moved into the heart of the city, intent on being an incarnational witness of Christ. As a result, God was supposed to protect us against the worst that the world could offer.
But he hadn't. Instead, three months into that church plant, he had allowed my wife to get aggressive breast cancer. Then, only a few years after its founding, the church plant was forced to close its doors. Our home has been broken into twice, our car, more times than I can count. These kinds of events, I thought, aren't supposed to happen to people who follow God faithfully. We are supposed to enjoy protection, blessing, and providence, not cancer, failure, and crime. I never expected our lives to be perfect, but this was too much to bear. I felt betrayed by God because he had broken his promises.
This might all seem strange for a pastor to say. After all, Jesus obeys his Father's will and yet is persecuted and suffers terribly. The disciples follow in the footsteps of their Lord and experience the same. According to 1 Peter 4:12, "Do not be surprised at the fiery ordeal that has come on you to test you, as though something strange were happening to you."
As a pastor, I understood—and taught—these very truths. But despite all my good theology and good intentions, here I was, struck by a deep sense of God's betrayal. I tried to remind myself time and time again of the witness of the life of Christ and the early church, and how God could use suffering to refine and strengthen our faith. I even preached on those themes more than a few times during that hellish year. I knew the right answers like the back of my hand, but they were of no use to me, because feelings of deepening anger and mistrust toward God inevitably crept back into my heart.
I realized then that I didn't really believe what I thought I believed, what I said I believed. My conscious theology had been overridden by a subconscious theology: the gospel of health and wealth, or the idea that following God ensures blessings in this life. Had anyone accused me of subscribing to such ideas, I would have denied it vehemently. But it became abundantly clear that I had subconsciously absorbed them, in at least some subtle form, from countless sources.
I absorbed this mentality from the pervasive culture of the American dream, which teaches that everyone gets what they deserve. I inherited it from my parents, who believed that success could prevent their children from suffering in the same ways they had. It seeped into my mind through countless books, television shows, and movies, in which the good guy always gets the girl and the bad guy, his just deserts.
But I never realized how deeply I subscribed to these ideas until Carol's diagnosis. Suffering shakes you with such force that it separates your true thoughts and beliefs from anything to which you simply pay lip service. This process is painful, no doubt. But without it, it is impossible to know where our beliefs fall short of what Scripture truly teaches.
I was forced to acknowledge that God had never promised me that my life would be pain free, or that I would never endure the common hardships of being human in a broken world. I realized it would not be fair to hold God accountable to promises he never actually made.
Not the Promise We Think
But that is not to say that God makes no promises to those who love and follow him. Consider Isaiah 43:1-2:
Do not fear, for I have redeemed you;

I have summoned you by name; you are mine.

When you pass through the waters,

I will be with you;

and when you pass through the rivers,

they will not sweep over you.

When you walk through the fire,

you will not be burned;

the flames will not set you ablaze.
This passage contains a promise, but not the one we think. It is not a promise that we will never suffer. In fact, the passage implies that we will pass through waters, rivers, and fire—elements that could easily destroy us. The promise is that when we do, God will be with us. Those waters will not overwhelm us. Nor will the fire completely consume and set us ablaze.
Psalm 23, that famous passage of comfort and encouragement, testifies to the same certainties. Verse 4 says, "Even though I walk through the darkest valley, I will fear no evil, for you are with me; your rod and your staff, they comfort me." Again we see that God does not promise to shield us from the valley of the worst, the valley of mourning and persecution and cancer. He promises only that when we encounter these valleys, he will be right next to us. His rod and staff, the hallmarks of his presence, will comfort and encourage us.
I can say that to this promise, God was entirely faithful. Family and friends from around the world rallied around us in prayer and support. Meals were provided on a daily basis, allowing us a precious few hours for rest and recuperation. We worried constantly about the effect that my wife's diagnosis would have on our daughters, but they were a constant source of joy and laughter, both precious treasures in that period. We found beauty, peace, and grace daily: in the weather, in finding a good parking spot outside the hospital, and in one another. We had unique and powerful reminders of God's enduring love and presence. Truly, the promises of Isaiah and Psalm 23 proved true for us.
Wild, But Good
God promises to stand by our side in the midst of our suffering, like a faithful friend or counselor. But these are not the only promises that he makes. No, God is a God of salvation, of healing, of redemption—but on his terms, not on our own.
Often we feel betrayed by God because he fails to do the things that we ask of him, in the way that we want, and in the timeframe that we requested. And this kind of response would be justified if we served a God who was like a customer service agent, dedicated only to pleasing and placating us. But of course that is not who God is at all—he is the Alpha and Omega. He does not do our bidding, and does not cater to our whims. He is wild.
But in the words of Mr. Beaver from The Lion, the Witch and the Wardrobe, he is wild, but he is good. God may not do things the way we requested, but that is not to say that he does not work on our behalf. As we read in Romans 8, he is working all things for the good of those who love him, but he does so in his own mysterious ways. God does whatever he wants, but whatever he does is good.
Minutes before my wife's mastectomy, the surgeon called me into the prep area with unbelievable news: A routine blood test had revealed that Carol was pregnant with our third child. Experts from around the country advised us to terminate the pregnancy to give my wife the best chance for survival. We politely declined their advice, proceeding with her pregnancy and chemotherapy at the same time. In the fall of that year, my wife gave birth to a son—perfectly healthy, protected by God from the toxic and caustic chemotherapy drugs that had swirled around him in utero for months.
What's more, the latest research revealed that women who have breast cancer have a better chance at survival when pregnant, meaning that in some way, my son served as a divine kind of medicine for his mother. This amazing finding, released months after my son's birth, was known only to God at the time we discovered the pregnancy. After all of this, our doctor told us not to expect any more children, on account of the chemotherapy. But no one told God this news, because he saw fit to bless us with one more child, a beautiful little girl we named Lucy.
I had asked God for a healthy church, and he gave us two healthy children instead. I had asked for success, and he gave us salvation. I had prayed that I might witness good things in my life, and he showed me miraculous ones instead. To be honest, he did not answer a single prayer request in the way that I had asked, but instead gave me things so much deeper and richer. It was as if I had asked him for a rhinestone, and he gave me a precious diamond instead. And only a fool laments the absence of the rhinestone when a diamond lies in his hand.
Peter Chin is interim pastor of Peace Fellowship Church in Washington, D.C. He blogs at PeterWChin.com. Follow him on Twitter at @peterwchin.
Have something to add about this? See something we missed? Share your feedback here.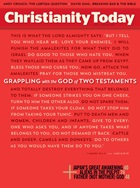 This article is from the Jul/Aug 2013 issue.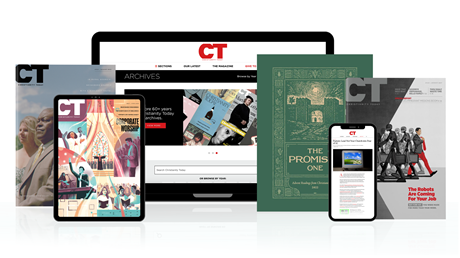 Subscribe to Christianity Today and get access to this article plus 65+ years of archives.
Home delivery of CT magazine
Complete access to articles on ChristianityToday.com
Over 120 years of magazine archives plus full access to all of CT's online archives
Subscribe Now
Blindsided by God … But Never Betrayed
Blindsided by God … But Never Betrayed