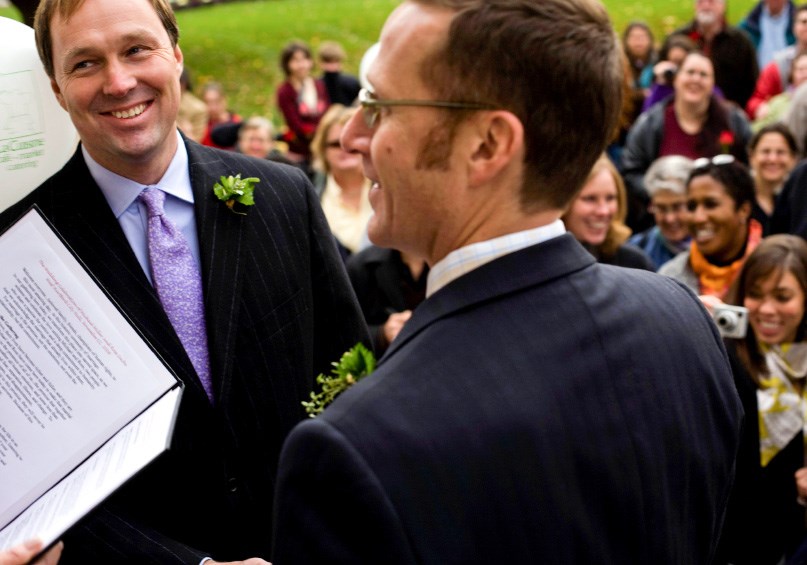 Image: Christopher Capozziello / Getty / iStock
The Supreme Court has now ruled on two monumental marriage cases, and the legal and cultural landscape has changed in this country. The court voted to strike down the Defense of Marriage Act and remand the decision of the Ninth Circuit in the Proposition 8 case, holding that California's Proposition 8 defenders didn't have standing. The Defense of Marriage Act decision used rather sweeping language about equal protection and human dignity as they apply to the recognition of same-sex unions. But what has changed for us, for our churches, and our witness to the gospel?
In one sense, nothing. Jesus of Nazareth is still alive. He is calling the cosmos toward his kingdom, and he will ultimately be Lord indeed. Regardless of what happens with marriage, the gospel doesn't need "family values" to flourish. In fact, it often thrives when it is in sharp contrast to the cultures around it. That's why the gospel rocketed out of the first-century from places such as Ephesus and Philippi and Corinth and Rome, which were hardly Mayberry.
In another sense, though, the marginalization of conjugal marriage in American culture has profound implications for our gospel witness. First of all, marriage isn't incidental to gospel preaching.
There's a reason why persons don't split apart like amoebas. We were all conceived in the union between a man and a woman. Beyond the natural reality, the gospel tells us there's a cosmic mystery (Eph. 5:32).
God designed the one-flesh union of marriage as an embedded icon of the union between Christ and his church. Marriage and sexuality, among the most powerful pulls in human existence, are designed to train humanity to recognize, in the fullness of time, what it means for Jesus to be one with his church, as a head with a body.
Same-sex marriage is on the march, even apart from these decisions, and is headed to your community, regardless of whether you are sitting where I am right now, on Capitol Hill, or in a rural hamlet in southwest Georgia or eastern Idaho. This is an opportunity for gospel witness.
For a long time in American culture, we've acted as though we could assume marriage. Even people from what were once called "broken homes" could watch stable marriages on television or movies. Boys and girls mostly assumed they had a wedding in their futures. As marriage is redefined, these assumptions will change. Let's not wring our hands about that.
This gives Christian churches the opportunity to do what Jesus called us to do with our marriages in the first place: to serve as a light in a dark place. Permanent, stable marriages with families with both a mother and a father may well make us seem freakish in 21st-century culture. But is there anything more "freakish" than a crucified cosmic ruler? Is there anything more "freakish" than a gospel that can forgive rebels like us and make us sons and daughters? Let's embrace the freakishness, and crucify our illusions of a moral majority.
That means that we must repent of our pathetic marriage cultures within the church. For too long, we've refused to discipline a divorce culture that has ravaged our cultures. For too long, we've quieted our voices on the biblical witness of the distinctive missions of fathers and mothers in favor of generic messages on "parenting."
For too long, we've acted as though the officers of Christ's church were Justices of the Peace, marrying people who have no accountability to the church, and in many cases were forbidden by Scripture to marry. Just because we don't have two brides or two grooms in front of us, that doesn't mean we've been holding to biblical marriage.
The dangerous winds of religious liberty suppression means that our nominal Bible Belt marrying parson ways are over. Good riddance. This means we have the opportunity, by God's grace, to take marriage as seriously as the gospel does, in a way that prompts the culture around us to ask why.
The increased attention to the question of marriage also gives us the opportunity to love our gay and lesbian neighbors as Jesus does. Some will capitulate on a Christian sexual ethic. There are always those professional "dissidents" who make a living espousing mainline Protestant shibboleths to an evangelical market. But the church will stand, and that means the gospel Jesus has handed down through the millennia. As we stand with conviction, we don't look at our gay and lesbian neighbors as our enemies. They are not.
The gay and lesbian people in your community aren't part of some global "Gay Agenda" conspiracy. They aren't super-villains in some cartoon. They are, like all of us, seeking a way that seems right to them. If we believe marriage is as resilient as Jesus says it is (Mk. 10:6-9), it cannot be eradicated by a vote of justices or a vote of a state legislature. Some will be disappointed by what they thought would answer their quest for meaning. Will our churches be ready to answer?
This also means we must change the way we preach. Those with same-sex attractions, who follow Christ, will be walking away from what their families and friends want for them: wedding cake and married life and the American Dream. Following Jesus will mean taking up a cross and following a hard narrow way. It always does.
If we're going to preach that sort of gospel, we must make it clear that this cross-bearing self-denial isn't just for homosexually-tempted Christians. It is for all of us, because that's what the gospel is. If your church has been preaching the American Dream, with eternal life at the end and Jesus as the means you use to get all that, you don't have a gospel that can reach your gay and lesbian neighbors—or anyone else for that matter.
Same-sex marriage is headed for your community. This is no time for fear or outrage or politicizing. It's a time for forgiven sinners, like us, to do what the people of Christ have always done. It's time for us to point beyond our family values and our culture wars to the cross of Christ as we say: "Behold, the Lamb of God who takes away the sins of the world."
And that's good news.
Russell Moore is president of the Southern Baptist Convention's Ethics & Religious Liberty Commission. This article orignally appeared at his blog, Moore to the Point.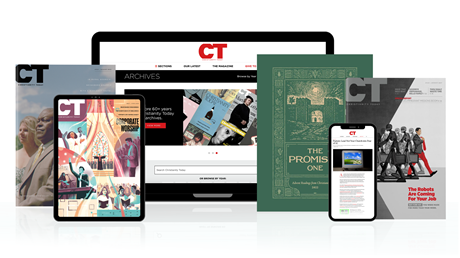 Annual & Monthly subscriptions available.
Print & Digital Issues of CT magazine
Complete access to every article on ChristianityToday.com
Unlimited access to 65+ years of CT's online archives
Member-only special issues
Subscribe
What Did the Supreme Court Really Change Today?
What Did the Supreme Court Really Change Today?