The Magazine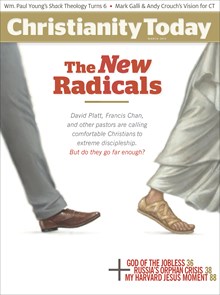 This feature is for subscribers only:
Subscribers get full print and digital access, including:
10 award-winning print issues
Standard and Reader Friendly PDFs of each issue
Full web access to ChristianityToday.com
20+ years of magazine archives
Table of Contents
In Every Issue
Giving It Everything
What we like about the new radicals. Really.
The Atheist's Dilemma
I tried to face down an overwhelming body of evidence, as well as the living God.
Loading