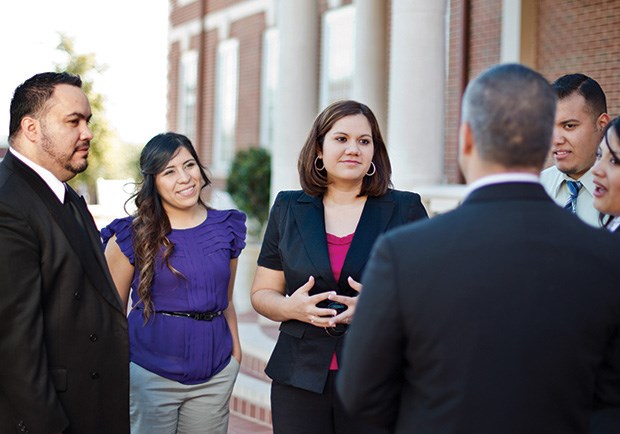 Image: Photo by Shane Kislack
For many in the United States, going to college is an unreachable dream. But for Andrea Reyes Ramirez, it's her offering to God.
Balancing life as a wife, mom, inner-city mentor, and full-time doctoral student at Regent University in Virginia isn't easy. But she "felt called to be a face, an example to other Latinas.
Hispanics are the largest minority group on college campuses, and they composed 74 percent of the growth in all college enrollments in 2012.
"I wanted [other young Hispanics] to see someone who looked like them, who made wise choices, and who pursued higher education," says Ramirez. She sees her degree as more than an example to others. "When you love the Lord with your mind, you are embracing the opportunity he's given you. If God has given you the opportunity to pursue higher education, then you can see that as worship as well."
The greatgranddaughter of Mexican crop pickers, Ramirez is inspired in part by her remarkable family. Her grandparents only had a high school education. Her mom grew up speaking only Spanish before enrolling in an English-language school. Ramirez is motivated to succeed because her family worked hard to provide her with opportunities. Her desire to achieve a doctorate started early, inspired by her father, aunt, and uncle—who all have doctoral degrees.
"It was the idea of 'knowing where you come from' and being able to stand on the shoulders of those who have come before you to make their sacrifices worth it," says Ramirez.
Improving Graduation Rates
Ramirez symbolizes the challenges confronting Hispanics who pursue a college degree to enter the American middle class.
There are now 50 million Hispanic Americans. Hispanics are the largest minority group on college campuses, and they composed 74 percent of the growth in all college enrollments in 2012.
Yet Hispanic students graduate from high school and college at much lower rates than Anglos. For every 100 high school students nationwide, 77 Anglo students receive diplomas, but only 55 Hispanics do so. While 27 percent of Anglos graduate from college with a bachelor's degree, only 13 percent of Hispanic students do.
Latino school and church leaders are eager to increase the rate of Latino high school and college graduation. The National Hispanic Christian Leadership Conference (NHCLC), America's largest Hispanic Christian organization with 40,000 member churches, is making this educational challenge a top priority.
NHCLC leaders created the Alliance for Hispanic Christian Higher Education to focus their efforts on increasing Hispanic graduation rates. The alliance will partner with Hispanic evangelical churches and Christian colleges and universities, asking churches to designate the first Sunday of September as the annual National Hispanic Education Sunday. On that day, students will dedicate their academic work to the Lord, and church leaders will clarify to students that their congregation stands behind them.
Some pastors are innovating to raise the profile of academic achievement. In Los Fresnos, Texas, pastor Robert Cepeda has students place their report cards in the offering plate. This signals that the firstfruits of academic labor are given to God. Church members pray daily for students, and students ask church members for help with homework assignments.
Other pastors ask students to achieve 100 percent attendance in school as well as make the honor roll. Antonio Gonzales Sr., pastor of Hyde Park Baptist in Austin, Texas, recently held a youth rally to encourage students to improve their grades.
In their recent white paper, Jesse Miranda, the "godfather" of Latino Christians, and NHCLC education director Gus Reyes said Hispanic parents and churches should make college graduation a rite of passage. They want church members to tour college campuses and donate for scholarships. Miranda and Reyes believe that churches should network nationally to support students who are far from home while at college.
Another new program, the NHCLC's National Hispanic Christian Adopt-a-School Campaign, seeks to cut high school dropout rates, since failing to complete high school is a major reason students do not enroll in college. In this program, a high school and a neighborhood Hispanic church partner to reduce the number of dropouts. Pastors meet with principals and commit to mentoring, English instruction, after-school tutoring, and training in computer technology.
Ambitious Goals
Several Christian universities and seminaries, all members of the new educational alliance, are actively networking with Hispanic pastors and churches to reach promising students for advanced degrees.
Alliance members include universities such as Oral Roberts, Regent, Liberty, Indiana Wesleyan, Cedarville, and William Jessup as well as Denver and Gordon-Conwell seminaries. They follow in the footsteps of Fuller Theological Seminary and Azusa Pacific University's School of Theology, which have had Hispanic programs for decades.
Carlos Campo, the Cuban American president of Regent University and the first Latino presi-dent of a U.S. Christian university, chairs the alliance. Campo's career success defies the odds—neither of his parents completed high school. "If you go by the statistics, he shouldn't be a Ph.D., much less the president of a Christian university," says Marcela Chavan-Matviuk, the director of Regent's Center for Latino Leadership.
Campo says alliance leaders posted "a crazy number" as their first enrollment goal: a minimum of 25 percent Hispanic full-time undergraduates by 2015. (Many Christian institutions lag behind their secular counterparts on recruitment of Hispanics.)
The federal government will classify a school as a Hispanic-serving institution (HSI) when it reaches that 25 percent goal. HSI schools may receive Department of Education grants, which would pay for faculty development, facilities improvement, and student support. Such schools represent 10 percent of higher education nationally. But they educate more than two-thirds of all Hispanic college students. (One Christian example: San Antonio's Baptist University of the Americas, which began as a Hispanic Bible institute but is now an accredited university.)
Vanguard University in Costa Mesa, California, has already met the 25 percent goal. With an overall undergraduate population of 25 percent Latinos, its freshman class is 32 percent Latino. This year, Vanguard will qualify for HSI status (becoming the second CCCU school after Fresno Pacific University to do so). The university is 37 miles from Los Angeles and located within one of the largest metro Hispanic populations in the nation.
Other Christian schools, such as Cedarville in southwest Ohio and Gordon-Conwell near Boston, are at the other end of the spectrum, lacking the demographic advantage of Southwest and West Coast colleges. Yet administrators have accepted the 25 percent challenge.
Roscoe Smith, associate vice president of admissions at Cedarville, says schools like Cedarville need to adapt, in part because Asian and Latino populations are the fastest-growing segments of the American population. Cedarville now has a director of multicultural enrollment and a multicultural recruitment specialist in admissions. The new hires, Smith says, have contributed to a 69 percent increase in minority student applications since last year.
The population around Cedarville is about 1 percent Hispanic. Cedarville alumna Catherine Hernandez is now the school's multicultural admissions specialist and hopes to bring significant change to the school. A Cuban American from Miami, Hernandez loved her undergrad experience and decided to e-mail the president of Cedarville. She urged him to bring in more Hispanic students.
"I wanted more Hispanics to be trained in how to articulate the gospel, so I realized we have to recruit more Hispanic students," says Hernandez.
College administrators say recruiting Hispanic faculty and staff is part of their strategy to grow Hispanic student enrollments. Gordon-Conwell's Alvin Padilla, dean of Hispanic ministries, says, "One of the easiest ways to recruit [students] is to have Hispanics on your faculty. Think about the importance of having role models. It is a subconscious appeal."
Current Hispanic undergraduates often draw inspiration from Hispanic faculty. Padilla believes the implicit message is, "If you can do it, I can do it too." Cedarville's Smith says Hispanic faculty and staff bring their culture onto the campus, creating a friendlier context for Hispanics.
Smith said Cedarville's diversity plan also seeks to expand ethnic diversity among the university's trustees.
Family and Finances
At Cedarville, the admissions staff hosted its first-ever multicultural preview weekend in November. Such events help recruit new Latino students, especially when the whole family shows up.
College visits are a family affair for Hispanics. "Latino students don't go to college; Latino families go to college," says Marco Davis, director of the White House Initiative on Educational Excellence for Hispanics.
"The whole family will come—abuelos, abuelas, tios, tias," notes Miranda. Research shows that in order to pay for college, Latino students will typically live at home and work part-time at higher rates than other students.
College admissions staff pay close attention to the needs of Hispanic families in paying for or financing a college education. More colleges and universities are trying new approaches. Regent is offering scholarships through NHCLC member churches. Active family members of affiliated churches are eligible to receive a 25 percent tuition scholarship for any of Regent's degree programs up to doctoral degrees.
The median household income for a Latino family is $40,900, which is $10,000 below the national average. Regent's Ramirez had to contend with several financial challenges during her academic studies. She was on her way to completing her doctoral degree when she became pregnant.
For five months, she juggled a full-time job, her doctoral studies, and her pregnancy. But the physical burden became too much after a scary visit to a local hospital's emergency room. She recalled asking herself, Do I stop the Ph.D. program, or do I resign from my position? I'm not going to stop being pregnant.
She and her husband decided she would resign from her job and continue studying. She gave up her salary and a one-third tuition reimbursement program through her company. This caused the couple much financial hardship.
They turned to prayer. A short time later, the NHCLC awarded Ramirez a partial scholarship due to its partnership with Regent.
"It was so amazing to see the Lord provide for us in such an exact amount," says Ramirez, who says that absent the scholarship, she might have abandoned her dream of completing the Ph.D.
The other alliance schools have committed to provide three full scholarships to qualifying Hispanic students. Such full-ride scholarships are an attempt to remove obstacles to education for Hispanic students. According to the 2012 How America Pays for College report, 27 percent of Hispanic families received college scholarships, which averaged $6,328 and came primarily from schools, not the government.
Loans can be crippling without significant aid and merit scholarships directly from schools. "Some families don't see past the sticker cost," says White House Initiative leader Davis.
Davis notes that many in the Hispanic community have their financing in the wrong order. They start first with private sector loans, credit cards, then government grants, and finally government loans. He suggests the opposite: Begin with grants (the "free money") and move on to low-interest government loans. Credit cards ought to be a last option. Even with these options, borrowing by Hispanic college students is below the national average of $19,900. Experts say many Hispanic families tend to shun borrowing for college.
Retention Boost
Keeping college students on campus can be just as difficult as recruiting them in the first place.
Gordon-Conwell's Padilla says that a college campus needs a "critical mass" of Hispanic students for the school to be more hospitable. This keeps student retention rates healthy. In order to boost retention, Padilla suggests that schools target geographic areas and recruit several students each year from those areas.
Cedarville's Smith says, "We think we're headed in the right direction, but we still have a long ways to go." The annual Hispanic Alliance Education Summit, in its fourth year, will take place at Cedarville. At the summit, the NHCLC will provide guidance to schools that wish to increase Latino enrollment and improve retention.
Catherine Hernandez attended last year's summit at Indiana Wesleyan University. "For me, it was incredibly inspiring being at that conference as a young Hispanic woman. When I heard Campo talk about the need for more Hispanic students to pursue their Ph.D., I was convicted." Only 4 percent of Latinos over 25 have a post-graduate degree. Hernandez says, "Because of hearing him speak, I'm applying to grad schools now."
Andrew Thompson is a senior communication major at Wheaton College in Wheaton, Illinois.
Have something to add about this? See something we missed? Share your feedback here.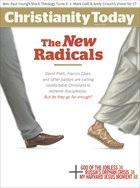 This article is from the March 2013 issue.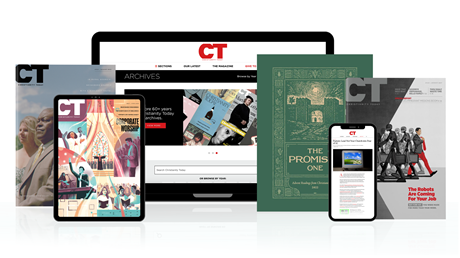 Subscribe to Christianity Today and get access to this article plus 65+ years of archives.
Home delivery of CT magazine
Complete access to articles on ChristianityToday.com
Over 120 years of magazine archives plus full access to all of CT's online archives
Subscribe Now
Why Latino Enrollments Are on the Rise
Why Latino Enrollments Are on the Rise