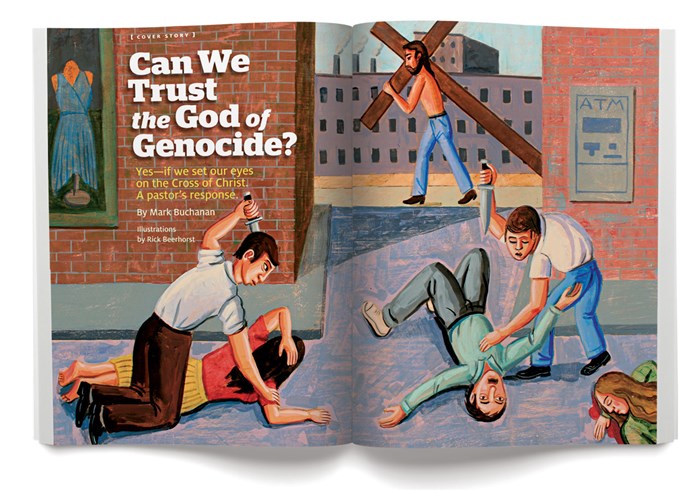 Reply All
Can We Trust the God of Genocide?
Genocide is carried out by those who have no morally justifiable reason for slaughtering people—they are protecting their own privilege and power, or feel threatened. Is this really the company in which we feel comfortable placing our heavenly Father?
When God specifically asked his people to eradicate other groups, he had multiple good reasons for it. Unfortunately, Mark Buchanan's article makes no effort to talk about this, nor the deadly nature of sin (even on a corporate level) and the utmost seriousness with which God takes it, nor his wise justice in punishing the overflowing evil of those who died.
Jim Houston
Calgary, Alberta, Canada
Clearly, Mark Buchanan has touched a nerve, as all these comments demonstrate. I've wrestled with this issue ever since hearing the story of Noah and the Flood. Drown everyone (including children and infants) who was not in Noah's family? Whew! The limits of those who "found grace in the eyes of the Lord" are breathtakingly severe. But Buchanan does a great job of pointing to God's goodness, which not only provides for salvation but refuses to allow evil to continue. Both justice and grace are part of God's goodness. And that still, at times, is breathtaking.
Marshall Shelley
CT online comment
Father

Knows Best

Simon Chan makes a good case for calling God Father. But he doesn't address complementing paternal terms with maternal ones, which is biblically appropriate. He writes, "The father-son relationship is the most intimate personal relationship." I would have thought rather that mother-child is the most intimate. Certainly equally so.

God, who transcends human gender, ...

1