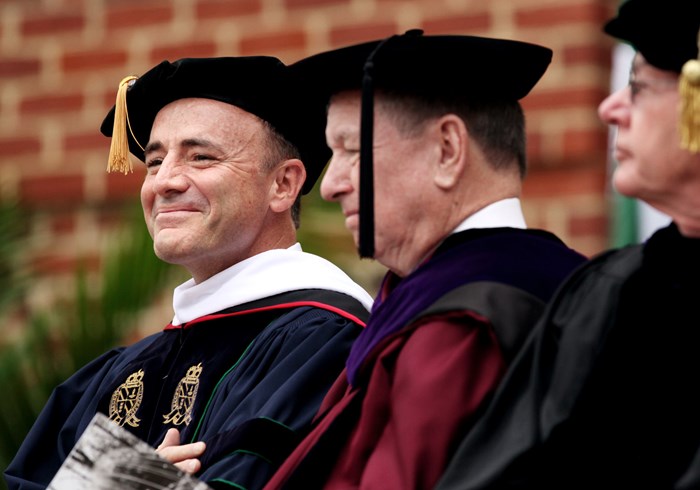 Image: Steve Earley / The Virginian-Pilot / AP
How much of a surprise was Carlos Campo's resignation as president of Regent University this month?
As Terry Lindvall, another former Regent president, put it, "One's eyebrows are raised whenever anyone leaves an administrative or faculty post two weeks into the academic year."
Then again, said Lindvall, who served from 1993 to 1997, no president of the school has lasted very long before being replaced by founder and broadcaster Pat Robertson. This week, Robertson announced that he would take over as the school's CEO, marking his fourth time operating the school directly. "Pat was chancellor. He was there, and basically it's his university," said Lindvall. "He founded it, and he still has a vision for it. So the rest of us were there as regents, as stewards for the time."
Campo agrees. "It has been an institution with a pretty volatile past in some ways. Folks come and go rather rapidly," he told CT in an exclusive interview, his first since resigning three weeks after school started.
In fact, this isn't the first time one of Regent's presidents suddenly resigned at the start of the school year. Retired Army Lt. Gen. Paul Cerjan had served less than three years when he announced in September 2000 that he was leaving, effective immediately. (He died in 2011.) Lindvall's departure, too, was announced in September (though he resigned in August and Cerjan took over in November).
"I knew it was likely to happen with me, but I guess it just wasn't in the front of my mind when it occurred," said Campo. "But it's not so unusual at a founder-led institution for there to be rapid change like this." He told CT he believes such ...
1