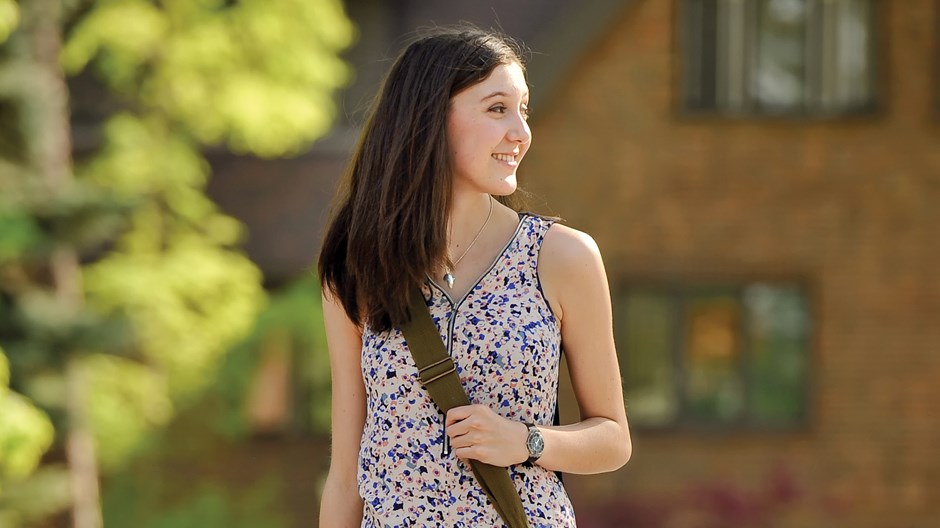 Image: Kirk Hirota
When Carys Parker told her friends she was going home to the Congo for Christmas, she realized she had left out a certain detail: She had never actually been to the Congo.
That's because for Parker, who just finished her first year of college at Whitworth University in Spokane, Washington, home is never a specific country, let alone city. Rather, home is a 500-foot-long hospital ship that sails along the west coast of Africa, treating those with little or no medical care. Most college freshmen experience a period of transition, but Parker's has been extreme, even when compared to typical third-culture students.
"I feel like I have one foot on the ship and one foot here," she says. "I never really belonged anywhere except the ship, and I don't have one country or one culture I can claim as my own."
For the first 12 years of her life, Parker lived on the now-retired Anastasis; her teenage years were spent on the Africa Mercy. For 27 years, Parker's father, Gary, has been an oral and maxillofacial surgeon for Mercy Ships, the maritime ministry that spun off from Youth With a Mission in 2003. Her mother, Susan, is an executive assistant on the ship, while Parker (whose first name means "mercy") attended the ship's school, along with her brother, Wesley.
Parker, 19, is the first person to have been raised entirely on a Mercy Ships vessel, and one of three to have completed high school on the ship. In 2013, she graduated from a class of three.
"It felt like when my family drove away I wasn't just saying goodbye to them—I was saying goodbye to a very specific and unique way of life," she says. "Once they were gone, no one on this campus would truly be able to relate to me."
A Year of Firsts
The Africa Mercy has a Starbucks on board, but it didn't prepare Parker for the transition from water to land she's experienced since coming to Whitworth, a Presbyterian-affiliated private college 300 miles from the ocean. And while Parker has spent many summers in the States, they did not leave her feeling thoroughly American.
Almost all residential college students find their freshman year a mix of freedom, novelty, and self-discovery. For Parker, that included joining a ballet class—a hobby she couldn't take up while on the ship. She plays Frisbee with her friends when they're not doing homework, making late-night trips to Denny's, or talking about theology.
This past school year saw Parker's first concert, first basketball game, and first use of a debit card. She credits her friends for helping her adjust to middle-class American life, whether that meant assistance in finding her way out of Walmart, teaching her how to tip waiters, or showing her YouTube videos of the New Year's Eve ball drop.
And then there was the time when she had to Google "go clubbing." She declined a friend's invitation once she realized it didn't involve literal clubs.
Living on the Africa Mercy did prepare her for a few things, however. While many of Whitworth's 2,300 students get campus fever, Parker feels free. To her, 200 acres of forest is worlds bigger than the "metal box" of her childhood. She is thankful for Whitworth's grass lawns.
But as excited as Parker was about life on land, she found herself desperately missing her family, the patients, and Africa.
"She grew up living her entire life only a couple hundred feet from her parents at all times," says Parker's roommate, Rebecca Benedict. "It took her a little longer to adjust to independence and not seeing them."
Keith Beebe, a Whitworth theology professor and Parker's academic adviser, said Parker's first few days of college were marked by considerations of whether she should leave Washington and return to the ship. Homesickness is common among freshmen, but "she was not like the typical American teenager, nor was she like the other international students."
Early on, Parker didn't freely talk to her classmates about her upbringing. Parker's peers love calling attention to her so-called "ship quirks": her two-minute showers and love for chocolate milk and mashed potatoes—two delicacies never offered in the ship's cafeteria. But it took her time (and some prodding from Beebe) to talk about the more difficult aspects of life at sea and at some of Africa's toughest ports.
"While she is learning some things about the typical teenager, her peers are also getting the perspective of someone who—from all appearances—is just like them, but who also has had a very different life experience, with different sets of concerns," said Beebe.
Shaped by Mercy
Once, when the Africa Mercy was moored off the coast of Liberia in 2008, a woman named Martha brought her daughter Blessing on board. Blessing had acquired minor injuries from falling into a ditch, but because she didn't have the proper medical resources, her injuries turned into noma (an aggressive gangrene of the face). Martha saved all the money she had to buy penicillin for her daughter, only to receive fake sugar pills. As a result, Blessing lost both of her lips, and her leg was crippled—enough to make her an outcast from African society.
'When I first came here, my homesickness was so intense that I felt like I had an inner deformity.'
~ Carys Parker
Blessing eventually received reconstructive lip and knee surgeries on the ship, resulting in her ability to walk and receive an education. But it was Martha's attitude that stuck with Parker: "It was her only child. To know she would never be the same and yet to remain hopeful, to hold on to the goodness of God and never to blame him—that inspired me."
Still, only 82 beds occupied the wards on the Africa Mercy. What happened to the desperate crowds the ship couldn't serve? Parker remembers walking the diseased back down the gangway. For the old man with the cancerous tumor, or the young girl suffocating from a growth in her throat, all Parker could do was pray they found care elsewhere.
But sometimes, she'd also pray Why them, God? or Why not me? She'd think about her comfortable cabin, her loving family, her access to legitimate penicillin, and her books. She couldn't complain about her homework, the cafeteria food, or the ship's cramped quarters for more than a few minutes before walking downstairs to see someone suffering from a tumor. It doesn't seem fair, she'd often think. She was overwhelmed with guilt.
"I grew up surrounded by suffering that I can't even describe," Parker says. "I was comfortable around it; I could minister to people who were in pain. And yet I had never really experienced pain personally. When I first came here, my homesickness was so intense that I felt like I had an inner deformity."
It wasn't until an afternoon walk with Judy Mandeville, wife of Whitworth's dean of students, that Parker had her first breakthrough at college. Mandeville pointed out how they were walking in the shadows of the people in front of them. She told Parker, "All your life, you have been walking in your parents' shadows, but now, it's time to make your own." Mandeville then grabbed Parker's shoulders and shifted her out of the shadows.
From a young age, Parker wanted to pursue medicine and become a doctor or nurse.
"Growing up on a hospital ship, I really saw the hands and feet of Jesus. To witness the blind see, the lame walk, and the outcast restored to community is to see the compassion of Jesus lived out. I am so grateful for the chance to grow up where that happened almost every day."
It wasn't until age 16 or 17 that Parker realized there were other avenues to serve God. For a girl growing up in a place where people who wanted to make a difference did it through healing people, medicine seemed the only option.
"There's another side to Jesus," she says. "He was a healer, but he was also a rabbi—he taught people how to live in ways that make for peace." Parker plans to return to Whitworth next fall. She's thrilled about her new leadership position: a diversity advocate in one of the campus dorms, where she will welcome international students and plan events throughout the year, celebrating different cultures and countries. Parker will continue pursuing her theology degree with plans to return to Israel—a country she's visited five times—to study biblical history and geography.
Meanwhile, "she loves to seek out lonely people and be their friend," says Benedict. "She hates to see people alone."
Parker hasn't ruled out returning to Mercy Ships after college. For her, the Africa Mercy was the perfect mix of safety and opportunity, and she wouldn't change anything about it.
"I definitely see myself returning for a season," says Parker. "But I don't think I'll stay for 27 years. My parents have that one covered."
Kate Tracy is Christianity Today's editorial resident.
Have something to add about this? See something we missed? Share your feedback here.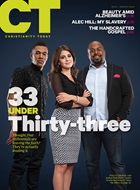 This article is from the Jul/Aug 2014 issue.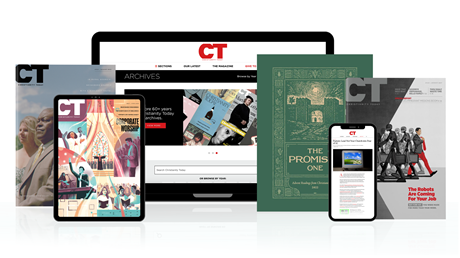 Subscribe to Christianity Today and get access to this article plus 65+ years of archives.
Home delivery of CT magazine
Complete access to articles on ChristianityToday.com
Over 120 years of magazine archives plus full access to all of CT's online archives
Subscribe Now
Carys Parker, Raised Entirely Aboard Mercy Ships, Drops Anchor
Carys Parker, Raised Entirely Aboard Mercy Ships, Drops Anchor