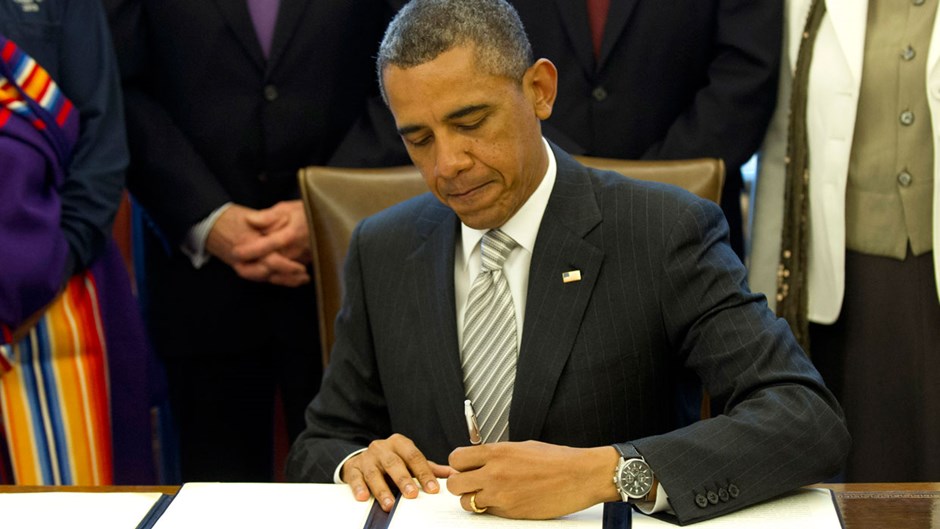 Image: Getty Images
An executive order President Obama signed Monday prohibiting sexual orientation discrimination in federal hiring may not immediately affect many religious organizations, but leaders are still raising their eyebrows.
The executive order amends a 1965 order prohibiting some forms of discrimination by federal contractors. The old text forbade contractors from discriminating "against any employee or applicant for employment because of race, color, religion, sex, or national origin." Obama's revision adds "sexual orientation" and "gender identity" between "sex" and "national origin."
Many religious organizations, such as World Vision, World Relief, and Catholic Charities partner with the federal government, but often receive grants, not contracts, so are not affected by the order, said Stanley Carlson-Thies, director of the Institutional Religious Freedom Alliance.
Religious organizations with federal grants are currently protected: A 2007 religious exemption memo from the federal attorney general's office says the Religious Freedom Restoration Act "is reasonably construed" to exempt World Vision (and other religious organizations that administer federal funds through social services programs) from religious nondiscrimination requirements on other federal grantees.
The executive order also lets stand a George W. Bush-era provision allowing religious contractors to hire employees "of a particular religion," said Thomas Berg, a professor of law and public policy at the University of St. Thomas (Minn.).
"Several federal courts have held that this language, incorporated from elsewhere in antidiscrimination law, allows religious organizations to have standards concerning employees' conduct if those moral standards stem from the organization's religious beliefs," Berg said.
These past orders add up to a patchwork of protection for religious organizations, said Douglas Laycock, a professor of law and religious studies at the University of Virginia.
"And very important, [the] executive order creates no right for anyone to sue anyone else. So gay rights groups cannot organize litigation against religious contactors," he said. "Only the contracting agencies can enforce this order, and they may quietly enforce it with attention to religious liberty—which is what this administration has mostly done so far."
However, that may not always be the case, said Jenny Yang, vice president of advocacy and policy for World Relief, a federal grantee.
"Our main concern is its implication on religious freedom down the line, where future executive orders could also include not just federal contractors but grantees as well," she said. "It's a slippery slope and we feel the need to speak up whenever we feel like religious freedom is threatened."
In addition, federal funds for overseas relief and development are increasingly allocated by contracts, and prison services are also funded through contracts, so any order regulating contracts is likely to affect more religious organizations in the future, Carlson-Thies said.
The U.S. government uses contracts to fulfill specific, well-defined requests, such as building ships and other items for the military, and often regulates them with executive orders, Carlson-Thies said.
"Grants are more what we think of as philanthropy," he said. "'We need somebody that's going to serve inner city kids in such and such a neighborhood' — you come to us with your best proposal; we'll select the best, give you money, and get reports on how it's going."
Past and Future
The order accomplishes part of what legislators attempted with the Employment Non-Discrimination Act (ENDA), a bill that passed the Senate earlier this session and now languishes in the House. In its current form, that ENDA would prohibit most employers in the country from sexual orientation-based discrimination but would exempt religious organizations and the military.
Nearly every Congress for the past decade has dealt with a similar bill in some fashion, according to Human Rights Campaign, but so far none has passed into law. In 1998, President Bill Clinton signed a related and limited executive order prohibiting sexual orientation-based discrimination in some competitive services of the federal civilian workforce.
Several groups supportive of same-sex marriage, including the ACLU, released a letter July 8 withdrawing their support of the legislative ENDA in its current form, saying that the exceptions were "no longer tenable" and such a bill would lead to "further negative effects."
If Congress follows Obama's lead, the executive order's lack of exemption could make it more difficult for a future version of ENDA to pass into legislation, Berg said.
"Legislation requires Republican votes, and even Republicans who eventually would be open to voting for ENDA won't do so if it lacks meaningful protections for religious organizations," he said. "Progressives are turning against exemptions, but that will make it harder for them pass the underlying laws."
At stake in Obama's executive order is a small but important move in one direction or another indicating how the government views sexual identity in comparison with racial equality—protected in almost every context—and other civil rights, said David Skeel, professor of corporate law at the University of Pennsylvania. Obama's language choice indicates whether he places more importance on sexual identity or religious freedom, Skeel said.
"[Going] forward with anything other than an order with exemptions built into it suggests that, on balance, sexual orientation is his stronger concern," he said.
Lobbying efforts
In response to announcements about the pending executive order, faith leaders in late June and early July sent two letters to the President asking him to include language that exempts faith-based organizations from his order.
Neither letter requested new protections; rather, signatories asked that they be allowed to continue using the hiring practices they have since Obama took office, said Michael Wear, a faith policy strategist, former director of faith outreach for Obama's 2012 campaign, and organizer of one letter. The letter he helped coordinate includes 14 signatures from people sympathetic to the Obama administration who "love the president and pray for the president," he said.
"We still live in a nation with different beliefs about sexuality," the letter notes. "We must find a way to respect diversity of opinion on this issue in a way that respects the dignity of all parties to the best of our ability."
Representatives of several religious nonprofits, including World Relief president Stephan Bauman, Catholic Charities CEO Larry Snyder, Noel Castellanos, CEO of the Christian Community Development Association, and Joel Hunter, who served in the inaugural year on President Obama's advisory council for faith-based and neighborhood partnerships, signed the letter.
"I thought it was important for the letter to be from people who support the president," Wear said. "So often, when you're dealing with an issue like this, it's only political enemies of the president on one side and die-hard political supporters on the other when really this issue involves some principles that run a bit deeper than partisan politics."
One signatory of Wear's letter, D. Michael Lindsay, came under fire in early July for joining the Wear-organized request. Gordon College, a Massachusetts school and member of the Council for Christian Colleges and Universities, lost a contract with the city of Salem and the New England Association of Schools and Colleges announced it would review the school's accreditation at its meeting this fall.
"To have a signer be pilloried and his organization's accreditation called into question because of signing a letter like this says how volatile this issue has become," said Carlson-Thies, who coordinated a separate letter asking for exemptions.
Carlson-Thies' letter included specific exemption language the signatories recommended Obama use in the executive order.
Carlson-Thies and other signatories have sent similar letters to the White House for several years and wanted to make their request public again in light of the pending executive order, he said.
While lobbying underlines the significance of Obama's language choice, the order's inclusion or exclusion of a religious exemption is not a definite predictor of things to come, said Eugene Volokh, a religious freedom law professor at UCLA.
"These kinds of rules tend to lead to other things because they change people's attitudes and create infrastructure," he said. "But none of this is inevitable. There are some slippery slopes down which things have slipped and other slippery slopes down which things haven't slipped."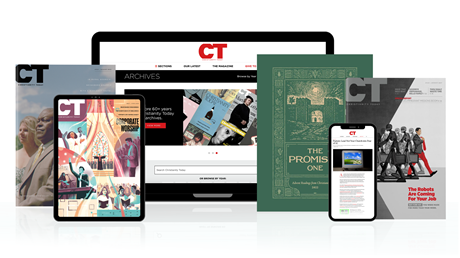 Subscribe to Christianity Today and get access to this article plus 65+ years of archives.
Home delivery of CT magazine
Complete access to articles on ChristianityToday.com
Over 120 years of magazine archives plus full access to all of CT's online archives
Subscribe Now
New Executive Orders on LGBT Discrimination Don't Exempt Religious Orgs
New Executive Orders on LGBT Discrimination Don't ...