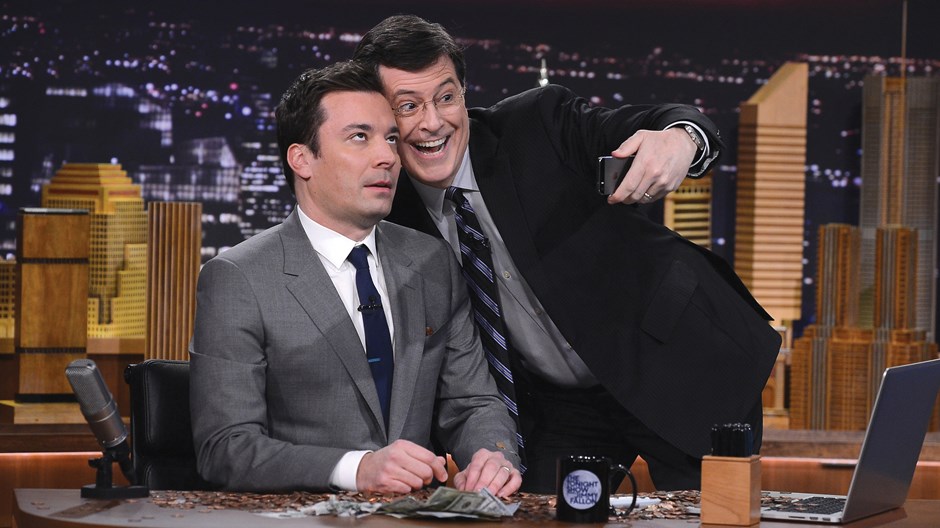 Image: Theo Wargo / Getty images
No one on television has more fun than Jimmy Fallon.
As the new host of The Tonight Show on NBC, Fallon has incorporated the songs, skits, and celebrity games loved by audiences of Late Night. He dances to hip-hop megamixes with Justin Timberlake. He plays charades with Sheryl Crow and Pictionary with Kristen Bell. He makes goofy faces with Jude Law and throws glasses of water at Lindsay Lohan. Starting at 11:34 every night, he has a blast.
Fallon, 39, has made the show his own, and it's not because of his younger face, hipper band, or new reoccurring bits, but something profoundly more rare and special. To a time slot long reserved for cynicism and exasperation, Fallon has brought genuine joy.
During his first Tonight Show monologue, a beaming Fallon told 11.3 million viewers, "My goal is just to make you laugh, so that you go to sleep with a smile on your face and live a longer life. Isn't that the whole goal of what we're doing? To have fun?"
Fallon is a different kind of comedian from Jay Leno, David Letterman, or the host who started it all, Johnny Carson. Instead of insults, we get impressions. Instead of sexual innuendo, we get slapstick silliness. Instead of condescension, we get music parodies. Television critics have noticed that while other late-night comedians try to make fun of people, Fallon simply tries to have fun. Already, the ratings, YouTube views, and trending hashtags tell us America likes what they're seeing.
Fallon's fun-for-fun's-sake attitude has died out in much of comedy, replaced with dark irony that takes itself too seriously or shock-value "adult" humor that seems more targeted at dirty-minded teenagers. Today's popular comics twist jokes into stories of death and depression and hopelessness. At the box office, the funniest broad comedy blockbusters are guaranteed an R rating, with an X-rated DVD box set soon to follow.
Every laugh seems underscored by derision, pain, or shame.
Even we Christians seem to have sidelined joy in entertainment to explore the bleaker side of reality. We find ourselves praising sad standups for what they can teach us about our faith. We binge-watch shows like Breaking Bad, House of Cards, and Mad Men for the way their broken characters and their brutal worlds will reveal the dark side of human nature. Yes, we've seen how recent heavy dramas can show us the real weight of sin and the moral consequences of our decisions, but these kinds of programs can't become our only tv obsessions.
Just as we proclaim a God of grace and justice, of love and law, Christians need balance in our pop culture engagement. So do our neighbors. We need the light of the funny, silly, and joyful to glow in the dark. Shiny-happy shows don't tell the full truth, but neither do shows that punch us in the face. We've spent enough time embracing suffering and being skeptical of joy and happiness. All the more so if, as C.S. Lewis said, "Joy is the serious business of heaven."
Breaking Character
Fallon's spirit is no shtick. His joy has been there all along. As a cast member on Saturday Night Live from 1998 to 2004, he notoriously broke character, holding back laughter in the background of a sketch or cracking a smile in the middle of a punch line. His critics cite these incidents as weaknesses. I think they prove how much he likes his job.
Now a talk show host, Fallon no longer has to try to keep a straight face, so he grins big, chuckles along with the segments, and delights in his guests. Episode after episode, he involves celebrities and audience members in the fun. For good reason: Fallon's gifts shine when he's in a group—crammed in a dressing room with his house band the Roots, a musical guest, and a dozen toy instruments.
Jimmy Fallon falls on the right side of the divide between laughing with people and laughing at them. His excitement is a sign of humility, as if to say, "I'm not too cool for this." Even as the host, he often plays stand-in for the viewer, a fan boy behind the desk. We're used to seeing comedians deemed authentic and honest for sharing their pain; Fallon earns those labels for being unabashedly giddy on camera.
To be sure, Fallon's all-smiles de­­mean­or distances him from reality, particularly any tough topics. His monologues won't go into cutting cultural commentary; his interviews won't ask the difficult questions. We may find ourselves missing the cynicism and sarcasm that bites back at bad people and unjust situations. Even Jesus weighted his words with irony at times, and Christians can see the need for harsher humor when mocking the sin and silliness of the world. But the idealism of Fallon's Tonight Show requires a sort of simplicity, a surface-level engagement. It works because he wins us over—distracts us, really—enough that we'll put our criticizing and overanalyzing aside and just play along for an hour.
Fallon's success may usher in a positive spin on late-night programming, and, if we're lucky, television in general. CBS announced this spring that Stephen Colbert would take over Letterman's long-standing Late Show seat in 2015. Colbert and Fallon are pals and share a comedic background in improvisation—Fallon at Saturday Night Live and Colbert at the famed Chicago company Second City. While talk shows can come off as "host versus guest," these improv alumni bring a collaborative spirit to the familiar format, wanting themselves, their guests, and anyone else on stage to get a laugh. That's the win-win mantra of improv. Or win-win-win, I should say, since this ultimately benefits the audience too.
Though it's hard to imagine Colbert without the quotation marks around his persona, I imagine he'll bring a similar positivity and sense of fun. He's been known to smirk through his lines on The Colbert Report. And if it's musical numbers that you like, the dude can sing.
Fallon and Colbert both come from Catholic upbringings. Fallon told NPR in 2011 that his "first experience on stage was as an altar boy," and that before he decided to pursue acting, he wanted to become a priest. No surprise: even back then, he struggled to suppress his laughter during Mass.
Though not one to toe the line as much as his devout Colbert Report character, the real-life Colbert raises his family in the Catholic tradition. "I do go to church, which makes me kind of odd for my profession. You know, most people can't understand why I do, other comedians," he said in an interview with Fresh Air's Terry Gross. A Sunday school teacher, Colbert has been known to take down celebrity doubters like Bible scholar Bart Ehrman, and to break out his Catholic background in conversations with show "chaplain" James Martin. (No word yet on whether Martin will continue to drop in when Colbert moves from Comedy Central to CBS.)
While I can't find any Nielsen ratings by church attendance, I bet evangelical viewers would welcome a new, positive tone in comedy. Even if they're not staying up for the hour-long Tonight Show, it's hard to miss the YouTube clips of songs and segments that fill our Facebook feeds every few weeks. And it's hard not to watch them and smile.
We often read the well-known lines from Ecclesiastes 3 during difficult times—reminding us that we all have a time to die and a time to mourn, and that there will be struggle. Let us not forget the counterparts to those verses: that there are times to laugh and dance and hug as well.
More and more, in my house, those times fall around 11:30/10:30 Central.
Kate Shellnutt is associate editor of Her.meneutics, CT's women's site.
Have something to add about this? See something we missed? Share your feedback here.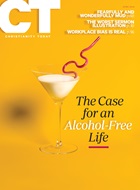 This article is from the June 2014 issue.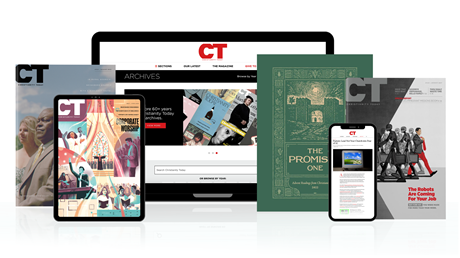 Annual & Monthly subscriptions available.
Print & Digital Issues of CT magazine
Complete access to every article on ChristianityToday.com
Unlimited access to 65+ years of CT's online archives
Member-only special issues
Subscribe
How Jimmy Fallon Made Comedy Fun Again
How Jimmy Fallon Made Comedy Fun Again