true
Laughing At, Or Laughing With?
When is it okay to laugh at characters in a documentary - and when does that laughter cross a line?
Asher Gelzer-Govatos
| October 28, 2015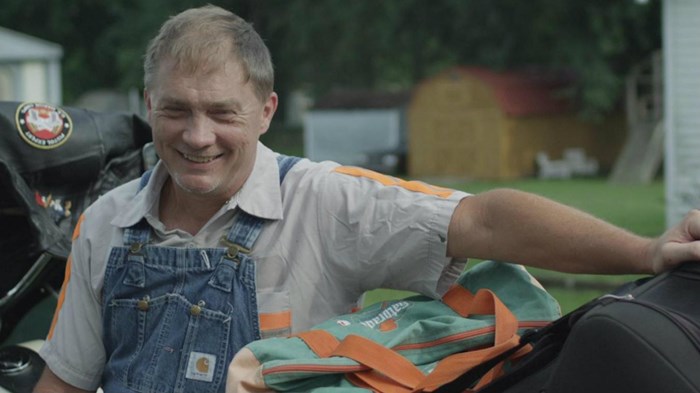 Of all the adjectives people might use to describe documentary films–important, artsy, difficult–one that does not spring immediately to mind is fun. But the new documentary Finders Keepers challenges this preconception of nonfiction films as hard work, offering a wild tale full of severed limbs, courtroom drama, and plenty of salty humor.
In the midst of the many belly laughs the film offers, though, it also poses a key question for sensitive viewers of documentaries: when is it okay to laugh at the people onscreen?
The story revolves around a legal dispute between two men over a preserved, amputated leg. When irrepressible showboat Shannon Whisnant finds the leg in a grill he purchases at auction, he sets out to do the American thing and make some money off the spectacle. John Wood, the leg's original owner, demands its return. Whisnant refuses to budge. The two men trade words and eventually take each other to court. Filmmakers Bryan Carberry and J. Clay Tweel keep their focus tight on the two characters, and Whisnant especially fills up the screen with his charisma and homebrewed witticisms.
As funny as the film is, I found myself a little unsettled at certain points laughing at its contents. At The Dissolve, Scott Tobias pinpointed one source of my unease when he described the film as "borderline hicksploitation."Finders Keepers takes place mostly in one small North Carolina town, and both Whisnant and Wood represent an oft-mocked sort of Southern whiteness. So as Whisnant rattled off one down-home proverb after another, I found it hard to determine why exactly I found myself laughing. Was it because Whisnant said something genuinely funny and provocative, or because he said it ...
1