true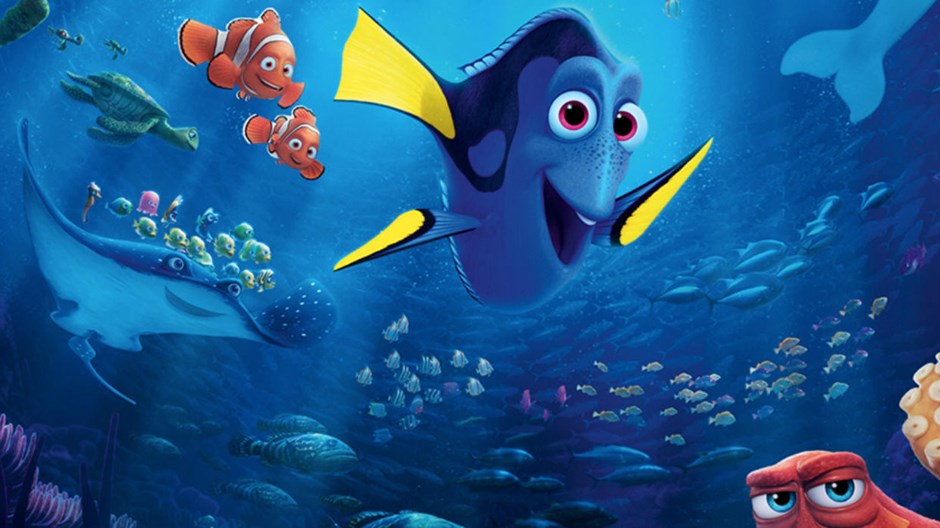 Pixar historically does well by their sequels, defying most of Hollywood: the Toy Story franchise actually got better as it went along, and Monsters University was a fun, imaginative romp as well. (Cars 2 had the misfortune of being a sequel to Cars.) And yet it was anyone's guess if Finding Dory would be good—or even could be good. Its predecessor, released 13 years ago, told the story of a father on a journey across the ocean to find his lost son. But wouldn't repeating that formula feel a bit . . . formulaic?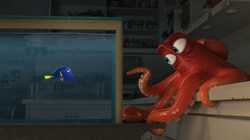 Nope. Finding Dory, directed by Andrew Stanton (Finding Nemo, Wall-E, Toy Story) is flat-out terrific, even a little subversive. It's hardly a spoiler to say that this movie is about how Dory was lost, and how she gets found, and by whom. It's not even necessary to give the rest away, but it means we get some adorable scenes from Dory's young fish-hood. (Side note: this movie has noted our collective obsession with cute baby animals and milks it for all it's worth, to great effect.)
Marlin and Nemo are back in a more minor role, as are some of your favorites from the first film—Crush and Squirt, Mr. Ray, a host of little creatures—but in this installment we get a bunch of new characters and zany adventures: one, a daft bird, flies Marlin and Nemo around in a bucket; a pair of impaired whales and a couple of lethargic sea lions form comic teams par excellence; and the best one, a grumpy octopus named Hank (voiced perfectly by Modern Family's Ed O'Neill), winds up driving a truck at one point.
But probably the best thing about Finding Dory is that it delicately explores the challenges of raising—or being—a child with special needs. Dory's short-term memory loss isn't the result of an accident: it's just something she's born with, and something her parents need to help her live with, while figuring out how to avoid being overprotective. One of the film's major settings (a rehabilitation center for injured marine life) means that Dory constantly encounters other creatures who have something that makes them not quite equipped for unfettered life in the vast ocean—two different creatures are blind in one way or another for instance.
Some difficulties can be accommodated, of course. Others can be overcome. And others just require the cheerful support of a loving community. (In an important plot point, two characters have a similar impairment, and one recovers, but the other doesn't.) This was an element in Finding Nemo (one of Nemo's fins is smaller than the other), but it's the central theme of Finding Dory, and the movie gives us all of these ways of caring for one another and living with physical and mental challenges in the least preachy package imaginable, so subtly that you barely realize it's happening.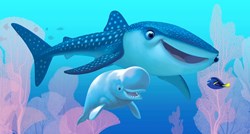 Most films aimed at children and teenagers are really about coming to terms with being "different." But that "difference" almost always turns out to be some quality that makes the character superior to the others: having superpowers or harboring super-smartness or not belonging to any one group. Basically, the message we've often given out is that it's great to be different as long as whatever it is that separates you from other kids actually makes you superior to them. Everyone feels different, and our response is to say that what makes you different actually makes you better. Being different is great, as long as you're the Chosen One.
But Dory is different. Forgetting things is not a superpower. It helps her look at the world differently, and even solve problems others can't figure out; it doesn't hamper her from experiencing joy and love and some freedom. But at the end of the day, she still needs some extra help. The people—er, fish who love her still have to look after her a little differently than the others. Finding Dory doesn't infantilize or patronize Dory or her parents by pretending that's not true. What we need to do, the film suggests, is be truthful about the places we need help, and help one another, and sometimes pick each other up when we trip.
And of course: just keep swimming.
Alissa Wilkinson is Christianity Today's critic at large and assistant professor of English and humanities at The King's College in New York City. She is co-author, with Robert Joustra, of How to Survive the Apocalypse: Zombies, Cylons, Faith, and Politics at the End of the World(Eerdmans). She tweets @alissamarie.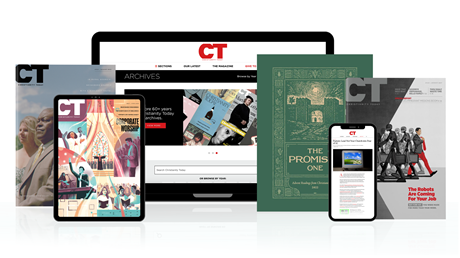 Annual & Monthly subscriptions available.
Print & Digital Issues of CT magazine
Complete access to every article on ChristianityToday.com
Unlimited access to 65+ years of CT's online archives
Member-only special issues
Subscribe
Finding Dory
Finding Dory