It's six a.m. and my smartphone is dotted with notifications. Like eager tour guides lined up in an airport arrivals hall, social media would like to usher me down memory lane. Facebook reminds me of "memories," Google photos invites me to "rediscover this day," and Timehop has a bundle of snapshots collated from Twitter, Instagram, Foursquare, Facebook, and my camera roll from this day one year ago or more. On Thursdays, friends post photographic gems from years past with the #TBT hashtag: Remember when we had mullets? Remember when we were in college? Remember when our high school seniors were just babies?
These photographic flashbacks often bring moment of sweet reminiscence. My memory isn't great, even at the best of times, and the flurry of early motherhood has increased the rate at which details leak from my brain. I am one of more than 15 million Timehop users who appreciate the ability to reminisce about moments I've forgotten and cute things my kids said. With the worlds of social media and parenthood both focused on the present, there is a sweetness in recalling things which have long since dropped off our newsfeed but which we'd love to have stored to our long-term memory.
Last summer, the Pixar blockbuster Inside Out offered us a guided tour to the inside workings of a young girl's mind. Gesturing to the rack of iridescent memory-beads, the emotion-character Joy explains, "These are Riley's memories, and they're mostly happy you'll notice... not to brag." Indeed. Our social media memories are mostly happy, and we try not to brag.
However, this past season, my Timehop flashbacks revisited a significantly harder season. I had far fewer posts—pain and grief prefer privacy—but those I did have hinted at what my family faced in those three months: a cancer scare, debilitating illness, a special needs diagnosis, a lice infestation, and a bust sewage line. We were deep in it in every way.
A year later, those Timehop cues became something I hadn't expected: not just journal entries of a difficult time, but spiritual milestones on a more profound journey. At the time, it was hard to see God's goodness in the onslaught of struggles. We relied on friends to pray with hope while we had little faith to do so anymore. Our proclamation of faith was threadbare. We were "hanging in there." Barely.
A year later, we are further along in the story, and while I still don't understand why everything happened, I can look back at those social media memories with more perspective. Remember how our church community arrived at our doorstep with meals? Remember the kindness of the physician who took us under her care? Remember that group that prayed so faithfully? In hindsight, it is easier to see hints of God's kindness in the dark, and the public retelling of it gives me courage to look for his faithfulness in the future.
People of faith have a long history of needing to look back so that we can rightly look forward. Whenever we sing "here I raise my Ebenezer," we recall the prophet Samuel's planting of a rock (Ebenezer means rock of help) to represent and remember that God had helped the people of Israel (1 Sam. 7:12).
The Psalms are replete with instructions to "tell of what God has done" (Ps. 66:16) and "recount his mighty acts" (Ps. 71:16, 145:4,12). The telling of it alone helps to anchor our faith, as well as to provide a powerful testimony to others. Psalm 107 reads like an extended Israelite Timehop, as the people of God recall both good and bad times in their past and acknowledge the broad sweep of God's faithfulness.
For people of faith, social media flashbacks can serve as much more than a trip down memory lane—they can become powerful spiritual prompts. For inasmuch as we share our prayer requests, troubles, and triumphs on social media, over time we can look back and reflect on what God has done and perhaps come to see those early morning smartphone notifications through musician Sarah Groves's eyes:
Morning by morning I wake up to find
The power and comfort of God's hand in mine
Season by season I watch him, amazed
In awe of the mystery of his perfect ways
All I have need of, his hand will provide
He's always been faithful to me.
Bronwyn Lea is a South African writer, Bible teacher, and most-of-the-time mama to three young children. She writes and speaks about faith, family, and culture, and you can find her raising social media Ebenezers on Facebook and Twitter.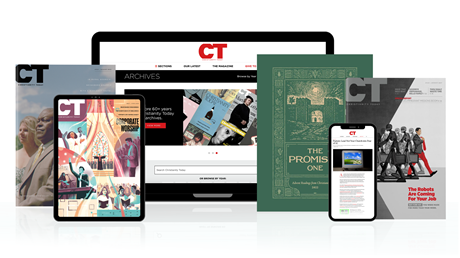 Annual & Monthly subscriptions available.
Print & Digital Issues of CT magazine
Complete access to every article on ChristianityToday.com
Unlimited access to 65+ years of CT's online archives
Member-only special issues
Subscribe
Timehop Helps Me See God's Providence
Timehop Helps Me See God's Providence