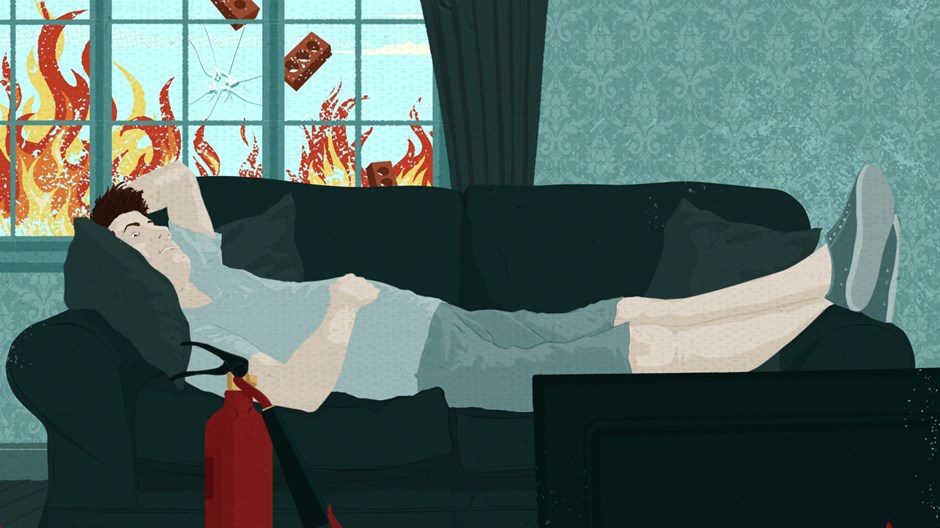 Image: Oli Winward @SalzmanArt
A cartoon of a dog sitting in a room, calmly declaring "This is fine" while engulfed in flames, has circulated widely on social media and become the symbol of 2016.
Our public discourse has often included hand-wringing and outrage, but these days, we're tempted to despair more than ever. As the US presidential campaign took a series of particularly absurd turns, the #lolnothingmatters hashtag rose to prominence among journalists, political operatives, and Christian leaders alike. One writer looked back on the 2016 Republican National Convention as a "raging dumpster fire," that is, an irredeemable situation.
In an election with Twitter as its backbone, existential angst has become a national posture.
The metaphor was co-opted by up-and-coming Nebraska senator Ben Sasse in a press release: "Sen. Sasse will not be attending the convention and will instead take his kids to watch some dumpster fires across the state, all of which enjoy more popularity than the current front-runners."
Meanwhile, the candidates model the worst of political discourse. Trump is largely known for his name-calling, while Clinton lobs Twitter taunts like "Delete your account." And all this preceded the final stretch of the election cycle, which took a sudden turn into a rhetorical and moral abyss.
CT readers may not be immersed in the world of Twitter or glued to 24-hour news channels, but we can nonetheless be shaped by these media. In an election with Twitter as its backbone, existential angst has become a national posture. Every day a new headline proclaims some gaffe, tragedy, or scandal, free of foresight or historical context. Breathing in this nihilistic pollution day in and day out can inadvertently cause a kind of cancer in us as well.
How are Christians called to breathe in this atmosphere?
To begin with, we're not called to pretend things are better than they are. The nation's negative tone is understandable. In fact, the Bible models for us a response to such a world: lament, with no less ancient pundit than the great Solomon complaining in his day, "Utterly meaningless! Everything is meaningless" (Ecc. 1:2).
But Ecclesiastes also prepares us for something better, reminding us realistically where biblical hope lives: in the midst of dumpster fires. While we grieve the state of our nation, we do not "grieve like the rest of mankind, who have no hope" (1 Thess. 4:13). Paul is speaking about the death of Christians before the Lord's return, but the phrase works in many situations that tempt us to despair. And because Paul directs his reader to a distinctly Christian hope, he adds, "Therefore encourage one another with these words" (v. 18).
So encouragement begins with a full-hearted—not flippant—acknowledgement of the truth.
This truth telling will lead us to places we'd rather not go. While we're tempted to join the rhetoric that places the blame elsewhere, the biblical model goes in a different direction. Isaiah lamented that he lived "among a people of unclean lips," but he was quick to say, "I am a man of unclean lips" (Isa. 6:5). The Christian approach is not only a proclamation of how terrible people or the culture is "out there," but includes an honest examination of our own complicity in the nation's woes.
For example, America is a nation "of the people and by the people," so we cannot avoid the fact that some of us Christians have contributed to the culture wars, while others of us have avoided politics altogether as unfit for Christian consumption. No, we're not completely or even mostly to blame, but surely we can see that more civil and active engagement by many more of us might have alleviated this election's worst excesses.
The habits the typical media diet tries to instill in us are a striking contrast to Paul's exhortation to the Philippians: "Whatever is true, whatever is noble, whatever is right, whatever is pure, whatever is lovely, whatever is admirable—if anything is excellent or praiseworthy—think about such things" (4:8).
For Christians, a purposeful redirection of thought is not escapism—it begins after all with the admonition to ponder what is true. Nor is it a formula for positive thinking or mental self-care. Ultimately, Paul is telling us to remember the bigger, deeper reality that can at times be hard to see—a loving God is still in charge of history.
Rather than throwing our hands up in hopeless frustration or declaring the end of the world, we seek out what is true and deserves lament and confession. Armed with the truth and emboldened by trust in a God who rules our world, Christians can bring hope to a nation that seems to be engulfed in flames.
Richard Clark is online managing editor of Christianity Today. You can follow him on Twitter.
Have something to add about this? See something we missed? Share your feedback here.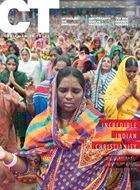 This article is from the November 2016 issue.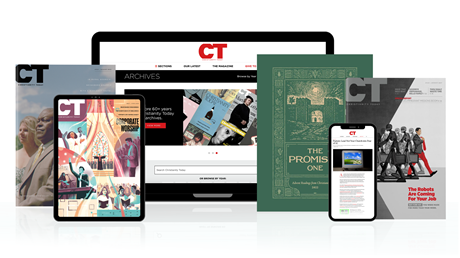 Subscribe to Christianity Today and get access to this article plus 65+ years of archives.
Home delivery of CT magazine
Complete access to articles on ChristianityToday.com
Over 120 years of magazine archives plus full access to all of CT's online archives
Subscribe Now
The Year of Living Hopelessly
The Year of Living Hopelessly