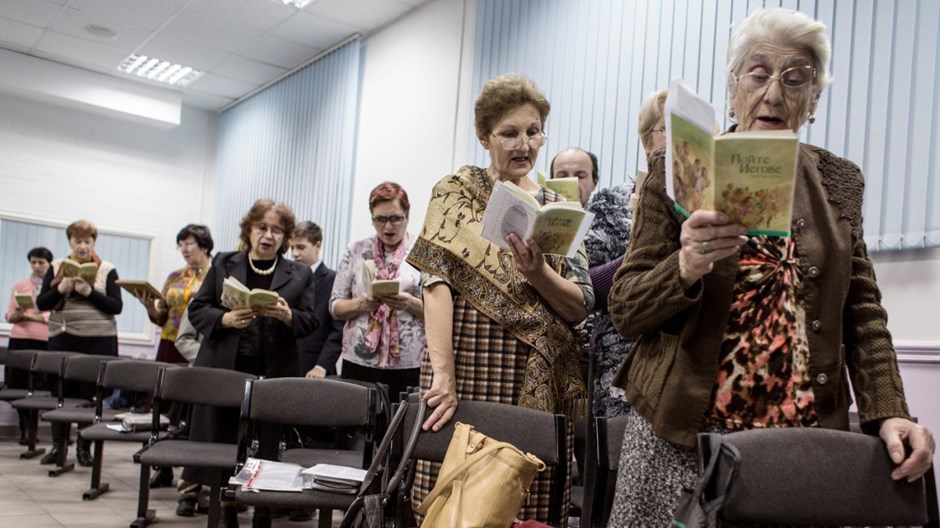 Image: BERTRAND GUAY / AFP
Evangelism is a tough sell in Russia, where the Orthodox Church dominates the religious and political landscape. So the Kremlin's ban on one of evangelicals' door-to-door competitors for souls—Jehovah's Witnesses—would seem to be good news for the Good News.
However, Witnesses have historically served as a bellwether for religious freedom for other minority groups. In Russia, that includes evangelicals, who remain hesitant to defend the rights of Witnesses as a fellow non-Orthodox faith.
In April, Russia's Supreme Court declared the pacifist religious organization an "extremist group" and banned all of its activity. Jehovah's Witnesses were put in the same category as terrorists.
Yaroslav Sivulsky, spokesman for the Witnesses national headquarters near St. Petersburg, called the move "a disaster for rights and freedoms in our country," particularly for the 175,000 followers and 2,000 congregations that make Russia one of the faith tradition's largest strongholds in Europe and Asia.
Leading up to the trial, witnesses fought back. The organization launched a global letter-writing campaign asking the Kremlin to reconsider the ban. Members in Russia filed a counter-suit, claiming political repression. The court dismissed them, saying it did not have the authority to decide either way. Witnesses faced the outcome they feared most, as Russia outlawed their worship and seized all 395 local chapters and their national headquarters.
"If [they] are persecuted, then that means later 'on the block' will come other religious movements—for example, Protestant churches," law professor Anatoly Pchelintsev told Portal-Credo, an Orthodox news site. "For the Jehovah's Witnesses, Armageddon has arrived, and the faithful of other religions await the apocalypse."
Jehovah's Witnesses and evangelicals have both fallen under Russian government restrictions in the past—most recently, an anti-missionary law enacted last summer that bans evangelistic activity outside of official religious buildings. Though Russia continues to favor the Orthodox Church over minority and foreign faiths, evangelicals can't necessarily expect the same treatment.
"No one else is in a comparable position to that of the Jehovah's Witness community," Alexander Verkhovsky of the SOVA Center told religious freedom watchdog Forum 18.
Russian Protestants don't consider themselves as extreme—or as annoying in their evangelism tactics—as the Witnesses, and they aren't too eager to speak out against the recent case against them.
"Baptists and Lutherans are often regarded as traditional religions by Russian judicial practice and by the Orthodox," said William Yoder, spokesman for the Russia Evangelical Alliance. "Protestants do at times succumb to the temptation to accept the common Russian division between 'traditional' and 'non-traditional' religions if they themselves happen to be on the right side of the divide."
Still, a minority of Russian evangelicals see the repression of Witnesses as reason to worry, according to Yoder. Some have brought up German pastor Martin Niemöller's "First They Came" poem and asked, "How soon will it hit us if we don't protest?"
The warnings against Witnesses have stacked up over the past decade, with dozens of regional charges of extremism and more than 80 of their books, pamphlets, and other texts (including The Watchtower) banned in Russia.
It's impossible the government would apply the extremist label to evangelicals' literature, since they tend to use the same Bible translations as the Orthodox, said Roman Lunkin, an expert in Russian church-state relations, to Time.
Last year, the Russian government launched an investigation against the Witnesses' St. Petersburg headquarters. Police raided an average of three of their centers a month in 2016, according to Forum 18. Several regional divisions have been shut down and liquidated as a result. In areas where the Witnesses had already been banned, police cite their criticism of traditional Christianity and Orthodoxy—as well as their objection to military service—as grounds for the extremist label.
In the United States, 24 percent of Witnesses identify as "born-again" and 17 percent as "evangelical." Yet evangelicals have significant theological reasons for concern. Witnesses do not ascribe to the Trinity and do not believe that Jesus is divine. They famously avoid traditional markers of Christianity including Christmas, Easter, and the cross.
In Russia, Witnesses don't participate in interfaith efforts that bring together the country's minority groups. Plus, they are promoting a competitive theology in a way many evangelicals disagree with.
"Protestants consider the evangelistic activities of Jehovah's Witnesses to be excessively intrusive and aggressive," said Michael Cherenkov, executive field director for Mission Eurasia.
While Witnesses push their distinct teachings on God and the end times, evangelicals take a different approach. Since Russians already are familiar with Christianity, they build from that common ground. "Protestants themselves usually preach salvation through Christ along with a simple and understandable gospel; they don't digress into subjects about the nature of deity and diagrams about what will happen to this world," Cherenkov said. "At the same time, Protestants constantly contextualize their sermons, while appealing to history and avoiding tensions with Orthodox culture. In that sense, Jehovah's Witnesses in Russia appear to be foreign and almost alien."
Those two characterizations are especially damning in Russia, where leaders are wary of outsider influence. Before the "missionary activity" restrictions from last year's legislation, the country adopted a "foreign agent" law to regulate all international groups, NGOs, and foreign missionaries with more oversight and paperwork.
"The treatment of the [Witnesses] reflects the Russian government's tendency to view all independent religious activity as a threat to its control and the country's political stability," stated the US Commission on International Religious Freedom. "This approach dates back to the Soviet period and impacts other religious groups, including peaceful Christians and Muslims."
Traditional Russian Orthodoxy continues to be increasingly conflated with a sense of Russian patriotism and nationalism, so many believe the government will keep pushing against the freedoms of minority faiths.
"A ban on Jehovah's Witnesses is just the beginning," Cherenkov said. "Society needs an internal enemy to which the government can point in full cooperation with the Russian Orthodox Church. The silence of Protestants with regard to repressions against Jehovah's Witnesses will merely unleash a new wave of restrictions and repressions."
Kate Shellnutt is online associate editor at CT.
Editor's note: An earlier version of this story was published online on March 20.
Have something to add about this? See something we missed? Share your feedback here.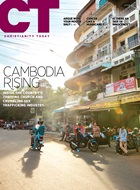 This article is from the June 2017 issue.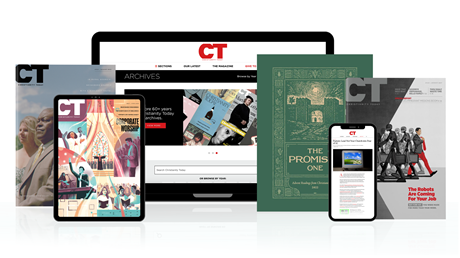 Subscribe to Christianity Today and get access to this article plus 65+ years of archives.
Home delivery of CT magazine
Complete access to articles on ChristianityToday.com
Over 120 years of magazine archives plus full access to all of CT's online archives
Subscribe Now
Defending the Faith (of Others)
Defending the Faith (of Others)