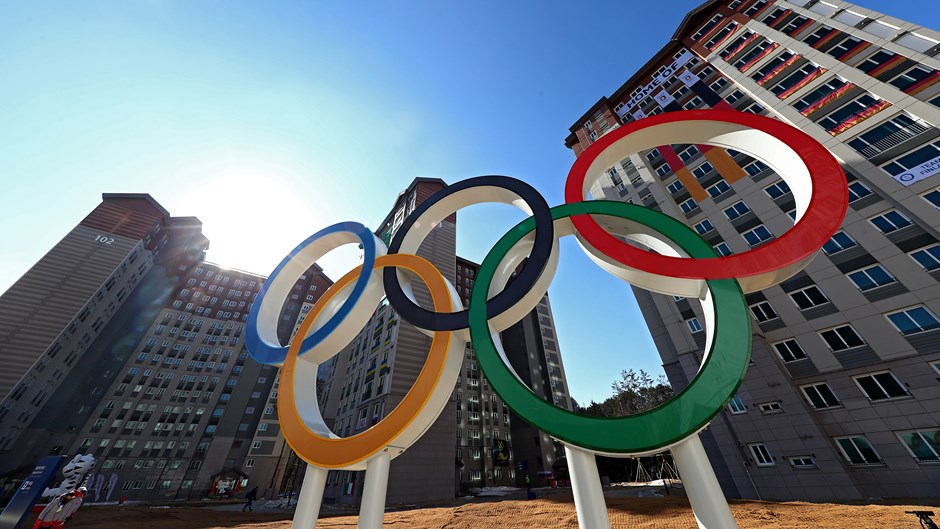 Image: Alexander Hassenstein / Getty Images
Winter Olympic sports take strength, grace, speed, precision, and incredible courage. For many of the athletes we're about to see in PyeongChang, South Korea, those qualities are bolstered by their faith in God, which has seen them through their darkest hours and hardest struggles. Here are just a few of the athletes who have shared about God's role in their Olympic journeys.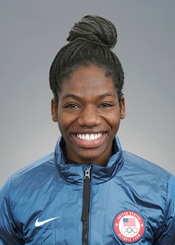 Image: Courtesy of US Olympic Committee
Maame Biney, speedskating (USA) @BineyMaame
Just before her 18th birthday, Maame Biney became the first African American woman to qualify for the US Olympic speedskating team, winning accolades from one of her heroes, Apolo Ohno. For the bubbly teenager, it's been a long road from her native Ghana, which she left at the age of five to live with her father, Kweku, in the United States.
Both Biney and her father thank God for her phenomenal success. Kweku Biney believes it was God who first drew his attention to a sign advertising skating lessons, which inspired him to ask Maame if she wanted to try—though he sometimes regretted it when his little girl woke him up early on Saturdays to go to the rink. As Maame herself posted on Instagram after her win at the Olympic trials: "If God hadn't given my dad the strength to wake up, and take me to practice, I wouldn't be here today." In her emotional post, she also thanked her church family for their "prayers for safe travels and successful competitions."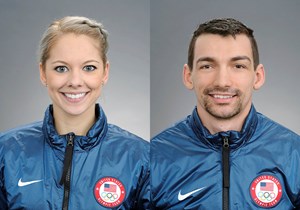 Image: Courtesy of US Olympic Committee
Alexa Scimeca Knierim and Chris Knierim, figure skating (USA) @Scimeca_Knierim
A couple on and off the ice—they were married in 2016—the Knierims won the United States' only pairs spot at this year's Olympics. But their victory wasn't always a foregone conclusion. Not long after their wedding, Alexa underwent three surgeries for a life-threatening abdominal illness. The photos she posted online of her recovery process, including her surgical scars, drove home just how serious and scary the ordeal had been.
Yet the pair was back on the ice not long after Alexa's final surgery. At first, she could skate only a few minutes at a time before needing a nap, and certain pairs moves were harmful to her incision. But the two made it to the 2017 World Championships and are now headed to their first Olympic Games. "I may have lost a lot of faith in myself, but I grew with my faith in God," Alexa says. "I have some insecurities now that I didn't have before, but I'm able to work on it and move forward because I've shifted my focus and my attention to my faith instead of myself."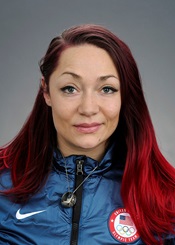 Image: Courtesy of US Olympic Committee
Katie Uhlaender, skeleton (USA) @KatieU11
As she prepares for her fourth Winter Olympics, Katie Uhlaender is still dealing with fallout from her third. At Sochi in 2014, Uhlaender barely missed a bronze medal, coming just four hundredths of a second behind Russian Elena Nikitina. In the years after that, Uhalaender found herself on an emotional roller coaster. When Russia's doping program came to light, Nikitina was banned and stripped of her medal by the International Olympic Committee (IOC)—only to be reinstated when the Court of Arbitration for Sport overturned the ruling.
Along with other Winter Olympians, Uhlaender has had to deal not only with suspense over whether a Sochi medal might come to her after all but also the possibility that Olympians who flouted the rules will be in PyeongChang. Uhlaender is relying on her faith in God to see her through. "I'm a human being. There is a lot of emotion in just seeing something so unjust happen," she says. "But to be a good human, to be a good Christian, I have to focus on what I can control and set the example."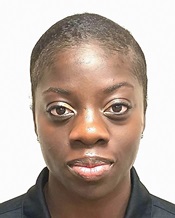 Image: Courtesy of Pyeongchang Committee
Seun Adigun, bobsled (Nigeria) @Seun_MsAmazing
Former Summer Olympian Seun Adigun represented Nigeria in track and field during the 2012 Summer Olympics, but confesses that she "stunk it up." Hungry for athletic "redemption," she then switched to bobsledding, building her own training sled from scratch. (It's called "The Maeflower," after her sister Mae-Mae, who died in 2009.) She and her teammates will constitute Africa's first Olympic bobsled team.
At the same time she was training for her new sport, Adigun was also earning two degrees: a doctorate of chiropractic and a master's in exercise and health sciences. Asked how she managed it all, she says, "I honestly only have the one answer: God." The support of family and friends helped, she adds, but prayer was a significant tool in getting through her massive workload. And the "fearlessness" and "selflessness" that come with faith are the ultimate key to her success.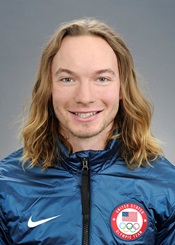 Image: Courtesy of US Olympic Committee
David Wise, freestyle skiing (USA) @mrdavidwise
In Sochi four years ago, David Wise was the first man to win gold in the ski halfpipe, which was then a brand-new Olympic event. Since then he hasn't been at his best, dealing with various injuries, including concussions. But he managed to fight his way back onto the Olympic team.
With him in South Korea will be his wife, his children, and his sisters, his sources of support through good times and bad. Four years ago, NBC News caught some flak for saying that Wise—with his focus on faith and family instead of partying with his fellow athletes—was living an "alternative lifestyle." He's still living that lifestyle, and he wouldn't have it any other way. "I know that whatever happens to me is not outside the control of a God that faithfully cares for my family and I," he says. "The fact that God is in control over my life and my family's life, takes pressure off of me. It makes it easier for me to go out there and enjoy the ride." Wise has also had the opportunity to support his family in turn—for example, pledging 10 percent of his winnings and endorsement earnings to a charity he and his sisters founded that provides children with prosthetic limbs (Wise's sister Christy, an Air Force pilot, lost her leg in a 2015 boat accident).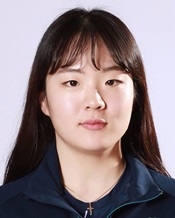 Image: Courtesy of Pyeongchang Committee
Gim Sohui (a.k.a. Kim So-hee), Alpine skiing (South Korea)
Gim competed for South Korea in Sochi in 2014 but could not finish the slalom event because of injury. Now she's back to compete in her home country.
In an interview before Sochi, Gim said that she prays before every competition. Like her grandmother, minister and skiing tutor Rev. Jang Jin-seon, who helped raise her, Gim hopes "to spread the Gospel through sports," possibly as a future member of the IOC.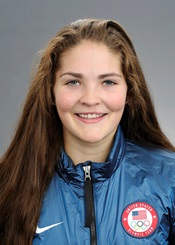 Image: Courtesy of US Olympic Committee
Nicole Hensley, ice hockey (USA) @NicHens29
Nicole Hensley may be known almost as much for her love of Scripture as for her goaltending skills. The 2018 Olympic women's hockey team member tweets out Bible verses and writes them on her face mask. Recently seen on the mask was Psalm 144:1: "Praise be to the LORD my rock, who trains my hands for war, my fingers for battle."
Hensley—one of the featured athletes in a YouVersion "The Winter Olympics & the Bible" reading plan—credits God's Word not just with inspiring her athleticism, but also with forming her character. "I would say that I used to have a bit of a temper on the ice. ... That is not how I want to portray myself or portray how God has acted in my life," she says. "My faith has calmed me down on the ice and helped me realize too that the result is not necessarily the most important thing. It is more important to be on the ice and enjoy the chance to play when God has given me such a passion and ability in this game."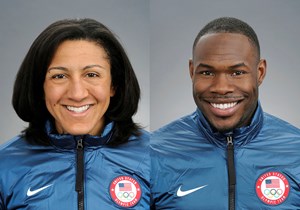 Image: Couresty of US Olympic Committee
Elana Meyers Taylor and Nic Taylor, bobsled (USA) @eamslider24 and @NicTaylorUSA
While Elana Meyers Taylor is going to PyeongChang as a member of the women's bobsled team, her husband, Nic, will be there to play multiple roles: both an alternate for the US men's bobsled team, and Elana's trainer and biggest supporter. Pastor Ryan Schneider, who married them and who leads a Bible study in which they participate, tells FCA Magazine that Nic's sacrificial support of Elana, prioritizing her training and her needs above his own, is "the perfect picture of a husband loving his wife like Christ loved the church."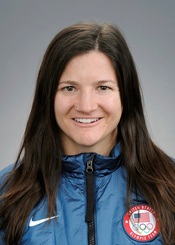 Image: Courtesy of US Olympic Committee
Kelly Clark, snowboarding (USA) @thekellyclark
As she heads to her fifth Winter Olympics, Kelly Clark will take with her a board with a sticker that reads, "Jesus, I cannot hide my love." After her victory at the 2000 Games, Clark turned to Christ for the sense of "significance" that even her beloved sport couldn't give her. Now she relishes the opportunity to take the gospel to her fellow athletes. "I'm in an industry where [faith is] very foreign and it's very counter-cultural," she says. "I get to love these people really well who would never step foot in a church."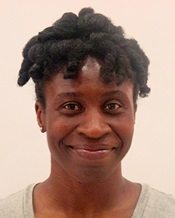 Image: Courtesy of Pyeongchang Committee
Simidele Adeagbo, skeleton (Nigeria) @SimiSleighs
At age 36, Simidele Adeagbo is about to become the first African woman to compete in skeleton at the Winter Olympics. Like Seun Adigun, she moved from track and field to winter sports, though Adeagbo never became a Summer Olympian. After 10 years of trying and failing to qualify for the Summer Olympics in track and field, Adeagbo was inspired by watching the Nigerian bobsled team to try a winter sport instead, intrigued by the possibility of "making history."
Though she only began skeleton last September, Adeagbo credits her background in track and field for helping her master the sport so quickly that she's able to go to the Olympics just months later. She also credits God, saying, "Faith is most important because faith made this possible."
Gina Dalfonzo is associate features editor at Christianity Today.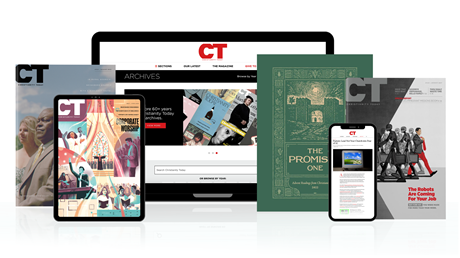 Annual & Monthly subscriptions available.
Print & Digital Issues of CT magazine
Complete access to every article on ChristianityToday.com
Unlimited access to 65+ years of CT's online archives
Member-only special issues
Subscribe
Giving God the (Olympic) Glory: Christian Athletes to Watch in PyeongChang
Giving God the (Olympic) Glory: Christian Athletes ...