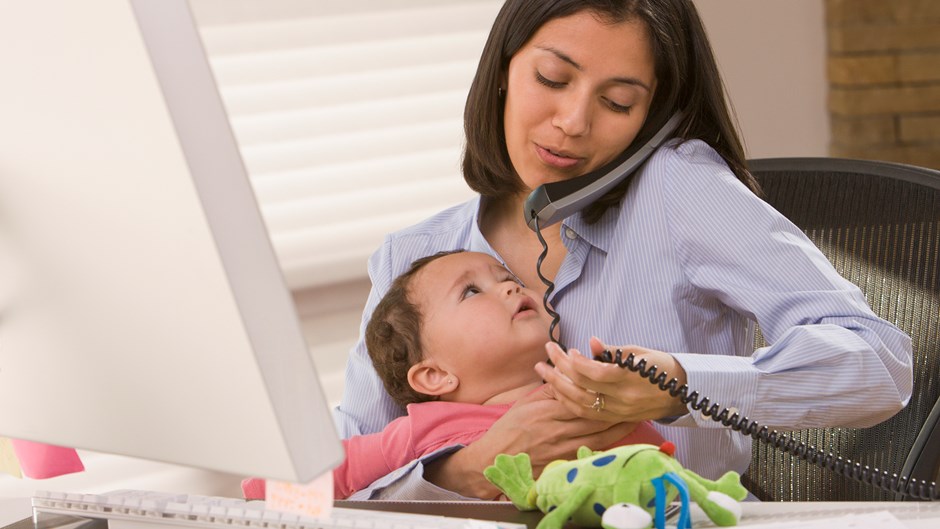 Image: Ariel Skelley / Getty Images
"Jane" is a young mother who has worked at a call center for two years. When she was pregnant with her second daughter, she worked full-time up until she went into labor. "My work doesn't pay for maternity leave, but they told me they would hold my job if I returned within the month," she said. Like 20 percent of new mothers in the US, Jane returned to work two weeks after giving birth. She said she is sad she can't breastfeed and be present with her child in the crucial first months of life.
Jane is a client of Parenting por Vida, formerly known as Mom's Place, based in Phoenix. It's one of the hundreds of faith-based nonprofits that give expectant and new moms financial and emotional support throughout pregnancy and beyond. Many clients grew up in poverty, steeped in trauma and abuse. But director Susan Leon said she's impressed by the young parents' resilience. After 17 years, the first cohort of children raised by these parents is finishing high school, and among the second generation, teen pregnancy is rare.
Even still, Leon says, most of her clients find the work-family balance extremely precarious. A majority of them work low-wage shift jobs that provide little flexibility and have no maternity leave policy, even unpaid. Yet working outside the home is an economic imperative. For low-income families, childcare presents less-than-ideal options, such as expensive childcare centers or care from extended family, which can be dangerous if there is addiction or abuse.
Jane is one of the dozens of parents that Center for Public Justice (CPJ) resident fellow Rachel Anderson and I profiled for a new report, "Time to Flourish: Protecting Families' Time for Work and Caregiving." The report picks up on larger cultural conversations about paid family leave. In 2017, the American Enterprise Institute (AEI) and Brookings—two DC think tanks on different sides of the ideological spectrum—released a groundbreaking report arguing the need for federal paid family leave. The AEI–Brookings report argues from the basis of the changing employee landscape in the US, women's advancement, and widespread public support. Last week, a Senate subcommittee held a hearing on paid family leave, including a proposal championed by Ivanka Trump. During the hearing, both Democrats and Republicans acknowledged that a policy compromise is needed.
Alongside AEI and Brookings, we at CPJ believe that generous family leave makes good business sense, helping to retain talented employees and improve morale and productivity. But our report is ultimately driven by theology, not the economy. CPJ affirms that family is the smallest yet most foundational human institution and that the health of families and of society are bound up with one another. A healthy society is composed of healthy families, and healthy families flourish in a healthy society. This means that private and government policies must respect the family as an institution in its own right, not simply as a means to economic, political, or cultural ends.
In the formation of American public policy, the flourishing of children—among the most vulnerable members of a society—must be given particular attention. Christian communities are well equipped to protect children and advocate in the public square for their flourishing, including addressing economic forces that deprive children of food, shelter, rest, and education and taking into account extended family separation due to parents' work.
In a post-industrial, globalized economy, the economic pressures on all families are intensifying. A highly connected, consumer-driven market calls for people to produce, purchase, and consume around the clock. Job categories that typically require nonstandard or unpredictable hours—such as retail, restaurant, health care, and global customer service—are among the fastest growing in our economy. Blue-collar employees in these and other industries receive very limited benefits, if any, for paid family leave, sick days, or short-term disability, and this lack of benefits contributes to lack of family time.
White-collar employees, too, face subtle and overt demands on their time at home, such as checking emails at night or completing projects in times that were previously set aside for family. For a variety of reasons—from economic need to technological change to ingrained work ethic—Americans work more hours per year than those in many other industrialized nations, including Japan, Britain, and Germany. And the pressures of work infringe upon family time, including in the crucial time after a child is born and in their early years of development.
Of late, many evangelical leaders have advanced a consistent pro-family ethic as they have spoken out against the zero-tolerance border policies separating children from their parents. Christians in the US are arguably at the frontlines of adoption and foster care as well as the pro-life movement that protects prenatal children. In a time of family disintegration, isolation, and individualism, the church's public witness has overwhelmingly protected the family and the children who reside in it.
We believe that implementing and advocating for family-supportive workplace policies is a natural extension of this pro-family witness. Institutional leaders of faith-based nonprofits might worry that a federal mandated leave policy would burden them financially, but there are plenty of pro-family policies that cost very little.
For example, HOPE International, a microfinance nonprofit based in Lancaster, Pennsylvania, offers flexible hours to employees who have family commitments at various times of the day. (Full disclosure: I am a HOPE board member; the position is uncompensated.) All employees, including senior management, keep a strict no-email rule in the evenings and on Sundays to protect non-work commitments. As vice president of development Chris Horst told us, "You have to keep technology in its proper place; when it is, everything works better, including family life."
When Christians publicly advocate for family-supportive workplace policies, including paid family leave, they are advocating for their low-income neighbors who have to work simply to make ends meet. It's worth remembering that the choice for one parent to stay home full-time after the birth of a child is not available to all. The work-family dynamic is significantly strained for working-class and low-income households, where hourly pay work, unpredictable work hours, transportation, housing, health care, and childcare are all daily responsibilities that must work in harmony in order for the family to survive. Illness, a car breakdown, or even a changed bus route can make or break a family's wellbeing. We want to see our economically vulnerable neighbors and their children flourish, but to do this, they need protected time together.
We at CPJ recognize that family-supportive policies can look rather different based on company size and profession. And promoting family-supportive work for all households likely requires both public policy and changes within the workplace. Rather than embracing specific legislation or setting out particular policies that every company might adopt, we offer principles that can guide employers and policymakers as they develop concrete solutions. Those principles include: affirming that family life is foundational; honoring the family responsibilities of both men and women; and preserving nonprofit, religious, and small businesses organizations' ability to flourish. (The full list of principles is available at the Families Valued website.)
The family stands in contrast to the anonymizing forces of contemporary mass society and a globalized economy. Wendell Berry describes the significance of the contrast this way: "It is only in these bonds [of family] that our individuality has a use and a worth; it is only to the people who know us, love us, and depend on us that we are indispensable as the persons we uniquely are."
Though the contexts of family life change over time, each generation should strive to promote the conditions of family flourishing. These conditions include cultural and moral norms that support marriage and fidelity, the economic sustainability of the family, time for family life, and community support for families. As Christians who recognize the socially foundational nature of family, we must not only talk about the importance of the family but also enact policies and create cultures that tangibly demonstrate the importance of the family. Our deeply held values will rightly lead to concrete action in our generation, so that the generations who follow us may flourish together.
Katelyn Beaty is former managing editor of Christianity Today and the author of A Woman's Place(Howard). She works as a consultant for the Center for Public Justice.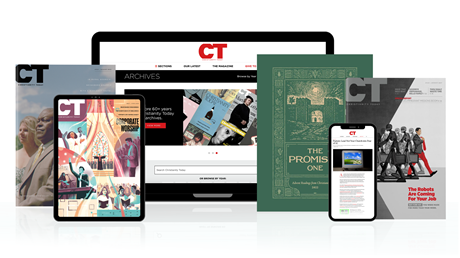 Annual & Monthly subscriptions available.
Print & Digital Issues of CT magazine
Complete access to every article on ChristianityToday.com
Unlimited access to 65+ years of CT's online archives
Member-only special issues
Subscribe
How Christians Can Take the Lead with Paid Family Leave
How Christians Can Take the Lead with Paid Family Leave