true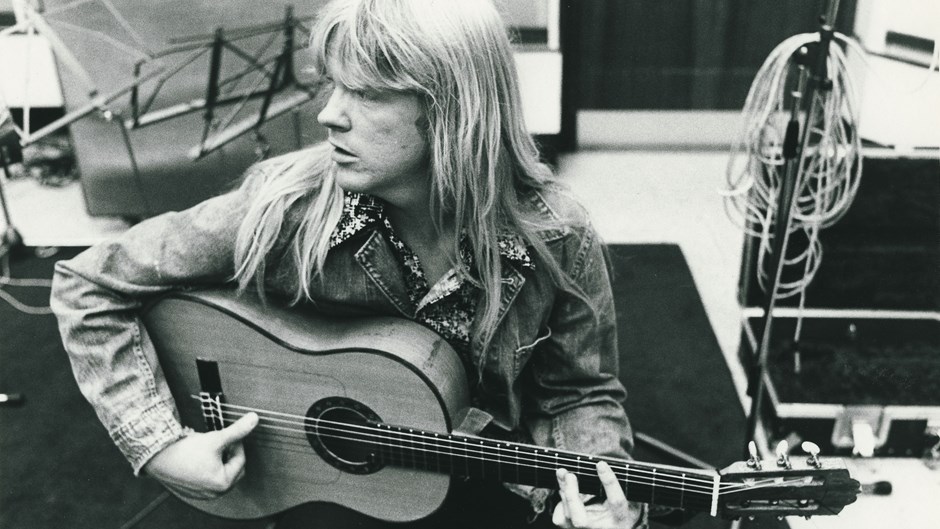 Image: Courtesy of the Larry Norman Estate
In 2014, John Darnielle, of the band the Mountain Goats, gave his first novel an obscure title—Wolf in White Van. In the book, the protagonist described watching the Trinity Broadcasting Network many years before. Televangelists Paul and Jan Crouch were discussing Satanism in rock music with an "expert" guest. The hosts were shocked to learn that demonic messages were hidden everywhere—even in albums from so-called Christian artists. To prove his point, the guest produced a vinyl LP, which was placed on a turntable and played backward. Supposedly a mysterious phrase could be heard: "Wolf in White Van."
Why was this phrase so nefarious? Surely it didn't help matters that the song it was taken from, "666," was about the Antichrist. But the larger worry was that the artist, Larry Norman (1947–2008), was a wolf in sheep's clothing. Such suspicion dogged the career of the man who was called the "Father of Christian Rock."
For decades, Christians have been obsessed with the prospect of hidden messages, both in the Bible and outside it. I confess I spent considerable time in my teenage years listening for purported backward masking on Beatles, Led Zeppelin, and Rush records. What possessed earlier generations of evangelicals to spend so much energy on conspiracy theories—to focus less on the songs themselves than what they sound like played in reverse? Why did so many Christians assume that rock 'n' roll music was the Devil's handiwork, plain and simple?
My curiosity led me to a man who, once upon a time, seemed to be the source of all the trouble. Thanks to his estate, I was granted access to Larry Norman's considerable archives. I read mountains of correspondence with both friends and foes, perused diaries, sifted through thousands of photos, watched concert films, and even discovered audiocassettes documenting virtually every period of his incredible life. He lived squarely in the crosshairs of both the secular music world (which warned him that he was crazy to squander his talent on religion) and the evangelical church (which warned him that rock 'n' roll was of the Devil).
This was a biographer's dream: One of the most controversial lives in recent American Christianity could be reconstructed—not from the faulty memories of former associates 40 years after the fact but from real-time documentary evidence. I learned why conservative Christian leaders shied away from him, while famous rockers such as Bono, John Mellencamp, and Dizzy Reed of Guns N' Roses held him up as an inspiration and legend.
'Brought up in Judgment'
Larry Norman came of age during the cultural and sexual revolution of the 1960s. Spanked for dancing in the aisles of his Southern Baptist church in Corpus Christi, Texas, when he was five years old, Norman soon developed a negative impression of church authorities. He concluded that the Jesus he read about in the Gospels would probably not want to keep company with the grim-faced preachers he encountered throughout his childhood.
In one 1970 performance at The Way Inn in Hollywood, Norman recalled being terrified after learning about the "age of responsibility"—that moment when you're no longer a child, and you have to make a decision for Christ or risk eternal torment. In between songs he mused:
I was exposed to church when I was little, and so that ruined a lot of things for me. I was brought up in judgment and I was scared most of the time. Now I was from Texas, so that's one strike against me. I won't mention the name, but there's only one kind of church in Texas that I know of, so that's two strikes against me. And I almost didn't grow up, because when you grow up the preacher says you gotta become responsible. You know what you're doing. Now you know right from wrong. So I wasn't sure I even wanted to be an adult, if you had to go to hell after you got there.
Norman claimed he accepted Jesus as a little boy, "without the help of clergy." He viewed his relationship with Jesus as something intensely personal and intimate, even ecstatic. The second person of the Trinity was, in his mind, his best friend. After moving from Texas to the San Francisco Bay Area, he wrote songs from the time he was nine. With his father's words ("No son of mine is going to grow up to be Elvis Presley.") still ringing in his ears, Norman broke the fifth commandment in decisive fashion: He left home and joined a rock 'n' roll band. That group, People!, placed Norman on bills with Janis Joplin, The Grateful Dead, Jefferson Airplane, Jimi Hendrix, and The Doors. People! captured the interest of Capitol Records (the same label carried The Beatles and The Beach Boys) and scored a top 20 Billboard hit with "I Love You" in 1968.
But there was a problem: Norman, the band's principal songwriter, wanted to talk about Jesus with his music. He haggled with Capitol over the title of the band's first LP, which he wanted to call "We Need a Whole Lot More of Jesus, and a Lot Less Rock and Roll," an old Wayne Raney Christian revival number. Capitol resisted, opting to name the record after the band's hit tune. But there was yet another rift. Several members, including founding brothers Geoff and Robb Levin, began exploring Scientology. When Norman refused to submit to the Scientology practice of "auditing" (a series of questions by a trained listener intended to lead to spiritual insights), he became targeted as a "suppressive person." After a freak stage collapse nearly cost Norman his right index finger, he took it as a sign from God to move on.
Youth for Christ offered Norman a job, which he declined. Then Capitol Records surprised him with a request to return to work as a staff writer for a new musical genre he would pioneer: the rock musical. Still, Norman was restless because he wasn't doing anything for Jesus, and eventually Capitol let him go. Maybe rock did lead to ruin, after all. He locked his guitar away in a closet and redoubled his efforts at street evangelism in Hollywood, sharing the Good News with drug addicts, prostitutes, transvestites, and other "unacceptable" persons. Then one night he heard a song in a dream. It was so vivid that he retrieved his guitar and captured it on his tape recorder. The song turned out to be "Sweet Song of Salvation," and he was convinced it was a special communiqué from God.
Providentially, Capitol invited Norman back—this time to record a solo album. He agreed, but with one condition: He would be free to sing about the Lord. Ten songs later, he had made something unique. Upon This Rock (1969) would be remembered as "the Sgt. Pepper's of Christianity," and it contained a song immortalized by a thousand youth group sing-alongs and HBO's current apocalyptic TV series The Leftovers: "I Wish We'd All Been Ready."
Despite positive reviews from critics, Capitol wasn't sure how to market the album. Sam Goody and Tower Records didn't exactly have a category for Norman, despite the fact that—as Elvis himself would have told you—rock 'n' roll came from straight from gospel music played by black churches in the South. Still, Bible bookstores wouldn't touch such "strange fire" from this Jesus freak. Larry Norman was as untouchable as John and Yoko.
The Poet Laureate of the Jesus Movement
Meanwhile, something strange was stirring in Southern California. Norman's music became the soundtrack to the burgeoning Jesus Movement—led by ministries like Chuck Smith's Calvary Chapel in Costa Mesa, Arthur Blessitt's ministry to hippies on the Sunset Strip, and Duane Peterson's Hollywood Free Paper, whose circulation peaked at half a million. Other artists followed quickly in Norman's wake, such as Love Song, Andraé Crouch, Sweet Comfort Band, and 2nd Chapter of Acts.
But it was Norman himself who captured the zeitgeist of the era with one of his own concert innovations. After each song, Norman discouraged applause. As the throng started clapping, he would stand silently and raise his right index finger aloft. The message? Only Jesus deserved praise. Crowds caught on, and they imitated Norman, giving off an eerie effect—hundreds of kids quietly pointing skyward. The gesture came to be known as the "One Way" sign. Secular rock shows were loud. Jesus rock shows were quiet(er).
The Jesus Movement soon became a national phenomenon, and Norman was its poet laureate. Instead of violent protests, massive "Marches for Jesus" were held. Standing on the state capitol steps in Sacramento with his guitar strapped to his back, Norman addressed the thousands assembled before him: "Peace is not the absence of war; it's the presence of happiness. You radicals want an all-out revolution? You've got it!"
Even Billy Graham got in on the act. Staging the massive Explo '72 at the Cotton Bowl in Dallas, Bill Bright and Campus Crusade assembled the "Who's Who" of born-again star power. Graham preached six times. Interspersed between were performances from Johnny Cash, Kris Kristofferson, Andraé Crouch, and, of course, Larry Norman, in front of crowds swelling well past 100,000. Time ran a cover story on "The Jesus Revolution," calling Norman "the top solo artist in his field." Life magazine dedicated a whole issue to the drug-free, non–free love, squeaky-clean version of the hippies that was sweeping the nation.
Once deemed uncommercial, religious rock became the craze of the early 1970s. Songs like George Harrison's "My Sweet Lord," Eric Clapton and Steve Winwood's "Presence of the Lord," and Norman Greenbaum's "Spirit in the Sky" climbed the charts. For a while, people whispered that Clapton himself had been converted until the savvy British rock journalist Steve Turner interviewed the guitar legend and proved otherwise. Both Elektra and MGM/Verve records were suddenly eager to sign Norman to his third major-record-label deal, the genesis of Only Visiting This Planet (1972).
Many Christian artists have prayed they could eventually "cross over" to receive a secular recording contract. Conversely, Norman started with mainstream credibility and then experimented with what the Christian world would allow. Norman talked openly about Jesus, but he also criticized the American war machine, the media's passivity about truth, and the racism of the white evangelical church. In one track, "The Great American Novel," he wrote:
And the sheet you wear upon your face

is the sheet your children sleep on,

And at every meal, you say a prayer.

You don't believe, but still you keep on.
The album served as a bellwether for other Christian artists to follow. Songs like "Why Don't You Look into Jesus?" (written for Janis Joplin) made Norman's faith commitment clear, but the production values, beautiful writing, and performance on his records confirmed the path-breaking potential of mixing faith and art in a secular setting. Only Visiting This Planet was recognized in 2014 by the Library of Congress. Norman's anthem, "Why Should the Devil Have All the Good Music?" launched the careers of countless imitators in the 1970s and 1980s: Randy Stonehill, Mark Heard, and the Daniel Amos band. By the time singers like Amy Grant and Michael W. Smith burst onto the scene, a billion-dollar industry had been born.
Eager to press forward with this artistic vision, Norman released So Long Ago The Garden in 1973. The album shied away from explicit preaching and hid its biblical and spiritual lessons in layers of metaphor and surreal imagery. There were no overt references to Jesus or salvation. But from the standpoint of his Christian audience, the deal-breaker came when Norman posed nude on the album cover, a photo of a lion sitting in the grasslands of Zimbabwe superimposed over his body.
A Man Without a Country
Outraged Jesus Movement leaders concluded that Norman had "fallen away from the Lord." When, in 1973, Norman announced to a sold-out audience at the Royal Albert Hall in London that he didn't want to perform concerts for mostly Christian audiences anymore, people took it as evidence of backsliding. Although Norman claimed that he wanted his art to speak for itself—and that he wanted to avoid the appearance of "making money off of Jesus"—the rumor mill began to churn: He was taking drugs. He was dabbling in Satanism. Perhaps he had even starred in pornographic films.
This gave fundamentalist leaders an opening. Preachers and writers such as Bill Gothard, Bob Larson, and David Noebel denounced Christian rock as a tool of the Enemy, with Noebel calling the genre "A Stratagem of Mephistopheles." Jimmy Swaggart famously (and ironically) called the music "spiritual fornication."
Although most churches would eventually make room for guitars and drums in church, Norman would remain an outlaw in the evangelical movement, despite enjoying friendships with celebrated Christian writers like Francis Schaeffer and Malcolm Muggeridge (and performing for Jimmy Carter on the White House South Lawn). As the Religious Right and the culture wars came to define evangelicalism in the Reagan era, Norman felt like a man without a country.
His rebel status was mostly warranted. Although he developed a cult following and toured successfully for decades (especially in the British Isles, Australia, and Europe), a near-fatal heart attack in 1992 took him out of the spotlight. His two divorces, allegations of affairs, and a child born out of wedlock kept controversy swirling even after his death from heart failure in 2008.
But Norman's decline had a silver lining. He got closer with his family and counted some of his ardent fans among his closest friends. Ironically, he was inducted into the Gospel Music Hall of Fame in 2000 with Elvis Presley, even though he was too sick to attend the ceremony. He felt closer to Jesus than ever before. Best of all, he was spared from an outcome he had resisted from the beginning: becoming a professional God-talker, like the critics who denounced him.
His attitude was that Christian is the greatest of all nouns—and the lamest of all adjectives. He thought a believer's work should stand on its own in the secular marketplace. The worst fate of all was simply to "make money off of Jesus" from Christians talking only to themselves in an echo chamber. Life is too short, he surmised—and, after all, we're only visiting this planet.
Gregory Alan Thornbury is the author of Why Should the Devil Have All The Good Music?: Larry Norman and the Perils of Christian Rock (Convergent). He is chancellor of The King's College and a vice president at the New York Academy of Art.
Have something to say about this topic? Let us know here.
Have something to add about this? See something we missed? Share your feedback here.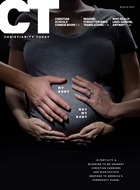 This article is from the March 2018 issue.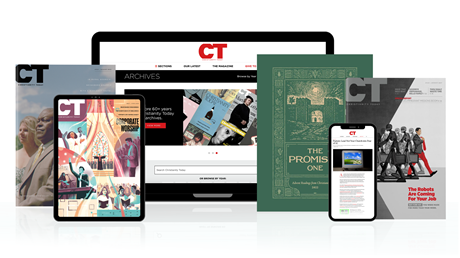 Annual & Monthly subscriptions available.
Print & Digital Issues of CT magazine
Complete access to every article on ChristianityToday.com
Unlimited access to 65+ years of CT's online archives
Member-only special issues
Subscribe
How Larry Norman Became the Elvis Presley of Christian Rock
How Larry Norman Became the Elvis Presley of Christian Rock