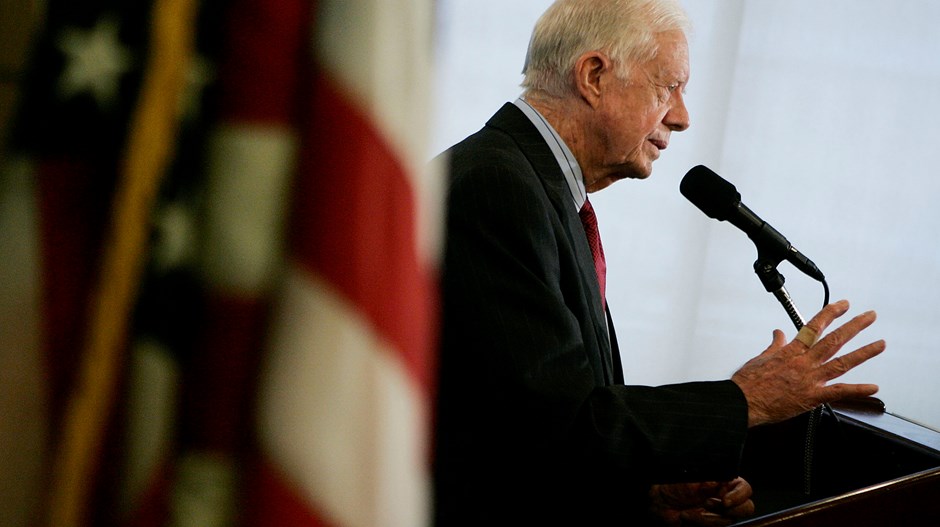 Image: Alex Wong / Getty Images
Former President Jimmy Carter has accepted an invitation to deliver the commencement address at Liberty University on Saturday. Many will view this announcement as surprising, some even as disappointing for one reason or another. I view it as hopeful.
Carter is a progressive evangelical; the Falwell family and Liberty University identify with fundamentalist evangelicalism. Politically, Carter is generally liberal while the Falwells are conservative. Historically, Carter and Liberty's late founder Jerry Falwell Sr. had differed sharply and personally on multiple issues—most notably civil rights and American defense of Israel.
So why, in this current era of adversarial politics in the state and even in the church, are the two contrasting forces coming together?
It is less surprising that Carter is willing to accept the invitation than that Liberty chose to offer it in the first place. While the former president can be unflinching on what he views as absolute moral principles (such as his opposition to racism), his career-long natural instinct has been to bring people together as much as possible (like when he met with former Israeli Prime Minister Menachem Begin and former Egyptian President Anwar Sadat in 1978 at Camp David).
To work cooperatively with a broad range of evangelicals in achieving common evangelistic and social justice goals would not normally be difficult for Carter.
By contrast, fundamentalists, almost by definition, are more or less separatists. But Jerry Falwell Sr. modified that separatist mentality by entering the political arena as the founder of the Morality Majority, which set out to influence the conservative social agenda.
Gradually his college and his successor, son Jerry Falwell Jr., came to embrace the Republican Party as a vehicle for implementing their social goals.
We all know what happened next. The nation unexpectedly elected a Republican president who supported much of the conservative agenda but did not reflect the Christian virtues of moral purity and intellectual honesty in his personal life.
Falwell Jr.'s support for President Donald Trump created a sense of ethical dissonance. A significant number of the Liberty students objected strongly and publicly to the stance of their leadership. Had the institution sacrificed its soul for political advantage? Had it confused its moral agenda with its chosen political institution for advancing it?
And then came the big surprise. In 2017 both Carter and Falwell Jr. attended Donald Trump's first presidential prayer breakfast. Carter reached out to the son of his former adversary, and Falwell Jr. was grateful. The Liberty president was a trained lawyer (educated at the University of Virginia) and greatly enjoyed politics and prominent politicians. Falwell invited leading Republicans and Democrats to Lynchburg for major assemblies. (University leadership has explained that they extend invitations to politicians from both parties, but GOP figures have been more likely to accept. Barack Obama was invited to speak in 2012, for example, but opted to send Virginia Senator Tim Kaine instead.)
While outsiders might assume Carter's invitation was motivated by a desire to assuage the dissenting students, Falwell expressed genuine appreciation for his record as a Christian and humanitarian in the Liberty press release announcing Carter as the ceremony's speaker:
I was so impressed with the president's warmth, kind demeanor, and humility. It is one of the greatest honors of my life to welcome President Carter to our Commencement stage. I have tremendous respect for him as a statesman and a true Christian.

While Christians may disagree about what role government should play in serving those in need, the Liberty University community along with all Christians worldwide are united in the belief that we, as individuals, should provide food and shelter to the poor. President Carter, both during his time in office and since, has followed the teachings of Christ by serving the poor and loving his neighbors. I am thrilled that he will be sharing the story of his life of faith in action to our graduates and their families.
Indeed Carter's post-presidential career is as significant as that of any president, including other noteworthy examples like Herbert Hoover and John Quincy Adams. Through the Carter Center, he has continued his international humanitarian work in disease eradication, conflict resolution, human rights, and the promotion of democracy.
So now the nonagenarian Carter—93 years old and apparently recovered from a serious bout with cancer—is coming to the college whose founder also began the movement that helped to defeat him in his presidential reelection bid in 1980. The longest-surviving president in history (37 years and counting since he left office) and the leader of arguably the fastest-growing American Christian college of the past century are engaging in a mutual spirit of reconciliation and intellectual openness.
There must be a lesson here for all Christians. It's time for us to put biblical principles at the center of our approach to political clashes and remember:
The kingdom of God is above all human institutions, including political ones. Yet, we must seek to live out the kingdom of God ideals as best we can in this imperfect world. Other Christians seeking the same ideals will reach different conclusions than we do. We must humbly realize that God distributes his wisdom widely.
As Christians, it's up to us to exercise kindness in the midst of intense debate. The process (charity) is no less important than the product (truth). The wise participant in an intense discussion will recognize that passion often stems less from the specific issue at hand than from a longer-standing and more personal issue. We can eagerly listen for the best ideas of the other person or side and find points of empathy.
In our lives, we should advocate for the social principles we find in Scripture (e.g. Mark 12:31, James 1:27, Matt. 25:35–36, Rom. 12:18); vote for people of ability, character, integrity, and goodwill; and then expect those legislators, as much as possible, to apply their high values to the specific issues of the day.
Ultimately God is our truth. As it says in Jeremiah 29:13, "Ye shall seek me, and find me, when ye shall search for me with all of your heart" (KJV). The closer you come to truth, the closer you come to the mind of God.
William Ringenberg is an adjunct professor of history at Taylor University and author of The Christian College: A History of Protestant Higher Education in America andThe Christian College and the Meaning of Academic Freedom.
Speaking Out is Christianity Today's guest opinion column and (unlike an editorial) does not necessarily represent the opinion of the magazine.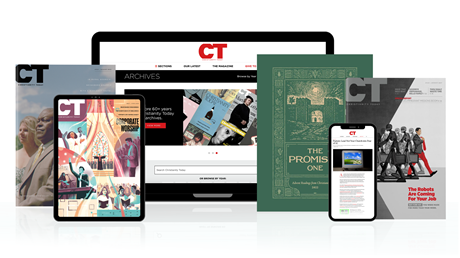 Subscribe to Christianity Today and get access to this article plus 65+ years of archives.
Home delivery of CT magazine
Complete access to articles on ChristianityToday.com
Over 120 years of magazine archives plus full access to all of CT's online archives
Subscribe Now
Jimmy Carter at Liberty Is 2018's Most Surprising Yet Hopeful Commencement Speaker
Jimmy Carter at Liberty Is 2018's Most Surprising ...