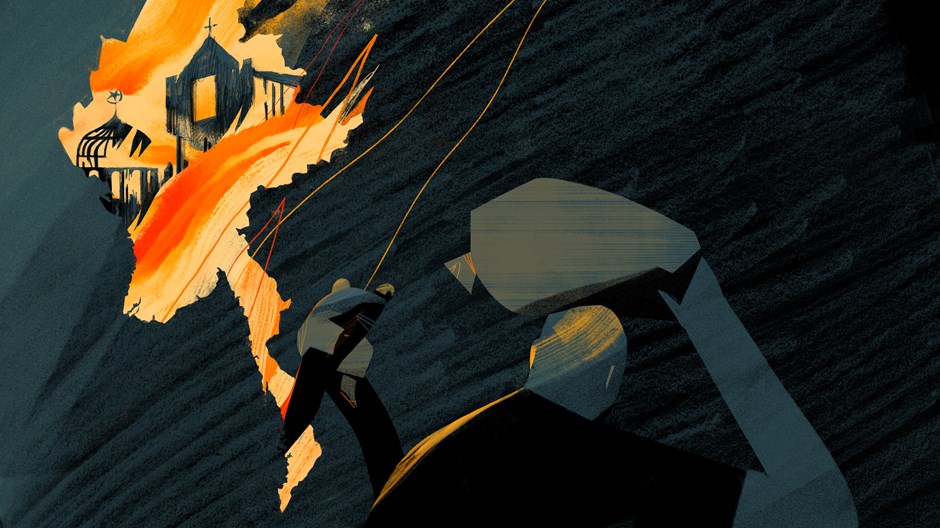 Image: Sara Wong
They drove hundreds of thousands of Rohingya Muslims from their homeland from 2016 to 2017. Now many of the same Burmese troops that purged southwest Myanmar have moved north to another beleaguered religious and ethnic minority: the Christian Kachin.
Thousands of Kachin have been driven out of more than 50 villages as of June 2018, adding to a tally of more than 400 villages, 300 churches, and 100 schools destroyed or damaged by soldiers since 2011, according to the Kachin Independence Organization (KIO).
Fleeing their homes and villages has not always offered the Kachin security. Myanmar's armed forces, the Tatmadaw, have cut off humanitarian aid for scores of camps for internally displaced people (IDPs) in areas controlled by the KIO's armed wing, the KIA. Meanwhile, Baptist and Catholic churches have stepped up to host many of the camps.
About 130,000 Kachin are displaced in Kachin state and bordering Shan state, fleeing to IDP camps since the Southeast Asian nation's civil war rekindled after a 17-year ceasefire.
But while the Tatmadaw's scorched-earth warfare against the Rohingya has been reported on regularly by global news outlets, awareness of similar human rights violations—rape, torture, and murder—against the Kachin has yet to become widespread. A United Nations investigation in March noted that there were "marked similarities" between the violence against the Rohingya and the Kachin.
"I understand if the secular world has no interest in us, but where is the body of Christ?" ~ Layang Seng Ja
The eyes of the world turned briefly to the ethnic group during a visit to Myanmar by Pope Francis last fall, where he was welcomed by more than 7,000 Kachin. But since then many feel that the global body of Christ has ignored them.
"The Tatmadaw has forced villagers from their homes and disgraced our churches," said Layang Seng Ja, a New Testament professor at Kachin Theological College and Seminary. "I understand if the secular world has no interest in us, but where is the body of Christ?
"We are the fruit and labor of American missionaries," she said. "So where are the Christians?"
The atrocities against the Kachin reached a peak this spring. The Myanmar army has justified its actions, claiming that the KIA is a terrorist group and that much of the violence incurred in villages is collateral damage. But local leaders and outside religious freedom observers say the attacks on Kachin villages are also attacks on Christianity.
The Kachin people have long embraced their Christian heritage, dating back to the early 1800s when missionary Adoniram Judson came to then-Burma and translated the Bible into Burmese. He planted a number of Baptist churches, and his spiritual descendants make up much of the Kachin's 1.2 million people.
"We don't like to use the term 'religious persecution' lightly," said Nsang Gum San, president of the Kachin Alliance, a US-based advocacy group. "But the systematic ransacking of churches certainly qualifies." He and authorities within the Kachin Baptist Convention (KBC) say that in villages where churches have been destroyed, the Burmese have erected pagodas as Buddhist shrines.
'All We Knew was Fear'
There are more than 165 IDP camps spread across Kachin and northern Shan, most run by Baptist churches. Hkawn Nu fled to one in May. Months into her pregnancy, she did not want to leave, "but to stay meant I would have gone hungry … or been killed. All we knew was fear."
A little over two weeks after arriving at the camp, she gave birth to a little girl. Barely two weeks old on the afternoon her mother was interviewed, the baby slept peacefully as Nu and her daughter shooed away flies. In the camps, time ticks by slowly. There is little to do but sit, sleep, and wait for a meal of rice and a thick soup.
Despite the tight living spaces, swarms of mosquitoes, and copious amounts of mud, the camps are sanctuaries to the refugees. On this day, a health fair was underway at a camp run by the Waingmaw Baptist Association (WBA); doctors and nurses examined eyes and teeth and took vital signs. The WBA has received help from groups such as World Concern and World Vision, said Hpauyu Tang Ze, director of men's ministry.
The WBA camp, where 350 IDPs share a space the size of half a basketball court, is 1 of 8 on this side of the Ayeyarwady, Myanmar's largest river, that houses more than 10,000 displaced villagers. One resident, Bawn Sau, explained how his family fled their village near the China border when the gunfire they heard drew too close, like thunder before lightning. "You know when you have to leave," said the 15-year-old.
The rift between the Kachin and the national government dates back to 1948, when then-Burma gained its independence from Britain. The KIO and KIA were formed in the 1960s, after Buddhism was declared the state religion. In recent years, the Kachin, along with the Karen, Shan, Chin, Rohingya, and other ethnic minorities, have been victims of forced closures of churches and mosques as well as forced conversions to Buddhism. Many have fled en masse to neighboring Bangladesh, Thailand, Malaysia, and India.
A ceasefire started in 1994. But tensions between the Kachin and the national government began to rise in 2008, after some proposed changes to Myanmar's new constitution did not sit well with the KIO, said spokesman Dumsa Dau Hka. In 2011, when the Burmese army attacked the KIA and tried to put its own security forces around a KIO-controlled hydropower plant, the ceasefire fell apart, spurring a civil war.
In carrying out its current strikes, the Tatmadaw employs fighter jets, helicopters, and heavy artillery to bomb, burn, and fire at Kachin villages. While the KIA has no air force, its ground forces use AK-47s and short-range rocket launchers, said Dau Hka. "The situation is getting worse."
'Where Will They Go?'
For now, the refugees are adjusting to their new lives, praying for peace and harmony. Their misery is not camp life, but uncertainty of what will come next.
"What will happen to them? Where will they go? That's the answer we're looking for," said Zau Rat, pastor of Jaw Masat Baptist Church, which hosts 450 IDPs—including 150 children—on the outskirts of Myitkyina, the capital of Kachin state. Volunteers spend time counseling the victims, "trying to keep them focused and looking forward," he said. "The most important thing to contribute is our time and worship."
Across the Ayeyarwady, church bells at Maina KBC Camp ring three times a day, signaling worship. On this rainy day, a handful of teens circled for prayer just before lunch. The camp is the largest of 13 in Myitkyina, with rows of barrack-like huts with tin roofs housing 2,800 IDPs from 47 villages, said Maran Zau Lone, the camp's self-described chief. His consistent message to the displaced: "Be patient and have faith."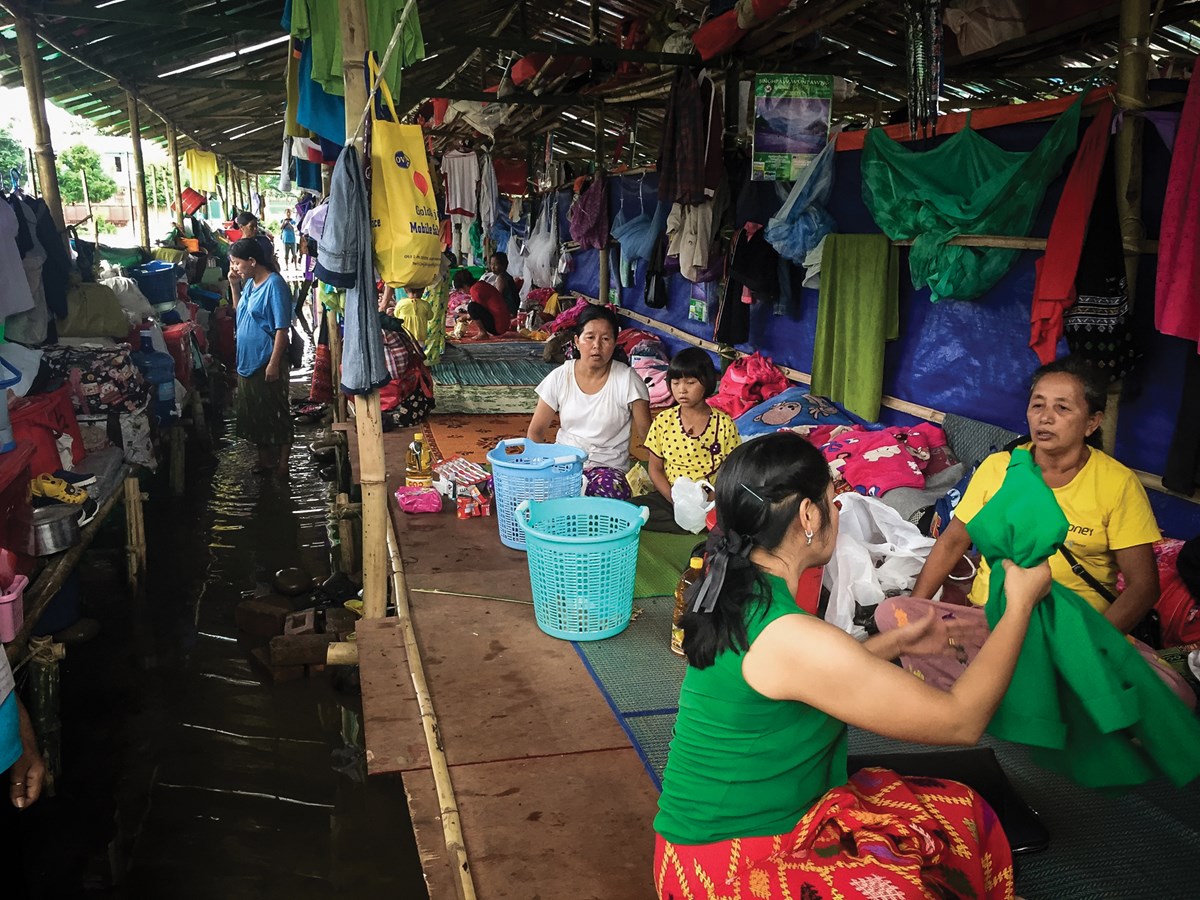 Image: Lee Williams
Gum San is not optimistic the displaced will be able to resettle after the "implosions" of their communities. Once a village is attacked and people are forced out, it falls under the control of the Myanmar government, which reaps the revenue from such natural resources as banana plantations and jade mines.
Another pressing issue, especially in areas once controlled by the KIA, is land mines, said the WBA's Tang Ze. From January to May this year, 13 civilians were killed and 39 injured by land mines, according to the Kachinland News.
Tang Ze said some permanent shelters are being built by the government; in June, 95 displaced families were moved from camps into low-cost housing near Waingmaw. But for most of the displaced, they wait. And wait. And wait.
Supna Hkawn Bu, who is over 100 years old, spends her days at a Catholic-run camp in the mountains. She is frail and unable to walk, and had pleaded with family to let her stay in their village devastated by an air strike in April. Her grandson carried her on his back to the camp; a photo of the two went viral on Facebook.
She is weary of the civil war that has lasted half of her life. She's been a refugee three, maybe four times. She's had enough. "It was really scary when I was young," she said. "But now I just really want to go home. I don't want to die here."
Bob Roberts, senior pastor of NorthWood Church in the suburbs of Fort Worth, Texas, went to Myanmar in June to see the Kachin crisis firsthand. "The same army units that slaughtered and raped the Rohingya are now in Kachin state doing the same thing to the Christians, and the persecution is picking up," he said.
Roberts is part of the Faith Coalition to Stop Genocide in Burma, which is urging the US government to impose sanctions. "Now is the time to speak up while there is hope," he said. "After the fact is too late."
Lee Williams is a journalist based in Fort Worth, Texas.
Have something to add about this? See something we missed? Share your feedback here.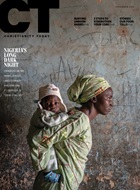 This article is from the November 2018 issue.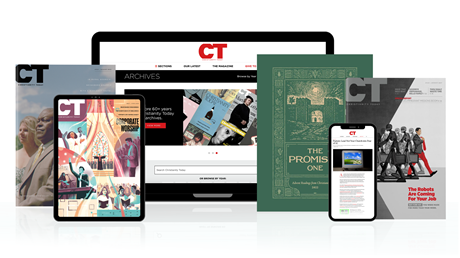 Subscribe to Christianity Today and get access to this article plus 65+ years of archives.
Home delivery of CT magazine
Complete access to articles on ChristianityToday.com
Over 120 years of magazine archives plus full access to all of CT's online archives
Subscribe Now
Burma's Beleaguered Baptists
Burma's Beleaguered Baptists