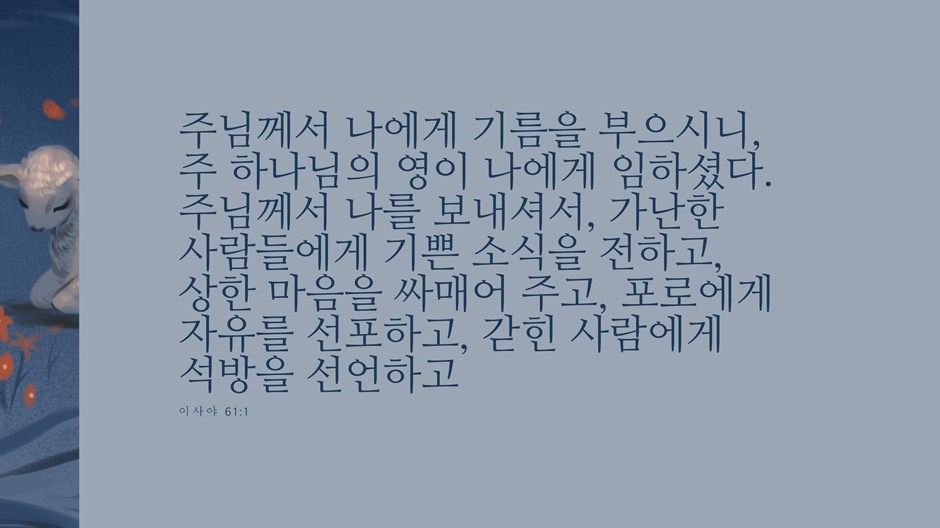 여기를 클릭해서 '성탄절에 전하는 복음' 묵상 본문을 다운 받으세요.
오늘의 말씀: 이사야 61:1-4, 8-11
교회의 사명이 무엇인지를 두고 자주 논쟁이 일어납니다. 복음을 전할 것인가, 정의를 위해 일할 것인가? 죄 사함이나 병자의 보살핌 중 무엇을 우선할 것인가? 이런 논쟁이 신학과 사명에 대한 오래된 분열에 깊이 뿌리 내리고 있습니다. 대체로 말해서, 어떤 그룹은 굶주린 사람들을 먹이는 일에는 확고하지만 동정녀 탄생에 대해서는 별 신경을 안 쓸 수도 있습니다. 또 어떤 그룹은 그 반대일 수도 있습니다. 한 쪽은 더 나은 세상을 만드는 일에, 다른 한 쪽은 사후 천국의 약속에 몰두합니다.
이렇게 갈라진 양쪽 모두를 예수님은 질책하실 것입니다. 회당에서 이사야 61장을 읽으시면서 그는 그의 사명을 이렇게 선언하셨습니다. "주님의 영이 내게 내리셨다. 주님께서 내게 기름을 부으셔서, 가난한 사람에게 기쁜 소식을 전하게 하셨다. 주님께서 나를 보내셔서, 포로 된 사람들에게 해방을 선포하고, 눈먼 사람들에게 눈 뜸을 선포하고, 억눌린 사람들을 풀어 주고, 주님의 은혜의 해를 선포하게 하셨다"(누가복음 4:18-19). 예수님은 하나님 나라가 용서와 자유, 치유와 희망을 어떻게 가져오는지, 곧 앞으로 이루어질 창조세계의 갱신의 모든 징후를 보여 주셨습니다.
이사야도 "새 하늘과 새 땅"에서 "모든 사람이" 경배하려고 나오는 하나님이 가져오시는 그 날을 고대했습니다(이사야 66:22–23). 이사야와 이스라엘은 그 날이 한 순간에 이루어질 것이라고 상상했을 것이지만, 하나님은 그리스도―기름 부음 받으신 그리스도!― 안에서 언젠가는 세상을 다시 만드심으로 절정에 이르게 될 통치를 시작하고 계셨습니다. 그는 우리와 함께, 곧 창조세계의 중심에 있던 하나님과 사람이 맺은 관계와 더불어 시작하실 것입니다. 그리고 그는 공의를 실현하기 위해 의롭다 여김을 받은 사람들을 통하여 일하실 것입니다. "오른편에 앉은" 사람들이 세상을 바로잡는 하나님의 일에 함께하게 될 것입니다.
그러나 이사야의 예언을 이루실 것이라고 선언하시면서 예수님은 또한 자신을 하나님 나라를 이루시는 이라고 칭하십니다. 이것은 단지 사회 개선 프로젝트가 아니었습니다. 세계와 그 시스템에 대한 전면적인 개편은 씨앗이 땅에 떨어져 죽는 것으로 시작될 것입니다(요한복음 12:24). 메시아만이 그 나라를 출범시키십니다.
메시아, 곧 성령의 부음 받으신 이의 사명은 메시아의 사람들 곧 기름 부음 받은 작은 사람들을 통하여 계속됩니다. 누가는 그의 두 번째 책에서 이 이야기를 성령이 다락방에서 예수님의 제자들에게 부어진 이야기와 나란히 놓습니다. 매우 현실적인 의미에서 교회의 사명은 실제로는 교회의 사명이 아니라 메시아의 사명입니다. 이것을 시작하신 분은 예수님이십니다. 성령으로 우리에게 힘을 주셔서 우리가 성령 안에 참여할 수 있도록 하시는 분은 예수님이십니다. 그리고 영광 가운데 다시 오셔서 완전한 통치를 이루실 분 또한 예수님이십니다.
글렌 팩키암(GLENN PACKIAM) 콜로라도 스프링스에 있는 New Life Church의 부 담임목사이며, 저서로는 Worship and the World to Come 및 The Resilient Pastor(2022년 2월)가 있습니다.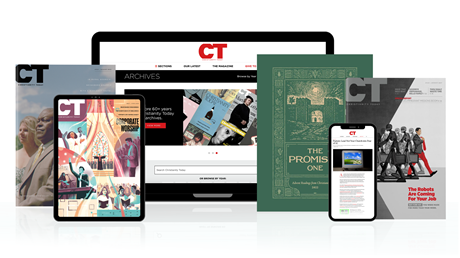 Subscribe to Christianity Today and get access to this article plus 65+ years of archives.
Home delivery of CT magazine
Complete access to articles on ChristianityToday.com
Over 120 years of magazine archives plus full access to all of CT's online archives
Subscribe Now
메시아의 사명
메시아의 사명