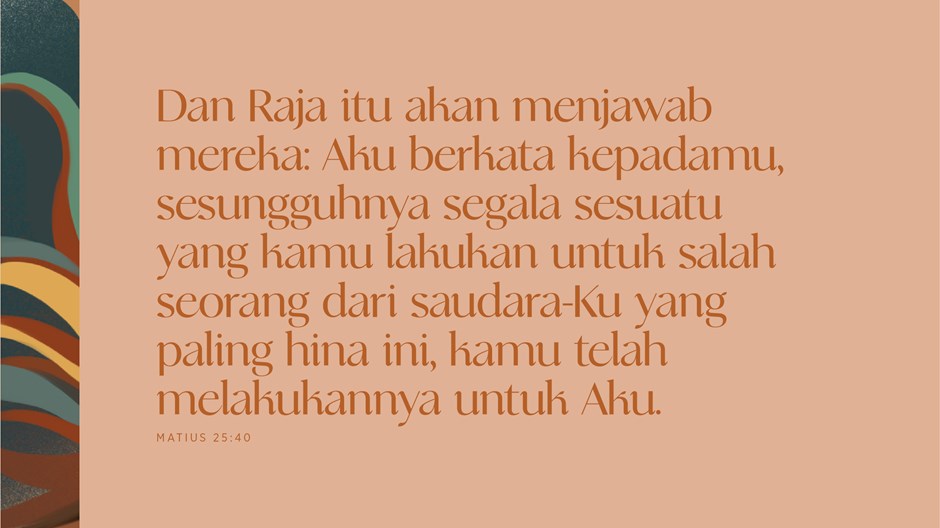 Untuk mengunduh kumpulan renungan "Berita Injil di Masa Adven," klik di sini.
Baca Matius 25:31–46
Dalam Matius 24–25, Yesus mengajarkan tentang kedatangan-Nya kembali dan menggunakan beberapa perumpamaan untuk menggambarkan seperti apa "Kerajaan sorga" itu (25:1). Mungkin elemen yang paling meresahkan dari ajaran Yesus dalam Matius 25:31–46 adalah pertanyaan mengejutkan dari kedua kelompok yang sedang diadili. Mereka tidak protes karena diadili; lagi pula, Anak Manusia telah datang dalam kemuliaan, dihadiri oleh sekumpulan besar makhluk surgawi, dan bahkan takhta-Nya pun mulia. Kedatangan-Nya yang seperti demikian menegaskan dan menunjukkan otoritas-Nya untuk menghakimi.
Dia memiliki hak untuk memanggil setiap bangsa ke hadapan-Nya, dan mereka harus datang.
Namun kejutannya bukan tentang fakta penghakiman atau hak Sang Hakim. Sebaliknya, baik mereka yang di kanan maupun di kiri-Nya bingung tentang apa yang dikatakan-Nya. Kelompok domba melihat Raja kemuliaan ini dan berpikir, "Tentunya kami akan tahu jika kami telah melayani Dia. Kami tidak mungkin melewatkan Dia." Kelompok kambing juga berpikir sama, tetapi kebalikannya. Kapan mereka pernah menolak Dia? Mereka tidak bisa ingat.
Untuk menanggapi mereka, Kristus yang mulia mengungkapkan kuncinya: Ia selalu diidentifikasi, dipersatukan, dengan saudara-saudari Dia. Ini lebih dari sekadar afiliasi; itu adalah identifikasi yang benar. Siapakah saudara-saudari Dia? Yesus mengajarkan dengan jelas, "Sebab siapapun yang melakukan kehendak Bapa-Ku di sorga, dialah saudara-Ku laki-laki, dialah saudara-Ku perempuan, dialah ibu-Ku." (Mat. 12:50). Tidak peduli status, etnis, jenis kelamin, atau warga negara seseorang, jika mereka bersatu dengan Kristus, maka merawat mereka adalah merawat Yesus sendiri.
Ini bukan perbuatan kebajikan, di mana setiap orang mendapat pahala atau hukuman berdasarkan perbuatannya. Ini adalah pengungkapan kesetiaan atau pemberontakan terhadap Yesus yang adalah Raja—itulah sebabnya hanya ada dua tujuan.
Mungkin akan lebih mudah untuk menaati Kristus yang mulia—karena kita akan melihat kuasa-Nya dengan mata kepala kita sendiri. Tetapi Tuhan memanggil kita untuk beriman, bukan melihat. Bahkan, di Natal, kita ingat bahwa Ia datang hampir tidak dikenali.
Bahkan hari ini, Ia diidentikkan dengan umat-Nya yang lemah dan bodoh.
Mulut manis tidak akan berguna. Kepercayaan yang sejati kepada Yesus akan mengarahkan kesetiaan kita kepada-Nya dan menghasilkan ketaatan. Apakah kita mempercayai Dia bahwa pelayanan kepada orang-orang Kristen yang rendah dan hina adalah bukti pemuridan kita yang lebih baik bahkan daripada mukjizat dan nubuat (7:21-23)? Apakah kita mempercayai Dia bahwa kita tidak dapat memiliki perintah yang terutama tanpa yang kedua, atau yang kedua tanpa yang pertama (22:37-40)? Kesetiaan sejati dari semua orang akan terungkap; marilah kita menaruh iman kita kepada-Nya.
Rachel Gilson melayani dalam tim kepemimpinan Cru untuk pengembangan teologi dan budaya. Ia adalah penulis buku Born Again This Way: Coming Out, Coming to Faith, and What Comes Next.
Diterjemahkan oleh: Denny Pranolo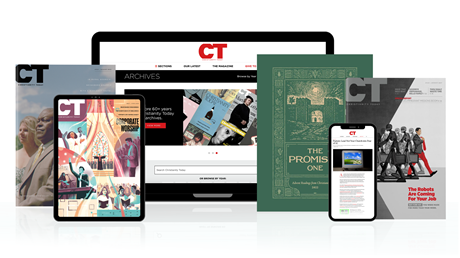 Annual & Monthly subscriptions available.
Print & Digital Issues of CT magazine
Complete access to every article on ChristianityToday.com
Unlimited access to 65+ years of CT's online archives
Member-only special issues
Subscribe
Kanan atau Kiri?
Kanan atau Kiri?