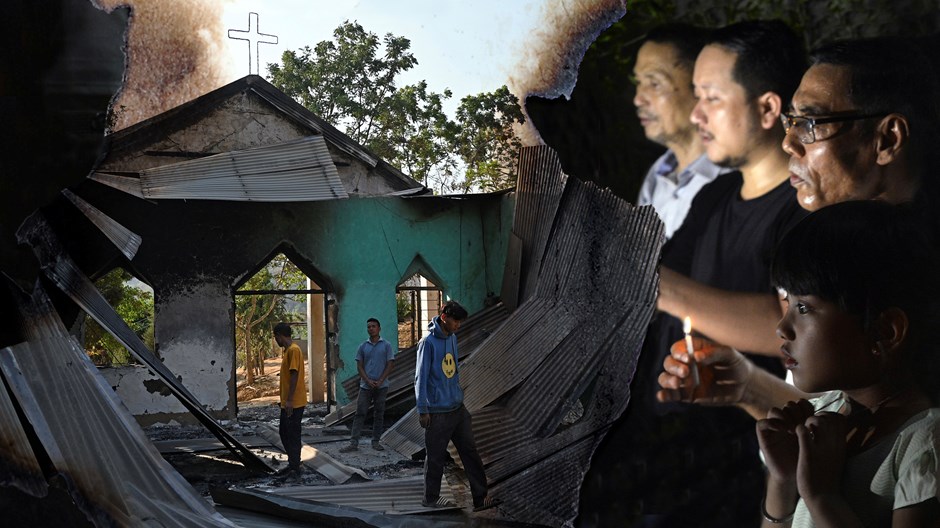 Image: Illustration by Christianity Today / Source Images: Getty
Since the beginning of May, more than 180 people have lost their lives in the northeastern Indian state of Manipur. Most of these victims are Christians from the minority Kuki-Zo tribe and, in turn, thousands from these communities have fled from the violence for shelter in other parts of the state or country.
Manipur is a hill-locked state with a fertile valley in the middle. The Meiteis occupy the valley districts, whereas the hill districts are the ancestral home of the various tribal communities, predating the British colonial administration. Both the hill districts and the tribal people are protected under a special act of the Indian Constitution that restricts land ownership in tribal areas.
The current conflict began after the tribal community's peaceful protest against the Meiteis' efforts to become a "scheduled tribe" (which would also give them access to this hill land) was met with violent retaliation by a radical Meitei mob. The violence was further fueled by explosive lies spread purportedly by the Meitei community themselves, which quickly spread to the state capital, Imphal. Violent mobs started ransacking tribal houses, churches, educational institutions, and hospitals, and attacking people, including women and children.
I am a pastor with the Evangelical Baptist Convention, and the following is an account of one of our pastors in Imphal who shared with me his experiences when the violence first unfolded.
-Chinkhengoupau Buansing
Note: This story includes mentions of graphic violence.
On the afternoon of May 3, 2023, we received news of clashes between the tribal community and the Meiteis in a village about 60 kilometers (about 37 miles) outside Imphal, the city we lived in. We were shocked but we did not expect the violence to escalate so quickly. Instead, like any other Wednesday night, we went to church, where we regularly gathered to pray for our missionaries and their mission fields.
At around 8:30 p.m., after the church service concluded, we heard reports that several churches in Imphal had been burned down. There are two living quarters within our church compound—mine and the caretaker's. We quickly gathered our families and moved from there to what we thought would be a safer place. But soon we could hear mobs shouting and houses burning outside. We spent the night in terror that they would discover where we had hid.
The next morning, we returned with our families to our quarters in the church compound and ate breakfast. But by 10 a.m., we could hear men shouting and destroying houses again. By that time, most tribal people in our area had fled their homes. Some had already lost their lives in the hands of the bloodthirsty mob.
This time we decided to head toward the house of one of our church members, an elected official of the state legislative assembly (who we called the "MLA"), hoping that the security forces there would protect us. But at the MLA's house, we received news that even he had nearly been beaten to death.
Realizing we wouldn't find safety there, we made a run for the nearest paramilitary camp—one of many in Imphal due to the numerous insurgent groups. On our way, we saw houses and cars of tribal Christians being burned and ransacked, no different from what we have seen happening in Ukraine. We later realized that houses and even government quarters where tribal people lived had been marked with paint by the Meitei community months before the violence erupted.
Some of those fleeing told me that they witnessed a mother and son on their way to the same camp being pulled from their car and hacked to death. Those in front could not help them. All they could do was witness hell play out before their eyes.
Even after we arrived at the camp, a mob outside continued to harass us. For the next seven days, the Meiteis would gather around the camp and threaten to enter and burn everything down. My three-year-old was so scared that he didn't move, even when he saw a mosquito biting his hand. I remember a church member unable to talk for days because he saw a fellow Christian being hacked to death.
I was later informed that there were around 7,000 tribal Christians in that camp. Food had to be rationed and even then, there wasn't enough for all of us. They would start serving dinner at 4 p.m. and the last group would get their dinner by 10 p.m. Plates and spoons were scarce, and some of us had to eat out of plastic bags. I believe none of us had a proper bath for the duration of our stay.
In the midst of this horror, throughout our stay in the camp, we organized prayer meetings and encouraged one another to stay strong. Denominations had no meaning inside the camp—we were all one under Christ.
I hope our Christian brothers and sisters all over the world will at least catch a glimpse of our situation. We have lost many of our Christian brothers and sisters. They were pulled out of their homes—some were burned alive, some were stoned to death, and some were left in the streets to die.
I and many in our community believe we are victims of a state-sponsored genocide attempt to annihilate the Christian tribal community in Manipur. We are being hunted down not because we are a menace to the state or because our existence threatens the Meiteis, but because they want land that has belonged to us for generations. (It turns out this land has numerous precious minerals.) It is difficult for me to see any possibility of us living together with the valley people. They have made it clear that they don't want to live together with us. The line has been clearly drawn and separation appears to be the only logical option for us, if we are to survive and thrive as a community. We will stand our ground as Christians and live or die as Christians.
A time to repent?
Even though I am a pastor, I admit that at times I have prayed for our oppressors to be pulverized. I was glad when I heard news of these oppressors being gunned down.
However, as I have been praying about this, I can confidently say that I no longer bear this grudge. Justice will be served in a way God deems best. The Bible tells us that vengeance belongs to God (Rom. 12:19) and I would have it no other way.
To that end, I am not nearly as concerned about the oppressors as I am about my church members. I have witnessed their unwavering faith in Jesus Christ and the many ways in which he has led them through this ordeal. But I am also convicted that God is asking us to change our ways.
Unfortunately, within Manipur, tribal Christians have struggled to prioritize integrity. We have not protected fair and free elections in our community. There is no denying that some of our hills are filled with opium plantations and that some of us have even become drug traffickers.
We should never have voted for the BJP, a party which routinely prioritizes Hindus at the expense of other faiths, to lead our state. But because of our state's reliance on federal funds, and the state BJP's close relationship with the national government, we supported them, even when it was crystal clear we should not have done so.
We are a Christian community and ought to live as such. But more often than not, we have chosen to ignore Jesus and rather make friends with the world.
What we need to do is look to our Father in heaven, humble ourselves before him, change what needs to be changed, and wait upon him. As 2 Chronicles 7:14 says, "If my people, who are called by my name, will humble themselves and pray and seek my face and turn from their wicked ways, then I will hear from heaven, and I will forgive their sin and will heal their land." I feel that this passage is most relevant for us at this time.
I believe that God wants us to repent of all of the ways in which we have wronged him and deviated from his path. I am not putting the blame on us by saying this. Rather, I want us, the Christian tribal community, to come out of this hardship stronger and happier in Christ.
Temples of God
After a few days in the camp, the commanding officer informed us that he would be organizing evacuations for us to the airport. I started getting in touch with my church members—some of us were in the same camp, while others had fled to different camps.
After flight tickets had been arranged for those planning to fly out of Manipur, I also booked tickets for myself and my family. As of now, most of us have found new homes, while some of us are still living in camps run by tribal philanthropic organizations.
I continue to be amazed by the grace and providence with which God has led us. A few months ago, we were fleeing for our lives. We lost all our property and some of us even lost our dear ones. But here we are, still praising God and still hoping for a better future. We have lost much, but we have not lost all.
As far as I know, today there are few church buildings left standing in Imphal. Our church is still standing, although the Meiteis have looted it, turning the building into a community center and the pastor's quarter into a temple. They have removed the cross from the church building and put their flag in its place.
Yet the very deed that makes them feel victorious is the deed that makes us Christians realize we can never be defeated. They destroy buildings made by humans and hoist their flags atop buildings which they thought stood for our faith.
But if only they knew what God considers his temple. We fled our homes with nothing more than the clothes we were wearing. Yet here we are, temples of God, worshiping him still.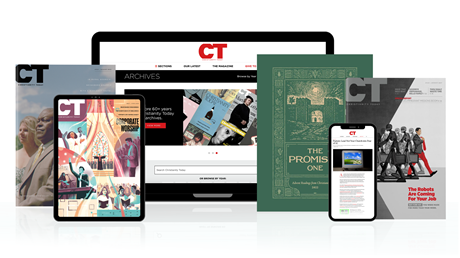 Annual & Monthly subscriptions available.
Print & Digital Issues of CT magazine
Complete access to every article on ChristianityToday.com
Unlimited access to 65+ years of CT's online archives
Member-only special issues
Subscribe
Read These Next
Trending

American Christians Should Stand with Israel under Attack

While we pray for peace, we need moral clarity about this war.

From the Magazine

Frozen Embryos Are the New Orphan Crisis

More than a million unused IVF embryos are in cryostorage. Are they the next pro-life frontier?

Português

Editor's Pick

Don't Miss These African Christmas Hits

Jam out this season to highlife, Afrobeats, jazz, a cappella, R & B, rap, dance, and hip-hop artists from Nigeria, South Africa, and more.
Manipur Mobs Destroyed Hundreds of Our Churches. Yet God Calls Us Christians to Repent.
Manipur Mobs Destroyed Hundreds of Our Churches. ...