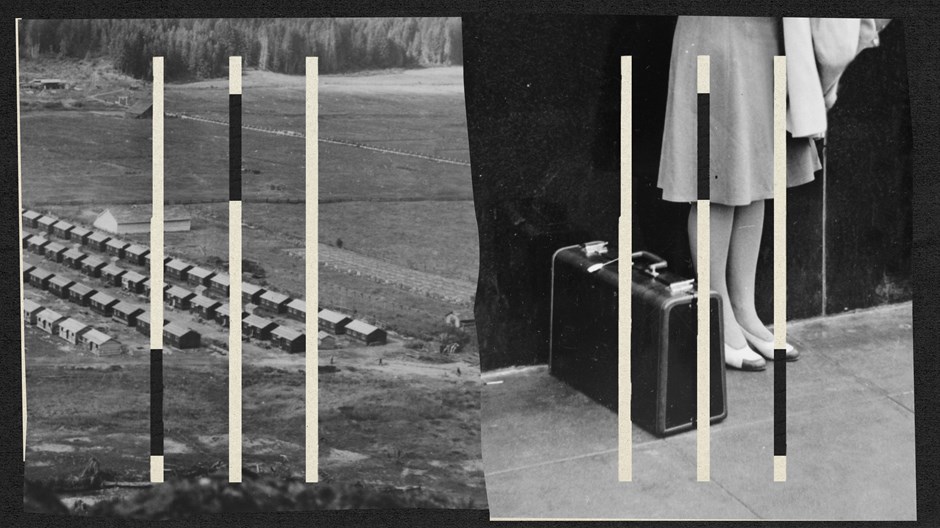 Image: Illustration by Mallory Rentsch / Source Images: WikiMedia Commons
On a warm spring day in 1942, Margaret Ridgway believed she heard God telling her to leave her home in Vancouver, Canada, and move to a Japanese internment camp.
Ridgway was on her knees in the kitchen, praying before an open Bible, when the prophet Haggai's words leaped off the page: "Go up to the mountain … build the house; and I will take pleasure in it, and I will be glorified. … I am with you. … Fear ye not" (1:8; 2:4–5, KJV).
"God had spoken," she declared.
"I had no doubt now that He was calling me to leave my 'ceiled house'—the security of my home, my church, and my familiar surroundings—and follow my Japanese friends who were deprived of their homes and their livelihoods and were being sent to makeshift quarters in the narrow valleys of the Kootenay and Slocan Rivers," she wrote.
Ridgway's heart and passion for the Japanese Canadians in Vancouver prior to the war had prepared her well to face this tumultuous period in Canadian history. Her life story would come to reflect a deep commitment toward sharing the love of Christ with the Japanese people.
"If it weren't for Margaret, we wouldn't be here," said retired Toronto pastor Stan Yokota. "She was the only person who went to be among the Japanese to start an evangelical church."
Venturing into the unknown
Margaret Ridgway was born on May 31, 1915, in Regina, Saskatchewan. After her father's untimely death when she was three years old, her family eventually relocated to Vancouver. She felt led to reach out to Japanese people well before the Second World War began, according to Ed Yoshida, former pastor of Wesley Chapel Japanese Church in Toronto.
Ridgway grew up in a Baptist home. After accepting Christ as a teenager, she became friends with L. C. Harry and his wife, who were missionaries sent by the England-based organization Japan Evangelistic Band. The Harrys asked Ridgway to help out in Sunday school for Japanese children living in the Celtic Cannery and other cannery settlements around the city.
Ridgway grew increasingly convinced that her life's mission would be evangelizing to the Japanese people. When Harry later became ill, Ridgway prayed that God would empower her to take over his work.
The harvest was certainly plentiful: Japanese immigrants first arrived in Canada in the 19th century to pursue financial opportunities overseas. Many settled in fishing villages in coastal cities like Vancouver or on farms and alongside lumber mills situated further inland.
Still, the Japanese people struggled to assimilate into Canadian society. Anti-Asian racism was rampant during this time. A mob ravaged predominantly Japanese and Chinese areas in Vancouver to protest against immigrants, who they felt were stealing their jobs, and lobbied the government to halt immigration from Asia.
The Canadian government's head tax on Chinese immigrants, which was levied in 1885, did not apply to the Japanese. By the early 20th century, more than 20,000 Japanese people, who mainly worked as fishermen and farmers, had settled in Canada. However, they were not permitted to vote, hold public office, or take on professional jobs. (Second-generation Japanese Canadians faced similar prejudices and received the right to vote only in 1949.)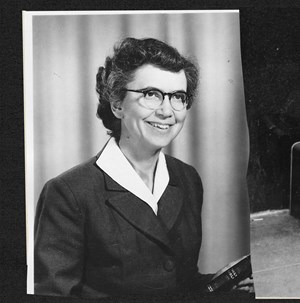 Image: Illustration by Mallory Rentsch / Source Images: Courtesy of Nori Kanashiro
The bombing of Pearl Harbor on December 7, 1941, brought Ridgway's Sunday school classes to an abrupt halt. Though no blood had been shed in Canada, the country had a close political relationship with the US. Thus, after the US declared war on Japan, Canada immediately followed its neighbor, and when the US decided to incarcerate immigrants from Japan and citizens of Japanese descent, Canada adopted a similar policy.
Consequently, Canadian government officials forced many Japanese who were living along the west coast of British Columbia to move to abandoned ghost towns in the province's interior. In all, more than 20,000 Japanese people—including a majority who were naturalized citizens or Canadian by birth—were forced to move to these remote internment camps. The government separated fathers and sons over 18 from their families and sent them to labor in remote road camps, while it transported mothers and children to isolated towns in the province's mountainous region.
Amid these dismal wartime days, God's hand seemed far away. But Ridgway's faith in God spurred her into action.
Upon hearing God's voice through the prophet Haggai, Ridgway rose from the kitchen floor with "a feeling of exultation and yet of solemnity." Weeks later, she received further confirmation of her new mission through her pastor: "Margaret, I believe God has laid this burden on your heart and you should go. We will give you a commissioning service and will urge our friends to back you in prayer."
Ridgway's destination: Kaslo, an abandoned town that had been the center of activity in the heyday of the silver mining boom that swept British Columbia's Kootenay region in the late 1800s.
When she stepped off the bus, several Japanese friends welcomed her. "They were hungry for fellowship with other Christians and had no place to meet as they were living in such crowded quarters—two families in one small hotel room.
"One lady told me she had gone to the mountainside to pray, there being no other place where she could be alone," Ridgway recounted.
Rebuilding community
Ridgway settled into a tiny, abandoned summer cottage. Later that week, five Japanese women paid her a visit one afternoon. "Although they were permitted to bring so little luggage with them when they left the coast, all had their Bibles and all but one had brought their hymn books," Ridgway wrote.
"Each read some portion of Scripture that had been made precious to their hearts in those difficult days. Tears flowed as we prayed together."
The women's fellowship started meeting twice a week. "A Happy Hour Bible Club for boys and girls and a Bible and Handcraft Club for young women soon followed," providing her with ample opportunities to evangelize.
"These [gatherings] were answers to prayer, for I am naturally a shy person. Each morning I would pray, 'Lord, guide me. Give me the words to say and the courage to say them.' And He did," said Ridgway.
Opportunities to pray for the infirm and the sick in the internment camps were numerous. God's miraculous provision for physical needs was evident, and Ridgway's efforts to preach the saving knowledge of Christ to children, youth, and adults resulted in many responding to the invitation of the gospel.
In one instance, a Japanese woman asked Ridgway to pray for a man who had suffered a stroke and was paralyzed from the neck down. "Neither he nor his wife were Christians. I prayed for wisdom and accompanied the lady to the hotel," Ridgway recounted.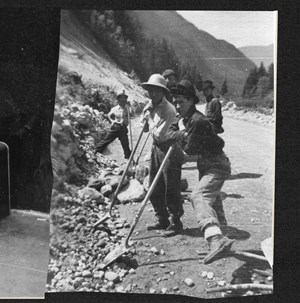 Image: Illustration by Mallory Rentsch / Source Images: WikiMedia Commons
"There we read the story of the paralytic who was let down from the roof at Jesus' feet and I pointed out that spiritual healing was our primary need and then the physical. We then laid hands on the invalid and prayed."
Over the next two weeks, the man's health improved. "His face was radiant as he recounted his steady improvement from the time we first prayed for him," Ridgway wrote.
Between 1943 and 1946, Ridgway's ministry in British Columbia's internment camps grew as Japanese believers took on leadership roles in evangelism efforts. Ridgway also took part in youth rallies in the neighboring province of Alberta. These often drew between 60 and 80 Japanese young people who traveled for miles to worship God together.
As Ridgway later wrote, "I was to have a part in building God's house there, not a building made with hands, but one composed of living stones. He would be glorified and 'the glory of this latter house' would be 'greater than the former'—His work in Vancouver which we were having to abandon."
Because of Ridgway's dedication to serve as a witness to the gospel in the internment camps, the Okanagan Valley, and Alberta, scores of Japanese youth gave their lives to the Lord. Many would go on to Bible schools and seminaries to become pastors and missionaries at home and abroad.
Yokota, the Toronto pastor, grew up in a Sunday school that was run by a believer who had accepted Christ after attending one of Ridgway's evangelistic conferences. After becoming a pastor, Yokota assisted fellow Japanese missionaries Hiko and Ethel Kinoshita to plant a church, which exists today as the Japanese Gospel Church of Toronto.
Machiko Budai was two years old when Ridgway invited her family to attend a church in Vancouver. "My parents were not Buddhist [or part of another religion], so they allowed us to go to Sunday school at a very early age," Budai said.
On one occasion, Ridgway waited hours for Budai's teenage sister, Mary, to come home and confronted her about the importance of receiving Christ in her life. Mary laughed in Ridgway's face, but Ridgway was persistent. "God brought my sister Mary to himself, and she later became a missionary in Japan," Budai said.
Besides Mary, many of Budai's older siblings also serve as missionaries in Japan and Brazil, which is home to the largest community of Japanese people outside Japan. "Margaret was very instrumental in bringing our families the gospel," said Budai.
Journeying on
After the Second World War ended, Ridgway continued to minister to Japanese Canadians in British Columbia and Alberta.
In 1945, Japanese families who were interned in British Columbia's interior were permitted to leave their confined surroundings if they chose to go east of the Canadian Rockies or repatriate to Japan. A majority chose the former, especially since British Columbia did not permit Japanese Canadians to return to the Vancouver area until 1949.
In the postwar era, many Japanese Canadians continued to face discrimination. Finding employment and housing was difficult, especially in the larger cities. Children and youth often wished they had been born with brown or blond hair, not black. Many Japanese Canadians felt like they had to do better than others to prove that they were trustworthy and deserving of employment.
Ironically, Japan was making an unprecedented rapid recovery during this period, to the point that they became global leaders in technological research and development in a few short decades. Japan's reputation was held in high regard, and Canadian society gradually became more accepting of people with Japanese heritage.
As more and more Japanese Canadians left the interior for other parts of the country, Ridgway's outreach efforts experienced several changes. In the fall of 1946, her ministry was formally organized and named the Canadian Japanese Mission (CJM).
Over time, Ridgway's ministry has undergone several changes in name and purpose. From engaging missionaries to spread the gospel and planting churches in cities like Vancouver, Calgary, Edmonton, Winnipeg, and Toronto, the CJM today serves as an umbrella organization providing support to 17 churches and fellowship groups across the country.
Ridgway retired in 1980 and died in 2004. Her friend and fellow missionary Mary Holdcroft described her as a "walking dictionary" of all things concerning the CJM, in a tribute to Ridgway published in the CJM Reporter's Spring 2005 issue.
Ridgway herself had a sobering yet hopeful perspective about her life's work: "Much has happened since these early beginnings. … We have made mistakes through the years—some of them grievous indeed," she wrote in 1978.
"Again and again we have been made aware that we are nothing but earthen vessels and that what has proved of lasting value has been of God and not of us."
The presence of many active Japanese Canadian churches testifies to Ridgway's faithfulness and persistence, says Yokota.
"Margaret was the key to many evangelical churches today in Canada. We have churches from Victoria to Halifax now that are connected with the Canadian Japanese Ministries, and they're all evangelical. That certainly is a real legacy of what Margaret started before the war."
Nori Kanashiro is the former general director of CJM. Isabel Ong is Christianity Today's associate Asia editor.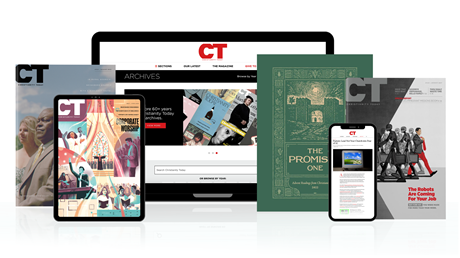 Annual & Monthly subscriptions available.
Print & Digital Issues of CT magazine
Complete access to every article on ChristianityToday.com
Unlimited access to 65+ years of CT's online archives
Member-only special issues
Subscribe
Canada Incarcerated Her Japanese Neighbors, So She Moved with Them
Canada Incarcerated Her Japanese Neighbors, So She ...