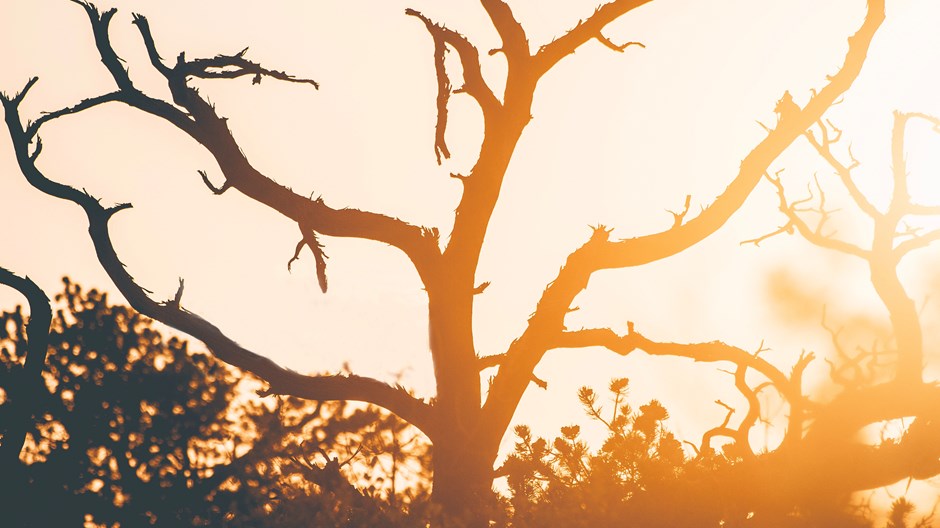 Image: Alexandre Chambon / Unsplash
President George Washington envisioned a nation in which every person would sit under his own vine and fig tree with no one to make them afraid (Mic. 4:4). He dreamed of a people blessed by safety, prosperity, peace, and virtue.
Yet all too often, we claim God's gracious promises as rights instead of blessings. What happens when "the fig tree does not bud and there are no grapes on the vines" (Hab. 3:17)? Can we still rejoice in the Lord and be joyful in God our Savior (v. 18)?
Even the church I've pastored for 12 years, a growing multiethnic congregation in Southern California, began with a death.
We were gifted a property and a handful of precious saints when another church in the Christian & Missionary Alliance denomination closed its doors. That church had boasted a rich heritage of discipleship and missions, but the fruit had fallen off their vine. Some of the congregants were angry to the point of fistfights. Others scribbled down pages of their complaints on a yellow legal pad. Many left and never returned.
They were mourning the loss of a church they had loved for decades and a future that no longer existed, even as we looked forward in anticipation to planting a new church. So during that season, I met with the remnant in their homes and listened to their stories.
We prayed and waited and grieved together beneath that barren fig tree. And by the time we replanted the church, they were some of our strongest supporters. They realized how the death of one church could lead to bountiful harvest in another (John 12:24).
The Book of Habakkuk speaks into our lives when we don't feel God's presence, when we don't understand his ways, and when we don't know if we can persevere. I've found it a helpful guide in counseling congregants through the most difficult seasons of their lives, times of hopelessness and fruitlessness.
In his wrestling with God, we observe the prophet Habakkuk turn from despair in Judah's circumstances to joyful contentment. As he declared, "Though the fig tree does not bud and there are no grapes on the vines, though the olive crop fails and the field produce no food, though there are no sheep in the pen and no cattle in the stalls, yet I will rejoice in the Lord, I will be joyful in God my Savior" (Hab. 3:17–18).
'How long, Lord, must I call for help?'
While preaching a sermon series on Habakkuk in 2012, I received a call from a young man in my congregation late one night. "Pastor, I'm thinking about suicide," he whispered. So I urged him, "Let's talk. What's going on?"
He shared how his mother abandoned him and how he feared that God felt absent. I asked what he had been learning from Habakkuk, and we let the prophet, who lived in Judah 600 years before the time of Christ, speak into his situation more than 2,500 years later. We talked for hours into the night, then months into the future, bringing his sorrows to God's timeless Word.
In Habakkuk's day, God's chosen people had become wicked and corrupt. The wealthy in Judah were oppressing the poor, and the rulers had led the people in idolatry. They had abandoned God, and it seemed like God had abandoned them.
So the prophet bellowed in his pain, "How long, Lord, must I call for help, but you do not listen? Or cry out to you, 'Violence!' but you do not save?" (1:2)
We too can feel such anguish as a loved one suffers from chronic illness, when a prodigal child leaves the faith, or the unpaid bills keep piling up. Amid life's tumult, our lament feels unendurably long.
Beneath these unmet expectations, we can also blame the Lord for leaving us. The young man I counseled at times came to me angry about his circumstances, at times anxious about his future. Like the prophet, we don't understand what God is doing or why he makes us suffer.
Trusting God when we don't understand
In Habakkuk's case, the Lord responded to his pleas by showing him what he had prepared, something "that you would not believe, even if you were told" (1:5). He was raising up the pagan nation of Babylon to punish the wicked in Judah by conquering God's people.
When Habakkuk lamented a second time several verses later, he was more troubled by God's actions than by his previous inaction. Instead of revival yesterday, God promised wrath tomorrow. Instead of salvation, God would send a slaughter. How could the sovereign God appear to lose control, the personal God seem so aloof, and the eternal God be as dead to his people?
These questions echoed in the mind of my young friend as well. He felt that the God revealed in Scripture seemed set against him. How could a good and loving God allow him to experience such pain? Why did it seem that his oppressors were the only ones who prospered?
Together, we watched Habakkuk wait atop those city walls for the Lord to calm his raging emotions (2:1–3). The prophet resolved to trust the Scriptures instead of circumstances and to let his questions lead him to the God who always answers. Even though he couldn't comprehend God's actions, he knew the God who acted. So, like a sentry, the prophet looked out beyond his watchtower—not for the approaching Babylonians, but for God's fulfillment of his earlier promises: You are chosen. You are loved. You are set apart for redemption.
Every time my young friend came with questions, we dwelt not on his circumstances but on God's unchanging attributes. Eternal. Personal. Faithful. Sovereign. Merciful. Holy. Transcendent. Trustworthy. We meditated one by one upon those truths until we had stored them in our hearts. Together, we sought to trust that God's ways are higher than our ways and his thoughts higher than our thoughts (Isa. 55:8–9).
Sometimes, the Lord may curse our fig tree for purposes we do not know (Mark 11:12–25) or take away our shade to expose a sickly heart (Jonah 4). Once for all time, God even sent his Son to die upon a cross for sinners. That happened to the only one who was ever truly good, so that God's Word would accomplish his sovereign purpose and bring forth the vine of which we are the branches (John 15).
'I stand in awe of your deeds, Lord'
God responded to the waiting Habakkuk with a song of taunt for Judah's enemies. Five times God sang judgment over Babylon with a startling "Woe!" (Hab. 2:6–20). Five times, he condemned their idolatry and promised destruction. God's justice would prevail, even though Babylon seemed triumphant in the moment.
Thus, Habakkuk's word to God becomes God's Word for us: "Lord, I have heard of your fame; I stand in awe of your deeds, Lord. Repeat them in our day, in our time make them known; in wrath remember mercy" (3:2).
We too can remember God's faithfulness as recorded in his Word: his mercy in judgment, his glory in victory, and his miraculous wonder-working power. God's salvation throughout history guarantees his present help. The God who rescued Israel from Egyptian slavery by carving a path across the Red Sea can deliver us also from our dead ends.
As a pastor, I have wept with men and women whose spouses have left them and with friends who've been given just weeks to live. Yet even in those Red Sea moments, we trust our God to do the impossible. Sometimes the fig tree only blossoms in eternal glory, but at other times new life pokes out from once-dead branches in this life.
That young man who wanted to take his life now counsels other men through Scripture. Many of those once-broken marriages now exalt our Lord as Christ. For the very same God who came in power at the exodus would one day come "to seek and to save the lost" (Luke 19:10).
The power of remembrance
Habakkuk concluded his lament with praise to God even though nothing about his circumstances had changed. His city would still be conquered by the Babylonians. The fig tree and vine remained barren. There would be no food or livestock as all of God's curses for their disobedience overtook them (Deut. 28:15–68). Yet still, the prophet clung to the covenant blessings that would come if they obeyed the voice of the Lord their God. Even if Yahweh should unleash every curse at once, he still promised to stay faithful in the storm.
For "from the barren stump of Jesse, from his roots a Branch will bear fruit" (Isa. 11:1). The end was not the end, but rather the beginning. Many years after Judah's exile to Babylon, a child would be born in Bethlehem. They would call him Jesus, for he would save his people from their sins. This Messiah, this Christ child, this Savior of the world would bear his Father's wrath upon the cross. In mercy, God would place our sin on his beloved Son and place Christ's righteousness on us (2 Cor. 5:21).
The what-ifs that pester our minds are the anthem of our anxiety, causing our fears to spiral in despair. Yet faith in God enables us to replace those thoughts with "even-thoughs." For if God was faithful in past tragedies, then surely he will carry us today. Even though we do not get promoted—even though there's still no ring upon our finger—even though we can't bear children—even though the doctor said cancer—we can claim with the prophet Habakkuk, "Yet I will rejoice in the Lord, I will be joyful in God my Savior" (Hab. 3:18).
The last line of the book reveals that Habakkuk recorded this word from God for corporate worship. The faith-filled praise was not just spoken from the prophet's lips, but from the entire congregation of God's children throughout history.
It was also raised from the lips of those precious saints who laid their dying church to rest and continued with us as we replanted a new church. From day one, they rejoiced with us in worship, supported God's work financially and in prayer, and taught the children of the young families God brought into our fellowship.
Together, we have supported or planted new churches every year of our existence as we celebrate the God who specializes in resurrection. Since then, many of those saints have also continued on to glory, where the fig tree never fails and where they will drink the fruit of the vine for all eternity (Matt. 26:29). Their song of praise in times of barrenness has produced a joyful harvest.
Tom Sugimura is a church planting mentor, counselor, and pastor of New Life Church in Woodland Hills, California. He is the author of Habakkuk: God's Answers to Life's Most Difficult Questions.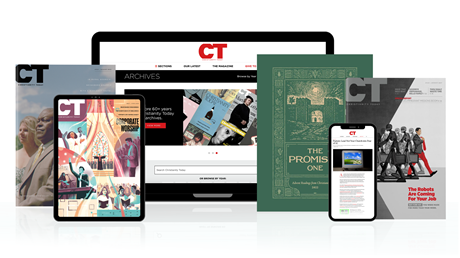 Annual & Monthly subscriptions available.
Print & Digital Issues of CT magazine
Complete access to every article on ChristianityToday.com
Unlimited access to 65+ years of CT's online archives
Member-only special issues
Subscribe
Finding Joy When the Fig Tree Does Not Bud
Finding Joy When the Fig Tree Does Not Bud