First Comes Panic, Then Comes Revival?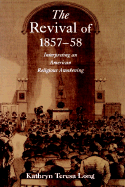 This slideshow is only available for subscribers.
Please log in or subscribe to view the slideshow.
Could God work something wonderful out of the relentlessly negative news? Leave it to evangelicals to find the silver lining amid economic crisis. If revival begins with recognizing our need for God, then perhaps the declining economy will wean Americans from their self-reliance. You would expect no other perspective from people who believe in the redemptive power of suffering.
If you're not familiar with what renowned Harvard historian Perry Miller termed the "event of the century," now is the time. We're talking about the 19th century, but we're not talking about the Civil War. We're talking about the nationwide revivals of 1857 and 1858. Kathryn Long of Wheaton College notes that historians have largely ignored these revivals, caught between the Second Great Awakening before 1835 and the Civil War, which broke out in 1861.
Early recollections of the revival traced its origins to a lunch-hour prayer meeting held at North Dutch Church in Manhattan, just a five-minute walk from Wall Street. Former businessman turned missionary Jeremiah Calvin Lanphier hosted the sparsely attended first meeting on September 23, 1857. Yet week by week the gathering grew, spawning copycat prayer meetings around New York City. Within six months, businessmen across the country met during their lunch hours to pray that God would work among them in a special way.
What led these businessmen to devote their lunch hours to prayer? Long describes the buildup to the Panic of 1857. "A financial crisis had been brewing through the boom years of the 1850s, a period when Americans had indulged in a 'national predilection for speculations of all sorts,' including get-rich-quick schemes involving commodities, securities, mortgages, and above all, land speculation," ...
You have reached the end of this Article Preview