Dooming Angels & Demons with Silence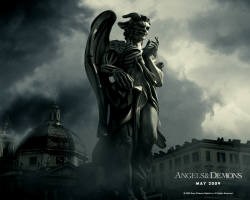 This slideshow is only available for subscribers.
Please log in or subscribe to view the slideshow.
Compared to The Da Vinci Code hype in 2006, Angels & Demons has barely registered a blip on the pop culture radar. With the new Dan Brown adaptation opening in theaters May 15, director Ron Howard attempted to stir up controversy when he accused the Roman Catholic Church of obstructing his filming. The usual suspects have obliged movie publicists with anti-Brown polemics. But so far the Vatican has resisted the urge to join the fray. The semi-official Vatican weekly L'Osservatore Romano declined to cite the movie's many historical inaccuracies. Instead, a reviewer described it as a basic big-budget action flick with stereotypical characters. At least this time the church sides with Brown's good guys, namely Robert Langdon, played once again by Tom Hanks.
Strategically, it's hard to argue with the Vatican's approach. Vocal Christian opposition to The Da Vinci Code largely served to stoke reader and moviegoer interest. Much the same happened, of course, when the Anti-Defamation League, The New York Times, and others faulted Mel Gibson for The Passion of Jesus Christ. By contrast, agnosticism breeds apathy. A little culture-war controversy might have bolstered the bottom line for The Nativity Story. America magazine blogger Michael Sean Winters captured this mood when he urged Catholics not to expect historical accuracy from Angels & Demons.
"So, go to the movie or don't go to the movie," Winters wrote. "Your soul, and the soul of our culture, is not at stake here."
Mark Moring echoed a similar sentiment for the Christianity Today Movies blog.
"Nobody's forcing anybody to watch the movie, or even believe anything that's being portrayed," Moring wrote. "If it's not your thing, skip it. If it is, then enjoy it for what the Vatican's ...
You have reached the end of this Article Preview