Ways to Pray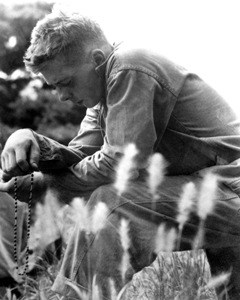 This slideshow is only available for subscribers.
Please log in or subscribe to view the slideshow.
On September 16, The New York Times Magazine ran an exploration of prayer under the title, "Is There a Right Way to Pray?" In search of an answer to the title question, contributor Zev Chafets, a self-identified non-pray-er, visited the Brooklyn Tabernacle, a professional spiritual director in Manhattan, the rabbi half of the "God Squad," a Catholic theologian, and an Assemblies of God church outside Berkeley Springs, West Virginia.
Chafets received guidance as varied as "just sit and ponder," "give Jesus a big hand," "thank who or what seems appropriate," and, at The Brooklyn Tabernacle, complete directions for body and soul: "Let God begin the conversation. Keep your prayers brief and clear. Repeat simple Scripture-based phrases. Pray standing up to fight torpor. And pray directly facing others, eye to eye, in a loud, clear voice." He was most drawn to … well, you should read the article to find out.
Chafets' investigation sent me on a brief jaunt of my own—not to New York and America's first spa (I'm way too behind on grading to be traveling just now), but to the Christian Classics Ethereal Library. I didn't set myself a search agenda, hoping, like the reporter, to end up at least one place I hadn't expected to go.
The varied historical figures who popped up on my keyword search offered advice that overlapped very little with what Chafets heard but, to my surprise, they echoed each other across time and tradition. They asserted that prayer is rather simple, and it really is about asking for stuff.
CCEL first sent me to Charles Haddon Spurgeon, a 19th century British Baptist known as the "Prince of Preachers." In a reflection on Ezekiel 36:37, he wrote, "Prayer is always the preface to blessing. It goes before the blessing ...
You have reached the end of this Article Preview