Where Did Tyndale Get His Theology?
Considering how much at variance he was with the predominant theology of his day, it's fairly amazing that so many people today would consider Tyndale's theology so excellent on so many points: on justification and sanctification; on which books are canonical; on the Lord's Supper; on vernacular Scripture; on theology's need to be practical and down-to-earth; on his concern for the poor and his conviction that the corruption of riches had sidetracked the church from its true spiritual role; and on several others.
Even though during his own day the religious establishment branded him a heretic of the vilest sort and his views those of Antichrist, his views have now been adopted by a large cross-section of the church.
But whose views was he touting? Acknowledging that all theologians' views are shaped by their own life experiences and acquaintances, who or what shaped Tyndale's theology, against the grain of the religious establishment, into one we would likely applaud today?
Because, unlike with Martin Luther, we know little or nothing about Tyndale's family, childhood, readings habits or teachers, it is difficult to say for sure. By concealing so much of his life from the authorities of his day, he left very few traces for historians. Thus it is not easy to know what shaped his thinking. But there are several very likely influences that history tells us about.
The Renaissance Thinkers
A major force in the late 15th and early 16th centuries was the Renaissance; by the time Tyndale translated the New Testament into English, this wave of change was crashing across the entire European continent. It brought changes in art, in government, in economics, in literature, in learning—it even changed the way men thought about themselves: ...
You have reached the end of this Article Preview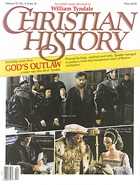 10/01/1987