The Day God Settled the 'Bible Question' for Billy Graham
The Day God Settled the 'Bible Question' for Billy Graham
At stake was nothing less than the reliability of Scripture.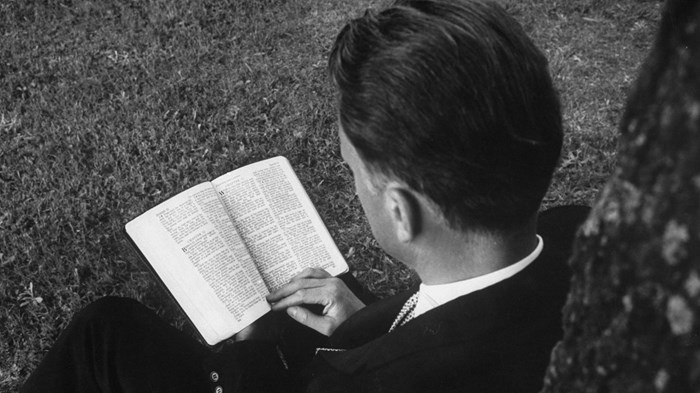 Image: LIFE Picture Collection / Getty Images
With his 1949 Los Angeles crusade fast approaching, Billy Graham was the one in need of revival. Outwardly his career seemed to be on the upswing. Two years earlier at age 29, Graham became the youngest university president in America when he succeeded fundamentalist patriarch William Bell Riley at Northwestern Schools in Minneapolis. Now after a number of successful smaller crusades, he readied for his biggest challenge yet—Los Angeles
Yet inwardly Graham's faith wavered. Reading Reinhold Niebuhr and Karl Barth, he began to question the "old-time gospel" he embraced as a young man. At issue was nothing less than the reliability of Scripture. The Bible's seeming contradictions haunted Graham.
"I was not a searching sophomore, subject to characteristic skepticism," he said of the awkward timing of his doubts. "I was the president of a liberal arts college, Bible school, and seminary—an institution whose doctrinal statement was extremely strong and clear on this point."
The duo divided
While shaken by the neo-orthodoxy of Niebuhr and Barth, Graham was much more severely disturbed by the doubts of his evangelist friend, Charles Templeton. During the 1940s Templeton and Graham were Youth for Christ's dynamic duo. Though Graham routinely induced better results with his altar calls, Templeton was widely considered the more gifted preacher. Handsome, suave, intelligent, and charismatic, Templeton lacked only a formal education to validate these talents.
So in 1948 he decided to enroll at Princeton Theological Seminary and invited Graham to join him. Graham acknowledged his own lack of education—this university president had only a Wheaton College bachelor's degree—but ...
You have reached the end of this Article Preview