The Face That's Everywhere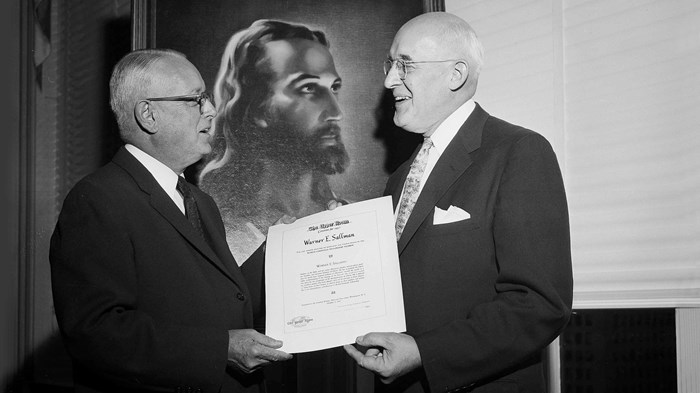 There is a brownish image of Jesus that hangs on children's bedroom walls, in fellowship halls of Catholic and Protestant churches around the country, in mission stations around the world. Even the most Protestant of Protestants knows the picture from Sunday school days or Grandma's living room. But most can't name the painter and wrongly assume that he was Methodist or Lutheran or Catholic. His name, in fact, was Warner Sallman (1892-1968), and he spent his entire life in Chicago. Of Swedish and Finnish extraction, he was a lifelong member of the (Swedish) Evangelical Covenant Church.
A pious man by all accounts, Sallman worked as a freelance illustrator, producing religious imagery for a variety of publications including the Evangelical Covenant Church's denominational magazine Covenant Companion in the 1920s and the Salvation Army's War Cry in the 1930s. The charcoal sketch called "The Son of Man," which appeared on the cover of the Covenant Companion in 1924, attracted enough admirers over the years that Sallman painted an oil version in 1940. The image was titled "The Head of Christ." For many people, this image of Jesus, composed like a photographic portrait, looked like the serene "best friend" they wanted in their Savior.
The Baptist Bookstore picked up various sizes of the lithographic image and placed it in bookstores across the South. A growing variety of products using Sallman's painting appeared—religious instructional materials, prints, gift items, and eventually clocks, lamps, buttons, mottoes or Scripture texts, Bibles, and puzzles. Impressed by the avid public response, Sallman's publishers urged him to produce several images from the life of ...
You have reached the end of this Article Preview