A People of Conscience
Imagine yourself in the imposing Grossmünster church in Zurich. This is a sanctuary in transition: the votive candles have been snuffed out, the frescoes painted over, and the wooden statues depicting saints and biblical figures removed. The expansive space echoes with the high-pitched voice of Huldrych Zwingli. In the language of the marketplace, he preaches directly from the text of the New Testament, moving verse by verse through each book, ignoring the centuries-old liturgical order of readings. He insists on the need for a biblical Christianity to complete the Reformation Luther has begun.
The Reformation's most radical moment
Several young men listen with particular intensity. These are George Blaurock, a striking, black-haired man of peasant stock, with no great education but great zeal for reform; the scholarly Felix Mantz, illegitimate son of a clergyman at the Grossmünster; and Conrad Grebel, a well-educated young aristocrat whose mangled hand—relic of a student brawl at Vienna —testifies to an impetuous nature. They share a hunger for reform and a respect for Zwingli, with whom they are studying the Bible in the original languages.
The three friends' blood rises with excitement at Zwingli's radical words—some preached from this pulpit and others confided in private: The tithes paid to the church to sustain layabout monks and nuns can not be supported from the Bible. Those who eat meat during the weekly fast break not a divine commandment but a human custom. Even the Mass—the regular recapitulation of Christ's sacrifice, supposed to bring his real body and blood to the people—is an abomination that should no longer be celebrated.
These men have learned ...
You have reached the end of this Article Preview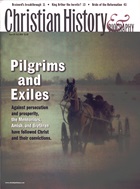 10/01/2004