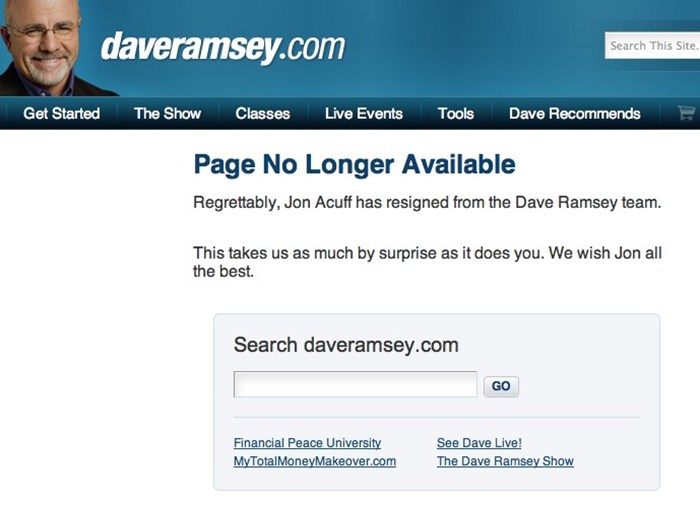 Update (Oct. 21): Jon Acuff launched a new personal blog today, a month after his surprising resignation from the Dave Ramsey team. Ramsey still has control of the writer's former sites, jonacuff.com and Stuff Christians Like.
In his debut post at acuff.me, Acuff describes the feeling of starting over and thanks readers who supported him in the transition to a new chapter.
"The only thing harder than beginning is beginning again," he wrote.
Shortly after publishing the piece, Acuff tweeted that he had to upgrade to a better server to account for the initial flood of traffic.
Acuff has not revealed specific plans for his career post-Ramsey, though his wife, Jenny, is writing a book, How to Be Married to a Dreamer.
-----
Christian author and blogger Jon Acuff suddenly stepped down from his position with financial guru Dave Ramsey on Friday.
Acuff gave no specific reasons for the decision, other than to say on Facebook it was not related to a moral mishap or another opportunity. Full text of his resignation letter appears below.
Acuff, whose bestselling books Quitter and Start encourage people to pursue their dream jobs, suddenly left his own dream job, which he described as the "three greatest years of [his] professional life."
All links to Acuff's website, including his popular Stuff Christians Like blog series, directed to a page on Ramsey's site announcing his resignation.
"Regrettably, Jon Acuff has resigned from the Dave Ramsey team," it said. "This takes us as much by surprise as it does to you. We wish Jon all the best."
In a Q&A with Out of Ur in June, Acuff said, "I tell people that there is only one line in life you can control and it's not the finish line. God and life are going to take you in so many different directions. The one line you control is the starting line." He also discussed his book Quitter with Ed Stetzer last summer.
Acuff posted the following on his Facebook page Friday afternoon:
Hey guys,
After the three greatest years of our professional life, Jenny and I decided to resign from the Dave Ramsey team today.
I need to stress a few things:
1. This was not an integrity or moral issue.
I have not broken any moral clause or anything like that. Furthermore, Dave Ramsey and the entire team there are the most integrity-driven group I have ever worked for.
2. This was not about money.
Dave paid me more than I have ever been paid in my entire life. In addition, he was unabashedly generous with his platform, team and influence.
3. This was not about another opportunity.
I don't have a literary agent or a speaking agent or a publishing deal on the table. I don't have anything else that drew me away from the company or created a wedge.
4. Stuff Christians Like will return.
It takes time to pull together content and blog pages and everything else that is associated with a transfer. Dave has very kindly stressed to me his desire to make that happen as fast as possible.
This was one of the hardest decisions Jenny and I have ever made, but we've got a community of people here in Nashville who love us and are walking with us.
It's scary and difficult, but God is not small.
Thanks for being our friend,
Jon and Jenny