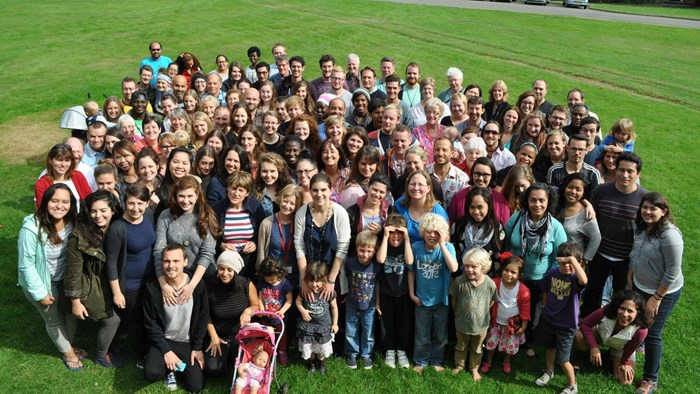 Image: Courtesy of YWAM Harpenden/Facebook
The England and Wales office of YWAM (Youth With A Mission) may lose more than 350 missionaries and their families by April in the wake of British immigration officials suspending the ministry's visa sponsor status.
"Whilst we recognize and support the [UK Visas & Immigration (UKVI) office's] legitimate right to concern over compliance to the rules, we do not feel that the issues raised in the letter from the UKVI justify such a draconian outcome as losing our license would produce," wrote YWAM Harpenden in an "urgent request" sent Friday and highlighted by the Evangelical Alliance UK (EAUK).
Following a September audit related to the UK's attempt to reduce immigration numbers, UKVI officials found that YWAM had erred in two out of the seven areas audited. While the missions organization says it "immediately" submitted a corrective action plan to the government, the UKVI warned that YWAM could be downgraded, limited in its visa sponsorship capacity, or lose its license over the errors.
On December 23, YWAM learned that its license had been suspended for 20 business days, for reasons unrelated to the initial inspection. Should the ministry prove unsuccessful at resolving concerns by January 20, the UKVI may revoke its license and require missionaries to leave the country within 60 days, YWAM stated. The ministry is asking supporters to write members of Parliament by tomorrow [January 7].
Mark Vening, a missionary at YWAM's Wrexham office, told CT that YWAM had operated for 44 years "hand in glove" with the UK government. In fact, six years ago, YWAM and other Christian groups worked with the British government on a special provision which allowed religious nonprofits to issue two-year visas, rather than the standard one-year nonprofit visa, he said.
What does Vening think changed?
"The British government has said they want to reduce immigration by one third. So they are going to have to find organizations that currently have licenses and potentially take them away in order to meet that target," said Vening. "We wonder whether or not faith-based organizations are providing perhaps a soft target for that."
He noted that the UKVI revoked the licenses of other faith-based organizations, including Wycliffe Bible Translators and Nations' Trust, in 2014.
In 2009, CT reported that the UK's adoption of a point-based immigration system, designed to bolster homeland security and regulate the labor force, had instead confused many Christian ministries about how to properly designate their employees. It even led to US singer Don Francisco's deportation.
"Some of the problems we have seen are due to churches not being fully aware of their new responsibilities, while on other occasions, immigration officials have wrongly banned people from the country because they haven't understood their own rules," the EAUK's Daniel Webster told CT at the time.
The UKVI's possible revoking of YWAM's visa sponsor status would affect nearly half of YWAM's England and Wales workforce and 70 percent of its Wales staff, all of whom raise their own support, said Vening.
The missions group suggested that the loss of its license would significantly disrupt its operations.
"It would inevitably mean shutting down some of our training and service opportunities at the Oval, in this nation and abroad," YWAM stated. Its well-known Discipleship Training Program would be most heavily impacted with regards to both participants and staff, though Vening says all day-to-day operations would suffer.
YWAM acknowledged that it has "never been the type of organization which fits neatly into boxes."
"Nonetheless, we are doing everything we can to comply with the law and ensure that our missionaries remain a blessing to the UK and, through our YWAM England and Wales teams, to the rest of the world that YWAM seeks to share the love of Christ with."
Andrew Atkinson, a Conservative Parliamentary candidate for Wrexham who is advocating for YWAM, wrote that while "immigration is a hot topic" in the country, "YWAM missionaries provide an invaluable service to Wrexham."
"I welcome the Government shining a light in every corner on this subject and holding all kinds of businesses and organisations to account in a way that hasn't happened before which led to abuse of the system, in this case however I fear we may go to (sic) far," he said in a statement.
Should the UK government fail to reverse course, Vening says YWAM will likely "pull out all stops" and "mobilize a huge public campaign."
"We don't want to be seen as the whiny nonprofit who is just stomping its foot and being petulant," he said. "We're very, very open to working with the government to get this sorted. But we're a little shocked and a little confused with what's happened."
News North Wales has also covered YWAM's visa difficulties.
A 2010 CT cover story examined how YWAM, on its 50th anniversary, had deployed more than four million workers in 240 countries.
[Image courtesy of YWAM Harpenden Facebook page]