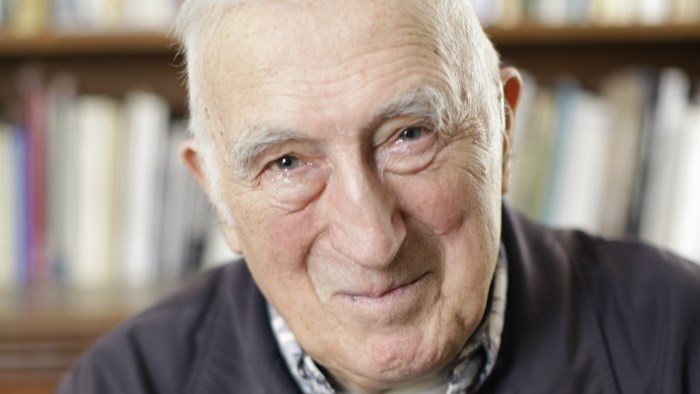 Image: Templeton Foundation
Jean Vanier, who in 1964 founded the first L'Arche community for people with and without intellectual disabilities, has been awarded the Templeton Prize, valued at $1.7 million.
The prize, one of the world's largest, is given annually to a living individual who "has made exceptional contributions to affirming life's spiritual dimension, whether through insight, discovery, or practical works," the Templeton Foundation said.
Mother Teresa, Billy Graham, and Chuck Colson in years past also received the prize. The foundation, based in Pennsylvania, was created by the late Sir John Templeton, the mutual fund pioneer who died at age 95. The initial prize was awarded to Mother Teresa in 1973.
In 1950, Vanier was a 22-year-old officer in the Royal Navy when he went on spiritual retreat for 30 days in New York. At the time, he was studying the writings of Thomas Merton, the Trappist monk, writer, and mystic. After that, he resigned his commission and moved to France to become a Catholic lay leader, completing his doctoral degree in Paris. He began outreach to adults with disabilities. One of them asked him a fateful question, "Will you be my friend?"
That encounter generated the seed of an idea that grew into L'Arche, French for 'The Ark.' In 1964, Vanier, with backing from his spiritual mentor, moved into a house with two adult men with intellectual disabilities. His goal was to create a Christian community of people, with and without disability, living and working together every day. At that time, nearly all adults with disabilities lived full-time in large institutions with limited contact with the outside world.
The community-based L'Arche model grew quickly and has proven to be so successful that there are now 147 L'Arche communities in 35 nations. The organization also supports 1,500 Faith and Light support groups in 82 nations. It celebrated its 50th anniversary last year.
Speaking at the press conference today, Vanier, 86, said, "Our society will really become human as we discover that the strong need the weak, just as the weak need the strong.
"My dream for this magnificent prize you have given me, and through me to L'Arche and Faith & Light, is for us to create spaces and opportunities for meetings, which transform hearts. Places where they can share together, eat together, laugh and celebrate together, weep and pray together; where the hearts of those who carry power in our society can be melted and rest."
CT Thin Places blogger, Amy Julia Becker, author of "A Good and Perfect Gift," the story of her daughter Penny, a child with Down syndrome, told CT, "It would be easy to look in upon an L'Arche community from the outside and assume that the typically developing people are there to help the people with disabilities.
"But L'Arche is premised upon the idea that we are all gifted and we are all needy, that we all need one another. It is based upon mutual giving and receiving, mutual vulnerability and strength, and upon the common humanity we all share through the Imago Dei.
"As the mother of a child with Down syndrome, I am increasingly aware of the way our culture puts people with disabilities in a separate category from the population without visible disabilities. I am also increasingly aware of how much we have in common and can learn from one another when we look past the visible differences and learn to love one another the way Jesus loved."
As L'Arche movement grew, Vanier decided that his ministry model should reach beyond the borders of culture, nationality, and religion. Though faith-based and Catholic in origin, L'Arche communities include Jews, Muslims, and Hindus. The group homes are funded largely through local resources and many have an independent governing structure. The organization now has an international federation and board of directors, serving to guide and govern the movement.
This approach has allowed L'Arche to scale up the number of its residential facilities, to be transplanted into non-Christian majority nations, and sustainable financially. Other approaches to care long-term for people with disabilities include client-service provider and home-based models that do not offer the same level of deep interaction with non-disabled adults.
Henri Nouwen, who taught at Notre Dame, Yale, and Harvard divinity schools for nearly 20 years, learned of L'Arche through the many books Vanier wrote about his life and ministry.
In the late 1980s, the author of The Return of the Prodigal Son and 38 other books on spirituality decided to move into Daybreak, the Toronto branch of L'Arche, where he served as pastor. Nouwen spent the last 10 years of his life there and was paired with resident Adam Arnett, who was unable to speak, subject to frequent seizures, and died at 32.
Shortly before Nouwen's death in 1996, he completed Adam: God's Beloved, a chronicle of their relationship, which Nouwen described as "one of the most significant" of his life.
On May 18, Vanier will receive the award at a public ceremony at the church of St Martin-in-the-Fields in London. He continues to live on the grounds of the original L'Arche community in Trosly-Breuil, north of Paris.