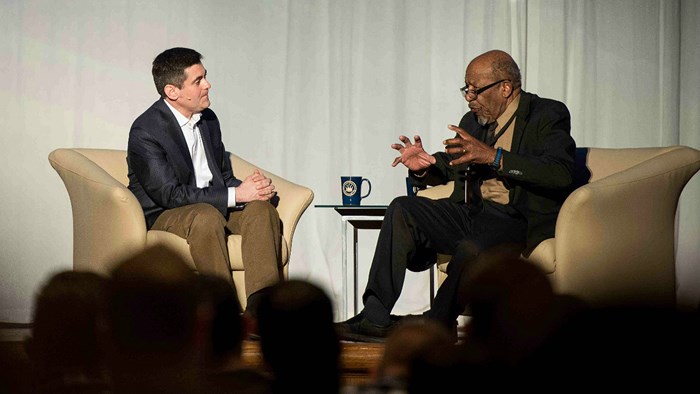 Image: Alli Rader
Growing up in Mississippi, 84-year-old John Perkins recalls seeing signs on Baptist churches that read "Everybody welcome."
Everyone, that is, except Perkins and other African Americans.
"I could have never known that we would be sitting here together, reading the same Bible and hearing God say the same thing," Perkins told Russell Moore, president of the Southern Baptist Convention's Ethics and Religious Liberty Commission (ERLC) during yesterday's summit on racial reconciliation in Nashville.
The two Mississippi natives recounted instances of racism by churches in their home state during a 45-minute conversation at the summit.
When Moore first began planning the event, one of the first leader names he thought of was Perkins, a longtime Christian civil rights activist.
Perkins has led, lived through, and even been detained in jail for his role in the movement starting in the 1960s. The founder of the Christian Community Development Association, he has been speaking about the gospel's directive to fight injustice ever since.
"It makes my blood run hot when I think that this God of heaven came down, redeeming a third-grade dropout, brought me into his Kingdom, gave me this opportunity to be working together with him in his redemptive purpose," he said. "I can do that, and we all can do that."
This year marks the 20th anniversary of a Southern Baptist Convention resolution officially apologizing for any role the church has played in perpetuating racism over its history. It also follows a particularly tumultuous year for racially charged incidents and protests, culminating with the Eric Garner case last December.
At the time, Moore spoke out, "shocked and grieved," and called on the church to respond. He said he heard some criticism for taking a stand on such a controversial topic, but not a lot.
The ERLC says it has not received significant pushback for its summit on race, nor for featuring Perkins, whose philosophy of "reconciliation, relocation, and redistribution" may differ from the approach of some social conservatives. The 550-person crowd gave Perkins a standing ovation.
Moore called Perkins one of his heroes in the faith and a prophetic voice on the issue of racial reconciliation.
"Got to experience history tonight as I listened to John Perkins speak," tweeted one pastor in attendance, amid the many praises for Perkins' message on "a gospel that will burn through racial barriers."
About 19 percent of the SBC's 50,000 congregations are predominantly non-white, with African Americans and Hispanics being the denomination's largest minority groups.
Recent surveys indicate that black and white evangelicals think differently about race, with white believers twice as likely to believe that "one of the most effective ways to improve race relations is to stop talking about race." White pastors are more likely than black pastors to agree that the gospel mandates racial reconciliation.
"If people think this is simply a social issue or simply a political issue, then they will assume that that's not the sort of the we need to talk about within the church, that it's something that we simply need to talk about on Facebook," said Moore.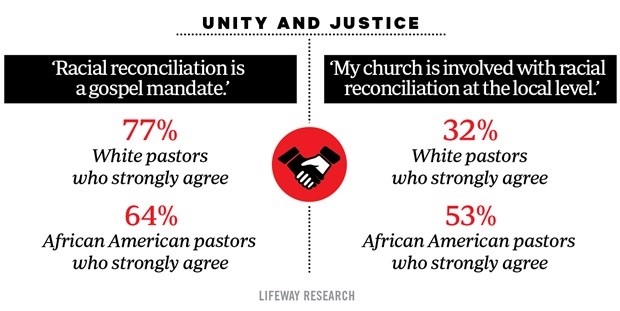 Image: Christianity Today
The summit continues Friday and is being livestreamed.
CT featured Perkins and his continued work with the CCDA back in 2007. Last year, Perkins spoke to CT blogger Amy Julia Becker about the role of the sin of racism in Ferguson.