What to Give Up for Lent 2016? Consider Twitter's Top Ideas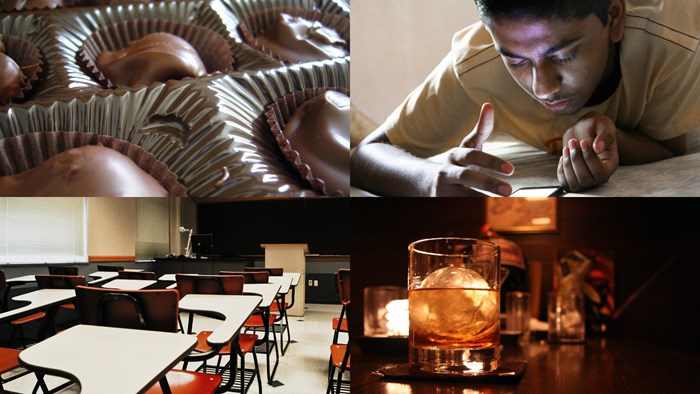 Image: Dick Thomas Johnson, Pabak Sarkar, KT King, Joshua Rappeneker / Flickr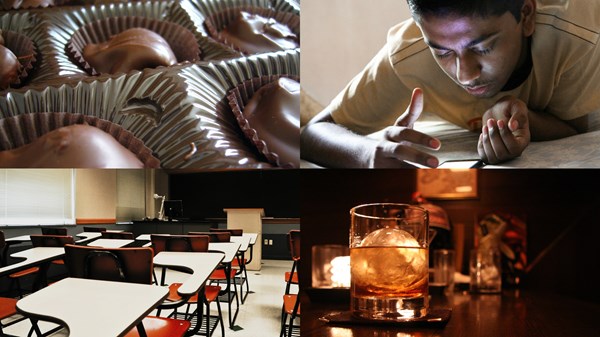 What to Give Up for Lent 2016? Consider Twitter's Top Ideas
Jesus instructed his followers to pray and fast in secret. Someone must have told Twitter.
Last year, more than 400,000 people tweeted what they were giving up during the week of Ash Wednesday. The top five choices: school, chocolate, Twitter itself, alcohol, and social networking.
In 2014, almost 650,000 Twitter users shared their abstentions.
But when Lent 2016 kicked off last week, only 200,000 tweets mentioned Lent, although the top five topics themselves were identical to 2015.

Image: Courtesy of Stephen Smith / OpenBible.info
"I don't know whether people are using Twitter less or if Twitter is throttling the data available in their API," wrote OpenBible.info's Stephen Smith, who analyzes the numbers each year. "Either way, much less data is available this year than last."
Once again, tweets nodded to current events, including the presidential campaigns of the most (and least) popular candidates.
"Presidential candidate Donald Trump came in at #82, while 'running for president' came in at #84, referring to the withdrawal of candidates Chris Christie and Carly Fiorina from the race after disappointing results in New Hampshire," wrote Smith. "'Politics' came in at #91."
Twitter's top five Lenten choices have proven consistently popular since Smith began tracking Lent in 2009. This year's most popular topics include food (15,459 tweets), technology (5,021), and habits (4,299). Only 125 tweets mentioned sports, 70 mentioned possessions, and 49 mentioned clothes.
"[The] big gainers this year are 'indifference,' at #51, and 'being petty' at #59," wrote Smith. "The former follows Pope Francis's Lent message from last year, which a few media outlets picked up this year."
Here's the full list of the top 100 ideas of 2015, as well as the top 100 ideas of 2014.
Below are some charts, courtesy of OpenBible.info, on how topics have changed over time.
What's the hottest social media network these days? (Sorry, Instagram.)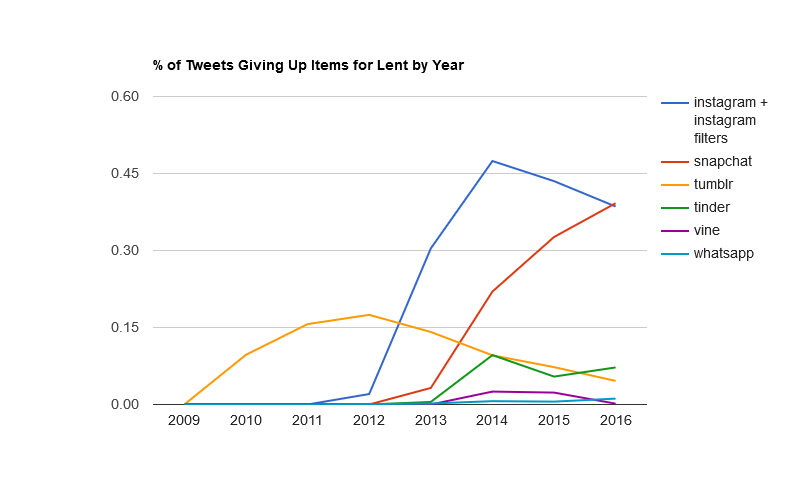 Here's one attempt at tracking the "seven deadly sins":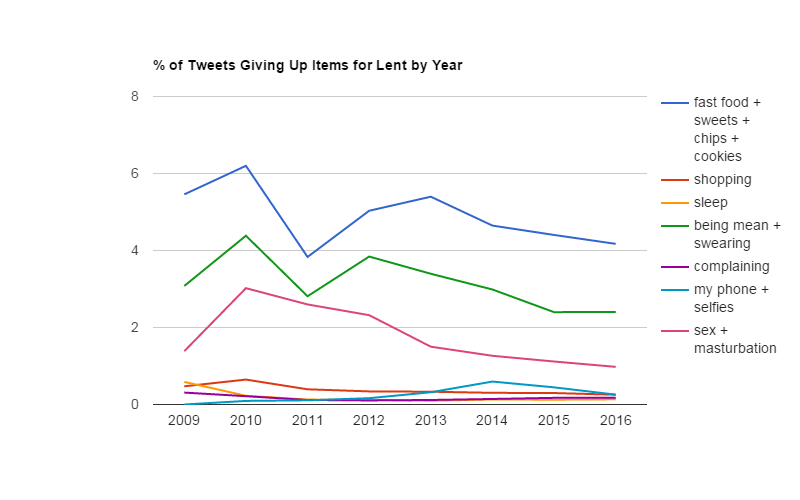 Chipotle passed McDonald's last year for the first time, but it appears that the company's recent E. coli outbreak dramatically affected its Lenten popularity:
Popular diets: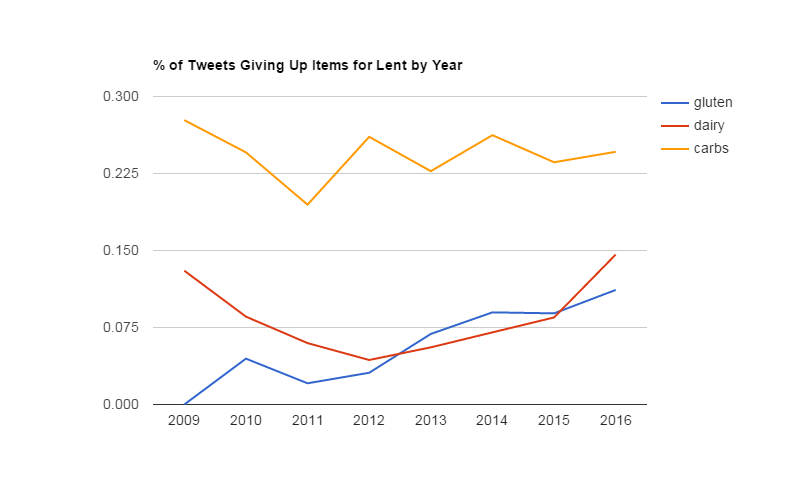 Hot Cheetos appeared in the top 100 last year, the only namebrand snack to crack the list: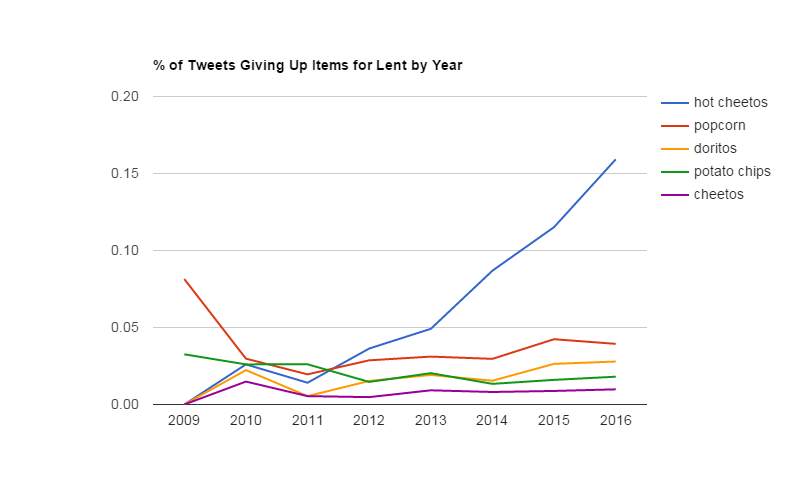 Few Lenten tweets mentioned sarcasm or complaining, but for two years in a row, at least 8,000 suggested swearing off swearing: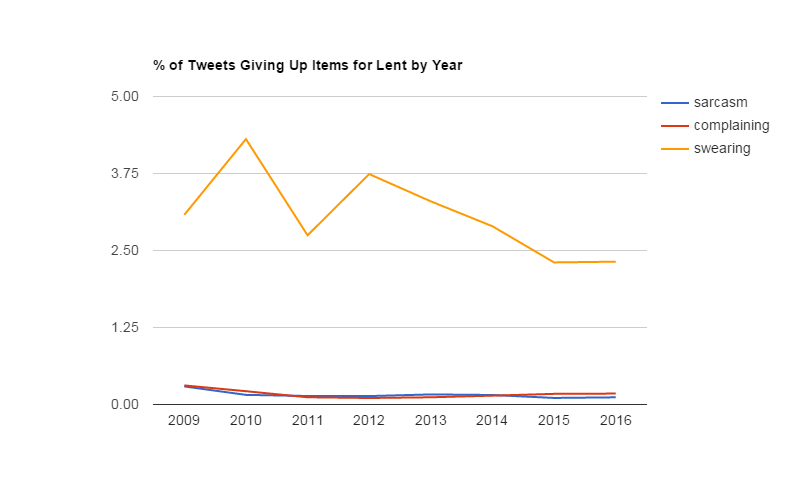 A sign of the times: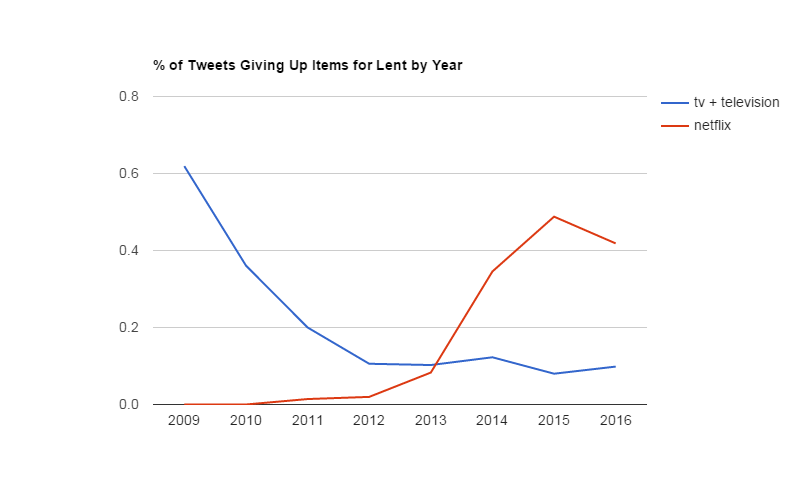 Anyone surprised?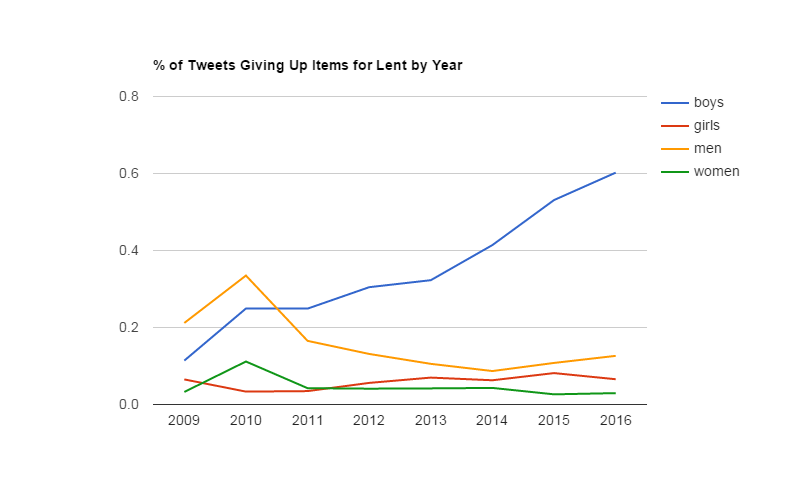 Here is Smith's final total of the top 100 most-mentioned Lenten sacrifices (both serious and cynical) in 2016. (The list covers tweets from February 7 to 13 that mention giving up something for Lent and, except as noted, excludes retweets.)
| | | |
| --- | --- | --- |
| Rank | Word | Count |
| 1 | chocolate | 2,235 |
| 2 | social networking | 2,115 |
| 3 | alcohol | 1,902 |
| 4 | twitter | 1,873 |
| 5 | school | 1,564 |
| 6 | swearing | 1,413 |
| 7 | soda | 1,109 |
| 8 | sweets | 1,002 |
| 9 | coffee | 880 |
| 10 | fast food | 870 |
| 11 | sugar | 792 |
| 12 | meat | 792 |
| 13 | lent | 654 |
| 14 | facebook | 623 |
| 15 | you | 607 |
| 16 | bread | 600 |
| 17 | pizza | 539 |
| 18 | sex | 486 |
| 19 | college | 459 |
| 20 | chips | 453 |
| 21 | junk food | 438 |
| 22 | homework | 409 |
| 23 | beer | 369 |
| 24 | boys | 367 |
| 25 | f***boys | 344 |
| 26 | candy | 313 |
| 27 | work | 300 |
| 28 | starbucks | 289 |
| 29 | life | 283 |
| 30 | religion | 276 |
| 31 | ice cream | 266 |
| 32 | netflix | 255 |
| 33 | giving up things | 253 |
| 34 | snapchat | 239 |
| 35 | instagram | 234 |
| 36 | smoking | 225 |
| 37 | cheese | 221 |
| 38 | wine | 220 |
| 39 | cookies | 218 |
| 40 | marijuana | 193 |
| 41 | me | 191 |
| 42 | tops | 179 |
| 43 | rice | 174 |
| 44 | food | 170 |
| 45 | stuff | 161 |
| 46 | french fries | 160 |
| 47 | makeup | 157 |
| 48 | catholicism | 156 |
| 49 | shopping | 155 |
| 50 | carbs | 150 |
| 51 | people | 137 |
| 52 | fried food | 137 |
| 53 | caffeine | 133 |
| 54 | feelings | 127 |
| 55 | red meat | 127 |
| 56 | desserts | 121 |
| 57 | indifference | 121 |
| 58 | mcdonalds | 118 |
| 59 | my phone | 117 |
| 60 | negativity | 114 |
| 61 | hope | 114 |
| 62 | masturbation | 110 |
| 63 | procrastination | 109 |
| 64 | complaining | 108 |
| 65 | booze | 107 |
| 66 | virginity | 104 |
| 67 | being petty | 103 |
| 68 | sobriety | 103 |
| 69 | coke | 102 |
| 70 | hot cheetos | 97 |
| 71 | online shopping | 97 |
| 72 | liquor | 97 |
| 73 | fizzy drinks | 96 |
| 74 | breathing | 96 |
| 75 | caring | 91 |
| 76 | pasta | 89 |
| 77 | takeout | 89 |
| 78 | dairy | 89 |
| 79 | diet coke | 85 |
| 80 | sleep | 82 |
| 81 | chipotle | 82 |
| 82 | chick fil a | 79 |
| 83 | cake | 79 |
| 84 | eating out | 79 |
| 85 | porn | 78 |
| 86 | pancakes | 77 |
| 87 | men | 77 |
| 88 | stress | 75 |
| 89 | sarcasm | 71 |
| 90 | taco bell | 70 |
| 91 | him | 70 |
| 92 | gluten | 68 |
| 93 | peanut butter | 67 |
| 94 | juice | 67 |
| 95 | this | 66 |
| 96 | my attitude | 66 |
| 97 | tea | 66 |
| 98 | cruelty | 66 |
| 99 | new years resolutions | 64 |
| 100 | christianity | 63 |
2016 total including retweets (final):
| | | |
| --- | --- | --- |
| Rank | Category | Number of Tweets |
| 1 | food | 15,459 |
| 2 | technology | 5,021 |
| 3 | habits | 4,299 |
| 4 | smoking/drugs/alcohol | 3,513 |
| 5 | school/work | 3,235 |
| 6 | relationship | 1,974 |
| 7 | irony | 1,812 |
| 8 | health/hygiene | 908 |
| 9 | sex | 902 |
| 10 | religion | 738 |
| 11 | generic | 577 |
| 12 | entertainment | 462 |
| 13 | politics | 374 |
| 14 | relationships | 344 |
| 15 | shopping | 341 |
| 16 | money | 147 |
| 17 | sports | 125 |
| 18 | celebrity | 78 |
| 19 | possessions | 70 |
| 20 | weather | 57 |
| 21 | clothes | 49 |
[Photos courtesy of Joshua Rappeneker, KT King, Dick Thomas Johnson, and Pabak Sarkar on Flickr.]

02/05/2016