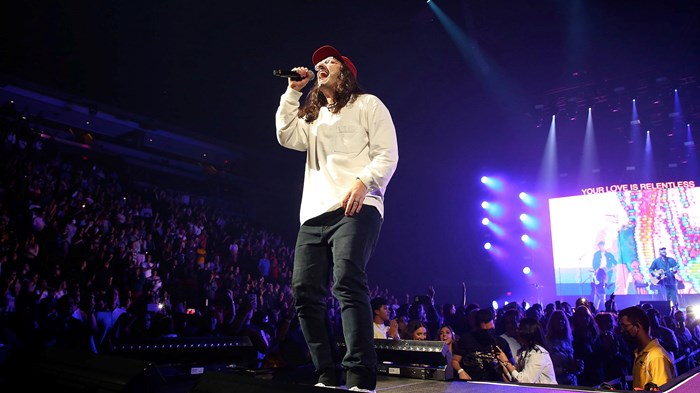 Image: Alberto E. Tamargo / Sipa USA via AP Images
On Easter Sunday, the worship band at Bethel Community Church in Redding, California, opened the service with "This Is Amazing Grace," a 2012 hit that has remained one of the most popular worship songs of the past decade.
Chances are thousands of other churches around the country also sang that song—or one very similar to it.
A new study found that Bethel and a handful of other megachurches have cornered the market on worship music in recent years, churning out hit after hit and dominating the worship charts.
The study looked at 38 songs that made the Top 25 lists for CCLI and PraiseCharts—which track what songs are played in churches—and found that almost all had originated from one of four megachurches.
All the songs in the study—which ranged from "Our God" and "God Is Able" to "The Blessing"— debuted on those charts between 2010 and 2020.
Of the songs in the study, 36 had ties to a group of four churches: Bethel; Hillsong; Passion City Church in Atlanta; and Elevation in North Carolina.
"If you have ever felt like most worship music sounds the same," the study's authors wrote, "it may be because the worship music you are most likely to hear in many churches is written by just a handful of songwriters from a handful of churches."
The research team, made up of two worship leaders and three academics who study worship music, made some initial findings public Tuesday. More details from the study will likely be released in the coming weeks.
Elias Dummer, a worship leader and recording artist, said he and his colleagues have been watching changes in worship music over the past decade. They wanted to know how worship songs become popular among churches, he said. They also wanted to know how the business of producing and marketing songs is shaping the worship life of local churches.
Dummer said many worship leaders believe the best songs become the most popular in churches. They also believe those songs become popular because they work—people respond to them during worship services and want to sing them over and over. But that's not exactly true. Dummer and his colleagues found many of the more recent hits songs were released as singles on Spotify and other streaming services, which helps fuel their popularity.
"There are actual mechanisms by which songs become the most significant," he said. "It's not just whatever songs the Holy Spirit blesses that make it to the top of the charts."
For their study, researchers compared popular worship songs written before 2010 with those written from 2010 to 2020. Those earlier songs were often associated with individual worship leaders such as Chris Tomlin and Matt Redman, rather than with churches, and came from a variety of sources.
But beginning in 2010, the most popular new songs began to come from megachurch worship bands—and the most popular worship artists began affiliating with those churches.
Of the 38 songs in the study, 22 were initially released by the four megachurches, with another eight songs released by artists affiliated with those churches. Six more were either collaborations between artists from those churches or cover songs performed by those churches.
Shannan Baker, a postdoctoral fellow at Baylor University, said the megachurch worship teams in the study also popularized songs from other artists, such as "Way Maker," a song written by Sinach, a well-known Nigerian musician, as well as "Great Are You Lord" and "Tremble."
"These bigger churches, even if they weren't involved in making the songs, platformed them," she said.
Adam Perez, assistant professor of worship studies at Belmont University in Nashville, said the four most influential megachurches all come from the charismatic tradition of Protestant churches. All of them, he said, have a spirituality that believes God becomes present in a "meaningful and powerful way" when the congregation sings a particular style of worship song.
Those songs become one of the primary ways of connecting with God—rather than prayer or sacraments or other rituals. Because of their market success, these churches have changed the spiritual practices and sometimes even the theology of congregations from many traditions.
"The industry itself becomes this invisible hand," he said. "We don't name the theology of praise and worship—we just assume it. And we use this kind of song repertoire to reinforce it."
The study did not look specifically at the lyrics of the most popular songs. Baker did say she's looking at those lyrics for a different project and found a few trends. For example, she said, few of the most popular songs talk about the cross or salvation.
"A lot of it is, what is God doing for me now? And what has God promised to do for me in the future?" she said.
Baker said that in the past, artists or publishers would put out a songbook or recordings of new worship songs, and then churches would pick out the songs in those collections that best fit their context. Now, she and other researchers wonder if these megachurches are driving which songs are used in worship.
The study is based on data about popular worship songs obtained by Mike Tapper, a religion professor at Southern Wesleyan University. Tapper and his colleague Marc Jolicoeur, a worship pastor from New Brunswick, Canada, worked on a previous study about how quickly hit worship songs appear and then disappear.
Jolicoeur said any concerns about the theology of the four megachurches, or the recent troubles at Hillsong, which has had several pastors resign in scandal, don't seem to affect the demand for their music.
The popularity of megachurch worship songs doesn't surprise Leah Payne, professor of American religious history at Portland Seminary in Oregon. Payne, who studies the Christian music business, said it likely reflects broader worship patterns. While most churches in the United States are small, most Christians worship at large churches. The 2020 Faith Communities Today survey found that about 70 percent of worshippers attend the top 10 percent of churches.
"The fact that the worship music of megachurches has a bigger share of the worship market corresponds to the practice of worshippers," said Payne.
Payne doubts that scandals at churches such as Hillsong will affect the popularity of their music—because people have a relationship with the songs, not with church leaders.
Payne said worship bands at the most popular megachurches have a knack for creating great pop songs. And they know how to connect with mass audiences—both in person and through streaming services.
"They can go toe-to-toe with some of the biggest acts in music," she said.