Pastor's Library
Access the complete Leadership Journal archives. Containing over 35 years of issues. These archives contain a trove of pastoral wisdom, leadership skills, and encouragement for your calling.
Winter : Rediscovered Roots
Volume 30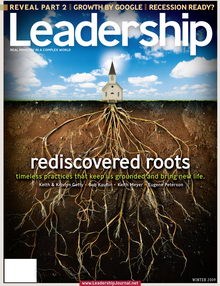 Subscribe to Christianity Today and get access to this issue and the entire CT Pastors archive.
10 award-winning print issues
PDFs of each issue
Full web access to ChristianityToday.com
60+ years of magazine archives
In this Issue
Features
Parse
Commentary
What to Pray for a New President

Seeking God's blessing for a pluralistic, conflicted, and divided nation.

Co-Ed Staff Dynamics

Leadership book review of Mixed Ministry: Working Together as Brothers and Sisters in an Oversexed Society.

Discovering and Escaping Liturgy

Worship trends among the young are more complicated than you realize.
Toolkit
Bonus Article
All Articles
Loading
Subscribe to Christianity Today and get 2 special issues from CT Pastors each year plus instant access to the digital archives.