The Word Made Fresh
Innovators are finding creative ways to get people engaged with Scripture.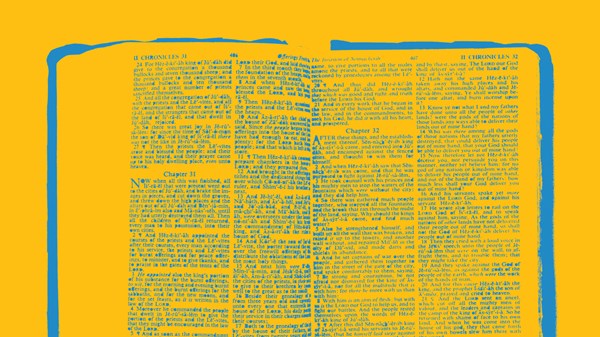 The Word Made Fresh
The tension was palpable. In front of an audience at the Q Ideas conference, Glenn Paauw had just enthusiastically explained how he and his team stripped the Bible of every artificial accouterment. Verse numbers, chapters, section headings, columns, commentary—all have been jettisoned to reveal virginal holy writ.
"Now it's in a format that allows you to see what was actually there," Paauw said triumphantly of his project, The Books of the Bible, a minimalist version of the NIV translation designed to bring readers closer to a 1st century experience of Scripture.
It was time for Phil Chen to explain the thinking behind his "Glo" Bible app, which features 3D tours of the Holy Land, immersive media, interactive maps, pinch-zoom everything. In effect, "Glo" is everything that would make Paauw bristle.
Chen presses on. "Glo" has received attention from some major media outlets, he says. USA Today awarded it the Best eBook App of the Year. "We've not had the same coverage on Christian media," Chen says, after explaining that paper is an obsolete tool, almost useless for his generation.
Lyons then asks Paauw about some of the initiatives that have sprung from Books, and at this point Paauw makes an impassioned case for his own project. "The Scripture was given to us as a gift," he says, "and if we free it from all the stuff we've loaded it with—sliced it and diced it—I think it can be released again to do its job of transformation."
It's hard to imagine he's talking about anything other than Chen's "Glo" app, a fully loaded, sliced-and-diced digital marvel that is oh-so-much-more than just a book.
While their exchange did not spiral into direct confrontation, it was obvious that Chen and Paauw had discovered a fundamental disagreement in front of a live audience. At the end, the two barely acknowledge one another, Paauw looking rigidly at Lyons, and Chen swiveling in his chair with his arms crossed. But as is common in passionate disagreements, these two innovators are trying to solve the same problem: people are not reading the Bible anymore.
It's a trend that's been in motion for decades. By the year 2000 the percentage of Bible readers had dipped from 73 percent in the 1980s to 59 percent, according to an oft-cited Gallup poll. That's the equivalent of losing 700 Bible-readers every day.
Not only are fewer people reading the Bible, they're skeptical about what it says. A 2014 Barna study revealed that the number of Americans who believe that the Bible is "just another book of teachings written by men that contains stories and advice" has nearly doubled, going from 10 percent to 19 percent, in just three years. According to a Gallup poll released last year, only 28 percent of Americans regard the Bible as the actual word of God. That's just a tick up from the all time low in 2009, but still substantially lower than the near 40 percent of the late 1970's. Though the same Gallup poll found that 75 percent of Americans "still believe the Bible is in some way connected to God," between the dwindling number of people who maintain the Bible to be a moral authority, and the troubling lack of biblical literacy, statistics paint a grim picture of the role Scripture plays in the lives of American Christians.
Beyond Bible-Reading
Faced with this trend, pastors and researchers are striving to get people back into their Bibles. But most Christian leaders agree that Bible-reading is not enough. Doug Lockhart, CEO of Biblica, an organization that translates and publishes the Bible in dozens of languages, writes, "For over 200 years, we have provided millions of people with access to the Bible. But that's no longer enough, given the crisis in Bible reading. We need to help people absorb God's Word, so they can live transformed."
Phil Collins, a director of the Taylor University Center for Scripture Engagement, agrees. He touts "scriptural engagement" as the real goal. Collins says that practically every Bible agency has added scriptural engagement to its metrics of success.
"Our dream is that scriptural engagement will become one of the most broadly applied missional concepts to emerge in the Christian world in this decade," says Collins. The Taylor Center website quotes a number of definitions for scriptural engagement, including the one offered by Wycliffe Asia-Pacific: "Facilitating life-changing encounters with God through His Word."
Research shows that, if you had to choose, people are better off discussing Scripture with friends than studying it alone.
Why is scriptural engagement so important? Collins points to the book Move: What 1000 Churches Reveal about Spiritual Growth (Zondervan) by Greg L. Hawkins and Cally Parkinson, which catalogues the spiritual lives of 250,000 people at 1000 different churches. According to the study, nothing has a greater affect on the spiritual growth of a person than reflecting on Scripture. According to Hawkins and Parkinson, "The Bible's power to advance spiritual growth is unrivaled by anything else we've discovered." This finding reinforced the REVEAL study of 2008, which found: "The Bible is the most powerful catalyst for spiritual growth."
Collins' own research shows that the most transformation occurs when people talk about the Bible with other people. That may surprise evangelicals who grew up observing "quiet time" and see Bible-reading as a solo sport. But Collins' research shows that, if you had to choose, people are better off discussing Scripture with friends than studying it alone.
Of course there are far more than two ways to engage the Bible. Collins sees myriad fruitful ways to engage Scripture: from journaling and praying the Bible, to manuscript study, and Lectio Divina, a combination of prayer and reading used by monks for more than a millennium.
Collins's personal favorite topic is meditation, though he's careful to make the distinction between meditating "like a Hebrew, not a Hindu." Since meditation has gained traction in pop culture, the word is more likely to conjure images of gurus along the Brahmaputra than a Levantine Jesus. But the Hebrew practice of meditation is more like murmuring than om-ing, and is supposed to transform our minds rather than clear them. "Really it's a relational mediation," says Collins. "We come to the word of God to know God, not just to get content."
People like Collins are leading the way on researching why biblical engagement is important and what practices are most helpful. But churches and ministries across the country are just as devoted to new praxis, looking for new ways to facilitate encounters with God's word that are deep and transformative.
Inside the Jesus Dojo
Take, for example, Mark Scandrette, the lead pastor of ReImagine, a San Francisco church where creative Scriptural engagement is part of the church's DNA. After spending some time with the late philosopher and Christian author Dallas Willard, Scandrette was captivated by what he calls Willard's "theory" of the kingdom. Scandrette asked Willard how he would implement his ideas in a community of people. Willard's answer was simple: A group of people should look at what Jesus did and said and try to do those things.
"It was like, duh," says Scandrette. "Who hasn't thought that that would be a good idea? Yet that rarely happens in faith communities." In 2006, Scandrette began meeting with a handful of people to read through the Gospel of Luke. But instead of aiming at theological reflection, they paid attention to Jesus' teachings about how to live. They began to set up what they called "experiments," short-term commitments to one or two teachings at a time.
For their initial experiment, they picked the teaching of Christ that they saw as especially counter cultural: sell your possessions and give to the poor. For two months Scandrette adopted the "have two, give one" rule when it came to possessions. During the experiment, Scandrette was forced to reckon with a collection of Hummel figurines he'd been collecting since he was a boy.
This was soul-searching work, but Scandrette and his friends kept at it. Somewhere in the process of trying to follow Jesus, Scandrette landed on the perfect metaphor for the new community. He began to describe ReImagine as a Jesus Dojo. Dojo is a Japanese word that means "place of the way" and Scandrette liked that it was associated with the discipline of martial arts. ReImagine was a place of the way, a place where people trained themselves to better live the life that Jesus prescribed in the Bible.
"We discovered that being committed to taking action from the get-go facilitated more understanding," Scandrette recalls. "What did Jesus know about reality that we tend to miss? What are our assumptions that make it hard for us to do the things that Jesus told us to do?"
Scandrette has found that applying biblical teaching is not as easy at it sounds. "People talk theoretically, conceptually, abstractly," he says. "We do anything rather than ask, 'What is Jesus inviting me to right now?'"
Many of Scandrette's original group of 20- and 30-somethings have grown up, moved away, and joined other churches. But he hears reports that they continue to ask the hard question: how will I live out what the Bible says this week?
Singing Scripture
In the middle of America, blocks from where Interstates 435, 470, and 49 meet, is another ministry looking to engage the Bible in a fresh way. The International House of Prayer in Kansas City is a missions base known for its non-stop, live worship music. Somewhere close to 800 missions base staff, many of them on worship teams that take a shifts on the platform, keep things up and running, and do traditional missions work in Kansas City and around the world. Another 500 fulltime students are enrolled in the associated Bible School.
The draw is the prayer room, what IHOP-KC Director Mike Bickle has deemed a "singing seminary." Stuart Greaves, who gives direct oversight to the prayer room, explains that the "singing seminary" approach is designed to train singers and worship leaders to base their singing on the centrality of the word of God. That means that no matter what time you pop into the IHOP-KC prayer room—whether 2 pm or 2 am—you'll find (mostly) young adults singing and praying passages of Scripture.
"One of the best ways to engage God is by singing the word," says Greaves. "When we sing the word, it brings our heart into alignment with God's heart, with God's ways, with God's plans, and with God's personality."
Technology plays a huge role in IHOP-KC's efforts to foster prayer and scriptural engagement worldwide. IHOP-KC live-streams its prayer room, conferences, and online training to more than 10,000 visitors every week, from Antarctica to closed Islamic nations.
For Greaves, scriptural engagement is paramount when he gauges the spiritual maturity of the people he leads. In his mind, there are two things that hinder scriptural engagement. First, if people fail to schedule Bible-reading, they usually never get around to it. The second major hindrance: when people fail to actually interact with God.
"Simply reading the Bible or studying it is very powerful," he says. "But by meditating on Scripture and turning it into communication and dialogue with God, that's where our hearts get touched in a powerful way."
Good Questions
J.R. Briggs leads a church in Philadelphia called the Renew Community. Briggs believes that posing good questions is an essential practice when it comes to helping people encounter Scripture.
"That's the secret sauce of Scripture engagement," he says. "Asking engaging questions, or even frustrating, scary questions, that's where we really start to learn."
"That's the secret sauce of Scripture engagement. Asking engaging, or even frustrating, scary questions, that's where we really start to learn."
Briggs has organized his Sunday services around precisely that, abandoning (some weeks) a traditional lecture model for something that demands participation. Just as 1st century synagogues were a space for both teaching and discussion, Briggs has created a church service that forces people to engage with Scripture. Typically members are given the passage they'll be studying in advance along with a set of questions. Then, when they come together, Briggs gives 10 minutes of historical and cultural context to the passage. Next, the people break into small groups to discuss the passage. Then they reassemble to discuss their findings with the broader church body.
Briggs encourages parishioners to ask the same series of questions of every passage: What's happening in the text? What encourages/inspires me? What challenges/frustrates/offends me? What does this passage tell us about the nature of God or character of Jesus? What are we going to do about this passage in the next seven days?
There's a progression to the questions, and the final one is arguably the most important. His shorthand for the entire process is, "What? So what? Now what?" The questions never change, yet the results are anything but predictable. "We don't merely want to fill people's head with information," Briggs says. "We want the message to run wild in our bloodstream."
And run wild it does. Briggs is continually getting emails during the week from people who are still mulling over why Jesus might have hidden his identity on the road to Emmaus, or why the friends of the paralytic tore a hole in the roof to lower him down to Jesus. And similar to Scandrette's community, ReImagine, Briggs and Renew are conducting experiments during the other six days of the week.
The creativity of these communities show there are many ways to help people engage with Scripture. Diversity of approaches is key. In fact we might need both "Glo" and Books after all. Paauw and Chen are both finding audiences for their novel products. Paauw, along with the organization he helps lead, Biblica, is trying to recover what he calls "a book club" model of scriptural engagement that emphasizes a community approach to the Bible. Chen wants to crowd source a version of the Bible that is vocalized in every language on the planet. Both are convinced that the future of scripture engagement lies in people sharing together in one way or another.
"The Bible is a cultural artifact," says Paauw at the close of the Q-ideas panel. "We shape it in particular ways over time."
Who could argue with that? From Nehemiah reading the Bible aloud to the exiles, to the first printed King James Bible, to Chen's immersive digital codex, a lot has changed. But one thing hasn't, says Collins: "The people of God have always been the people who have chosen to listen to what God has said, reflected on it, and then obeyed."
Bret Mavrich loves writing about how the gospel is changing the world. He lives with his wife in the Pittsburgh area.

07/07/2015