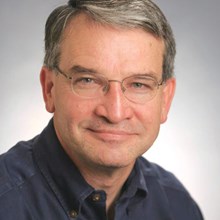 Marshall is director of the Doctor of Ministry program at Denver Seminary and is contributing editor of Christianity Today's CTpastors.com
He is the author of Well-Intentioned Dragons, Ministering to Problem People in Your Church, the general editor of The Quest Study Bible, co-author with Harold Myra of The Leadership Secrets of Billy Graham, and co-author with his father, church historian Bruce Shelley, of The Consumer Church: Can Evangelicals Win the World Without Losing Their Soul?
Raised in Colorado gazing at mountains, he lived for 34 years in "topographically challenged" Chicagoland while editing Leadership Journal before returning to the land of peaks, aspen, and Broncos. He enjoys sports, travel, and history. He and his wife, Susan, have five much-loved children (Stacey, Kelsey, Mandy, Toby, and Bayly), two sons-in-law (Will and Anthony) of whom they are very proud, and five of the best grandchildren ever (Emilia, Grey, Susie, Chase, and Robbie)!