The term "peace churches" has historically been applied to three denominations in the United States: the Mennonites, the Brethren, and the Society of Friends (Quakers). While differing among themselves in a number of principles and practices, they have in common a spiritually based testimony of opposition to all forms of armed conflict and, deeper still, to the use of war as an instrument of national and international policy.
After long and complicated struggles, frequently involving great personal sacrifices by their members, the Peace Churches have gained official recognition in the draft laws for the convictions of those who for reasons deemed distinctly Christian cannot participate in war. The present Selective Service Act makes provision for those who register such convictions.
Ordinarily these persons have regarded their legal exemption as one that obligated them to accept, in time of war, alternate service that would involve equivalent risk, and that would enable them to save lives or to better the lot of mankind. For many this led to hazardous (and often distinguished) service as ambulance drivers, as orderlies in incontinent wards of mental hospitals, or as "guinea pigs" for medical experiments involving significant risk.
The Peace Churches understandably face a painful problem with the rise of the newer form of conscientious objection, which protests, not war in general, but a particular conflict—currently that in Viet Nam. At present, there are issues that are extremely unclear. The first is that of the basis for distinguishing a "just" from an "unjust" war. That such a distinction is, within limits, valid is clear not only from a study of medieval canon law but, by implication, from a consideration of the Nuremberg trials and the trial of Rudolf Eichmann. Today's issue is, on the one hand, a legal one. Does the conscientious objection which the individual (often the young and impressionable individual) offers to a war he deems unjust deserve recognition within our national political heritage?
The second side of the question is, Does the selective pacifist deserve consideration under the Selective Service Act, which permits exemption or alternate service to the
religious objector to all war? It is this second aspect that is causing profound concern to the Peace Churches. They feel drawn toward answering yes to the latter question. Yet they seem to fear a dilution of their own distinctive testimony. This does not stern merely from an anxiety lest their reasoned position be identified with the emotional oversimplification of issues that seems to mark the youthful and "beatnik" type of objection. More deeply, it stems from a fear of the dissolution of the category of "religious" until it becomes meaningless.
Every citizen must recognize the depth of the problem posed by the selective pacifist. He is asserting his right to judge, frequently under duress from other personal factors, the justice or injustice of a conflict whose issues are so sophisticated as to puzzle even the experts. He is at the same time open to the charge of being an opportunist and a careerist who dislikes to have his planned sequence—college to graduate school to vocation—interrupted by military service.
Realism demands, too, a recognition of the ideological element in the judgment that a given war (currently that in Viet Nam) is unjust. One need not be doctrinaire to assert that at least some of the objection to our involvement in Southeast Asia stems from left-wing preferences, "liberal" predilection for "people's governments," and tenderness toward "wars of national liberation." This writer has recently taken pains to discuss this question, as unemotionally as possible, with university students. In one group, students freely admitted that those who oppose our involvement in Viet Nam would "need radically to reappraise" their position were the nation to be involved, for example, in a war against Franco's Spain.
It is evident that a facile recognition of selective pacifism, without some very clear safeguards, might bring profound disturbances in our society, should the nation be attacked by some so-called leftist power. Not only so, but the existence of carelessly drawn legislation and of soft and sentimental legal precedents might be interpreted as a loss of will to national self-defense, and thus might tempt a hostile power to adventurism.
It seems clear, too, that the prospect of the establishment of so-called free universities that institutionalize protest for protest's sake points toward aggravation of this problem. If press reports are to be believed, these "free" institutions will give prominence to courses in Marxism, taught "factually" by Marxists. Should this occur on any broad base, it could give an impressive platform to the movement in favor of unqualified legal status for selective pacifism. This might well weaken the will of the nation to resist Communist imperialism.
The Peace Churches usually do not spell out in their periodicals their misgivings at these and related points. They tend rather to emphasize the orderly quality of their peace witness and their continuing confidence in, and gratitude for, the law's recognition of the conscientious objector. They express no sympathy with such bids for headlines as the burning of draft cards, or with the Buddhist-like technique of self-immolation. They recognize the agonizing problem that arises as individuals, whether selective pacifists or absolute pacifists recognizing no religious interest, profess the convictions to which profound spiritual rootage has led.
These churches have a perspective gained from more than three centuries of discipline, self-sacrifice, and suffering. On the one hand, they warmly commend courage and applaud the sentiment for the humane. On the other, they seem concerned that there be deep spiritual undergirding for a pacifist conviction. They understandably are unwilling to provide shelter for those motivated by mere idiosyncrasy and self-seeking. Today, as through preceding centuries, they will not settle for less than a genuine and responsible peace witness.
Have something to add about this? See something we missed? Share your feedback here.
Our digital archives are a work in progress. Let us know if corrections need to be made.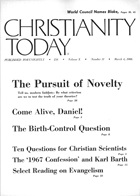 This article is from the March 4 1966 issue.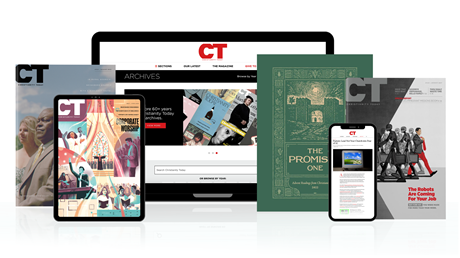 Annual & Monthly subscriptions available.
Print & Digital Issues of CT magazine
Complete access to every article on ChristianityToday.com
Unlimited access to 65+ years of CT's online archives
Member-only special issues
Subscribe
Problems for Pacifists
Problems for Pacifists