The Magazine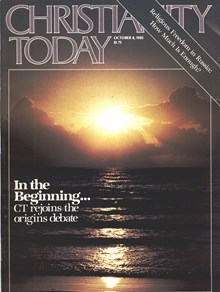 Read CT online anywhere you go.
Subscribers get full print and digital access, including:
10 award-winning print issues
PDFs of each issue
Full web access to ChristianityToday.com
60+ years of magazine archives
The CT Archives are a rich treasure of biblical wisdom and insight from our past. Some things we would say differently today, and some stances we've changed. But overall, we're amazed at how relevant so much of this content is. We trust that you'll find it a helpful resource. - Mark Galli, editor-in-chief
Also in this Issue:
Editor's Note from October 08, 1982
Evangelicals Jump with Both Feet into Debate on Nuclear Arms
Gish and Barnes Field Questions
It Is Either "In the Beginning, God"—Or "… Hydrogen"
Newspapers Begin to Carry Ethics and Religion Column
Strengthening the Family Is Jerry Regier's Capitol Crusade
The Washington Office: A Voice above the Clamor
Eutychus and His Kin: October 8, 1982
Guideposts for the Current Debate over Origins
Away—Or Up?
Evidence Points to a Recent Creation
Evolution, Yes; but Creation, Too
An Ancient Earth Is Not a Problem; Evolutionary Man Is
The Meaning of Yom
Anderson and Young Field Questions
Religion in the USSR: How Much Freedom Is Enough?
The NAE: Building on Evangelical Consensus
What Makes Swindoll Tick?
The Ubiquitous Computer: Is It Coming to Church, Too?
Evangelical Broadcasters Move to Tap Opening of French Media
The Refugees of Mocoron: Their Story
Decibels Rise in Face off between Gospel Music Artists and Religious Broadcasters
The Kerrs' University-Based Conversion Chain Keeps on Reacting in Costa Rica
Refiner's Fire: Beyond Kneejerk Reaction to Art
Das Boot
We Have Been Bible Samplers Long Enough
The Process Theology Word Game
Why Stop Here?