The mainline churches have been in decline ever since the 1960s, having lost about a fifth of their combined membership (see graph, p. 17). Deeply divided, these mainline churches are in a struggle for their souls. On the one side, it is argued, are the orthodox folk who believe their faith is rooted in the absolute truth of biblical faith as transmitted through their own traditions; on the other side are the progressives who believe that truth is shaped over time by our changing personal and social contexts. Fault lines in these mainline denominations are especially exposed in debates over abortion and homosexuality and a myriad of political issues.
From its very beginning, Christianity Today has had an integral connection to mainline Protestantism. Its first editor and executive editor were members of mainline denominations; and even today, four of the nine ct editors are "mainliners," including the executive and managing editors. Then and now, CT intends to encourage and minister to the thousands of evangelical pastors and laypeople concerned with maintaining the faith once delivered to the saints and sharing that faith in word and deed. These denominations have been the carriers of the Reformation faith, standard-bearers of orthodoxy, and witnesses to the gospel of Jesus Christ. Despite the size, resiliency, and oftentimes independence of the evangelical movement outside the mainline churches, evangelicalism has been and continues to be nurtured by the mainline traditions.
Participants in the mainline forum are William C. Frey, Roberta Hestenes, and William H. Willimon.
Tony Campolo served as moderator of the forum. Author of Can Mainline Denominations Make a Comeback? (Judson), Campolo is professor of sociology at Eastern College, St. Davids, Pennsylvania.
Although some trajectories make the future of mainline churches look bleak, some analysts believe the Spirit has not only not left the mainline churches, but that these very churches are on the verge of spiritual renewal. We can only hope and pray that such a renewal will take place.
William C. Frey, a bishop in the Episcopal Church, has long been known as a leader in the renewal movement in the Anglican Communion. Frey, ordained in 1955, first served in a number of Episcopal parishes in Colorado and New Mexico. From there he and his family went to Guatemala as missionaries, where he was made a bishop. He and his family were expelled from Guatemala in 1971, however, when his attempts at peacemaking angered the military dictatorship of the country. After his stint in Guatemala he was elected bishop of Colorado, a role he served for 18 years. From there he became dean of the Trinity Episcopal School for Ministry, Ambridge, Pennsylvania, a seminary founded in 1976 in an attempt to recover the biblical and classical theological foundations of seminary education. Bishop Frey recently retired; he and his wife, Barbara, live in San Antonio, Texas.
Roberta Hestenes is fully at ease in using "evangelical" and "mainliner" to characterize herself. Early on in her Christian pilgrimage she displayed leadership and teaching gifts, assets that would eventually be put to use serving on the ministry staffs of several Presbyterian churches, in Seattle, Washington, and La Canada, California leading to ordination in the Presbyterian church. Because of her gifts in teaching and communications, she was asked to teach communications at Fuller Theological Seminary—without any advanced degrees behind her name when she started.
Despite Eastern College's American Baptist affiliation, Hestenes became its president in 1987. In 1996 she left Eastern to become the senior pastor of Solana Beach (Calif.) Presbyterian Church. She is the author of Transforming Committees into Community (NavPress).
William H. Willimon likes to think of himself as a loving critic of his denomination—a would-be reformer. An ordained pastor in the United Methodist Church, he is dean of the chapel and professor of Christian ministry at Duke University, Durham, North Carolina. Previously he served Methodist parishes in Georgia and South Carolina. He was the only Methodist preacher included in Baylor University's listing of the "most effective preachers" in the English-speaking world (Newsweek, March 4, 1996, p. 51).
Willimon has coauthored two books putting forth strategies for the renewal and restructuring of the United Methodist Church: Reinventing the Connection: Strategies of a Vital United Methodism and Rekindling the Flame, both published by Abingdon.
Reasons for mainline decline
One common explanation for the decline of mainline churches is that too many mainline pastors have been seduced into theological and sociopolitical liberalism and they no longer preach the gospel. Do you agree?
Frey:The mainline churches have been seduced by the name mainline, which has ministered to our vanity and sense of importance. We get invited to decorate the podiums. We've bent over backwards to recommend the gospel to its cultured despisers so much that the cultured despisers have had, perhaps, more influence than we have.
Hestenes:That's an unfair rap for large parts of the mainline churches. The desire to call people to faith in Jesus Christ is still very important to millions of mainline Christians.
Willimon:We mainliners do quite well during times of relative cultural satisfaction, as in the 1950s, but we are peculiarly unsuited to times of cultural dislocation. When you're "mainlining," you've got a theology that says God is basically good to you and so you be good to God.
A woman in a fundamentalist Baptist church near us told me: "We were from this nice mainline church, and then we committed an unforgivable sin." I inquired, "What, may I ask, was that?" She said, "I had a Down syndrome baby. I didn't know this was a problem until the minister came to visit us and said we should think about adoption. Suddenly, nobody from the church much called. I was devastated. Then I came to this Baptist church and their reaction was, 'God has led you here. We have a Sunday-school class [for children like yours]. We just had some women get training in this. Come on in.' The minister got all excited and had us up in front of the church."
That's a theological problem. Christians who don't do well with dislocation and pain have really misunderstood the gospel.
Hestenes:The mainline denominations have done more theological reflection on issues—take AIDS as an example. While the typical megachurch lacks a thought-through theology of AIDS, what you are more likely to find there—and this would vary from place to place—is a ministry to people struggling with AIDS. The mainline tends to give a bad rap to the nondenominational evangelical churches because they don't have the theology well worked out.
Willimon:In my own denomination, we have a theology for inclusiveness; we just don't have many African Americans. We have a theology of Hispanic ministry without Hispanics. I get tired of this posturing and sloganeering. We wouldn't want to have to change our church life to include Hispanics.
I was talking with the pastor of a very conservative Presbyterian congregation about homosexuality and asked, "Have you ever spoken to this in a sermon?" He said, "Yes, I have. We consider it an abomination." And I tensed up. Then he added: "But I was with one of our prayer groups; it has five homosexual men in it." I was sitting there thinking: Have I got five homosexual men in any prayer group I'm associated with? No, but I have a theology for that.
Hestenes:The mainline is the last group of people to discover that we are in a post-Constantinian situation. And some of the grieving that is going on is for that loss of elite status, that ability to exercise power and influence in the culture. We're having to relearn how you carry out your witness.
Willimon:One of the big stories we are witnessing is the dismantling of national denominations. We have been slashing national staffs due to huge budgetary problems. Some of our concern about the national denominations will dissipate due to this dismantling of bureaucracies. We're seeing a move to the local, to the congregational.
Sexuality and special-interest groups
Some argue that a major problem in mainline churches is that their agendas are controlled by special-interest groups. Do you agree?
Frey:We have been captive to special-interest groups because we want to be all-inclusive. There is an ecclesiastical political correctness, and you have to be very careful what you say publicly because you don't want to offend this group or that. At the moment, the only group that you can safely offend in the Episcopal Church are evangelicals or renewal people.
Willimon:Our theological uncertainty makes us peculiarly vulnerable to groups with a vision, a cause.
Hestenes:We Presbyterians are in a battle for our soul: whether we will continue in any meaningful way as a confessional church. Anybody with passion, conviction, and the willingness to organize can have a disproportionate amount of influence in a church that is so broad and needing of leadership.
Frey:In classical philosophy, the center defines the extremes. We've let the extremes define the center, and that's where we're getting into trouble.
Hestenes:The radical feminist Re-Imagining conference did that; it treated the Atonement as an extreme doctrine.
Has the feminist movement hurt mainline churches?
Hestenes:First, the decline in the mainline denominations was well under way before the feminist movement. Second, I do think radical post-Christian feminism—which is fundamentally disconnected from historic orthodox Christian doctrine—is damaging the mainline Christian movement. Everything is read through their hermeneutic of suspicion and feminist ideology. Third, the genuine needs of women in ministry and their opportunities were so neglected that the denomination developed a guilty conscience, which made us unable to distinguish between a legitimate feminist agenda of biblical dignity, equality, and shared ministry and a more radical agenda that is deeply subversive of historic orthodoxy. This has done significant damage.
Willimon:Goddess worship is not what is killing us. Our theological problems began earlier in buying into experiential pop psychology. For my money, some feminist thought is the best critique of the cultural accommodation of the church. Where maleness was a requirement for leadership or preaching, then we must forgive some people who get confused into thinking that femaleness is a deeply revelatory thing.
Many argue that matters surrounding family life and sexuality have become defining issues for Christendom. The failure of mainline churches to establish firmly conservative positions on these issues has alienated people in the pews. Do you agree?
Hestenes:To clarify: The Presbyterian church did not accept the widely publicized statement on sexuality Keeping Body and Soul Together, which watered down biblical authority on sexuality and proposed "justice love" as an alternative. But the play in the media was such that even well-informed people believed that that was the Presbyterian position.
Frey:There is a perception that the Episcopal Church has a very liberal understanding of sexual behavior. That's true of a number of people in leadership positions. Our general convention, however, for the past 20 years has affirmed in all of its official statements the traditional Christian sexual ethic as the ideal we want to strive toward and hold up as normative.
Willimon:I was with an African delegate after our general conference. He said, "Is this debate typical of the church in the States? The subject seemed to come up so much." I said, "What subject?" He said, "Sex." And I said, "Oh, that's right; you're from Africa. You probably think the church has more important business than sex. But this is what white affluent people worry about a lot. We don't have to worry about housing or food, so we worry about our sexuality." At moments like this, I think we're getting what we deserve; it's divine judgment on us.
Hestenes: To say in our church today that divorce is wrong is extremely difficult because we are morally compromised since so many are divorced. We are experiencing the psychological captivity of the church—the feel-good, therapeutic culture has become the operating theology of the church.
Willimon:A number of Methodist bishops are divorced and remarried; so when asked about that issue, I have to say, somewhat cynically, "When you're trying to attract the affluent upper-middle class, it's tough to take a stand on that particular issue."
Part one of three parts; click here to read part two.
Have something to add about this? See something we missed? Share your feedback here.
Our digital archives are a work in progress. Let us know if corrections need to be made.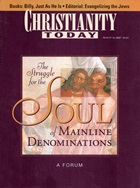 This article is from the August 11 1997 issue.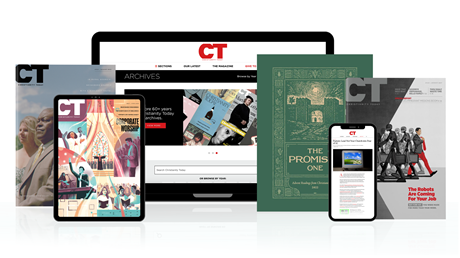 Annual & Monthly subscriptions available.
Print & Digital Issues of CT magazine
Complete access to every article on ChristianityToday.com
Unlimited access to 65+ years of CT's online archives
Member-only special issues
Subscribe
The Spirit Hasn't Left Mainline (Part 1 of 3)
The Spirit Hasn't Left Mainline (Part 1 of 3)