CT 98 Book Awards
Once again we attempt the momentous task of discerning the year's best books. Here is how we did it. More than 200 books published in 1997 were nominated by publishers. Ballots were then sent to about 150 pastors, scholars, writers, and other church leaders, whose votes determined our "Top 25" list.
Billy Graham's long-awaited autobiography, Just As I Am, is a fitting choice for ct's Book of the Year. Graham emphasized the impact of books—and book reviews—in his vision statement for a new magazine that he presented to evangelical leaders in 1955. A year later, CHRISTIANITY TODAY was launched.
Indeed, anyone who wants to understand the history and current challenges of evangelicalism, its strengths and its weaknesses, would do well to work through the books listed here, beginning with Graham's account of more than 50 years of ministry.
Strengths? First, a continuing emphasis on evangelism and an unwavering commitment to the centrality of Jesus Christ. Second, a rich harvest of mature Christian scholarship in history (George Marsden, Joel Carpenter, and Mark Noll constitute quite a triumvirate) and New Testament studies. Third, a productive reckoning with evangelicalism's fundamentalist strain, evident both in Carpenter's Revive Us Again and in Philip Yancey's What's So Amazing About Grace?, a book that was prominently displayed—and bought—not only in Christian venues but in the secular superstores, reaching a new audience. Fourth, an ecumenism rooted in orthodoxy, variously attested by Donald Bloesch's work, the Ancient Christian Commentary Series, edited by Tom Oden (the first volume, on Mark, is just about to appear), the ongoing ECT conversation, and, on a smaller scale, by the presence on this list of William F. Buckley's "autobiography of faith," steeped in Catholic piety.
Weaknesses? There is not much notice here of the work being done by Ron Sider and others who preach the holistic gospel, including the parts about the poor and the widows and the prisoners. And where is the Old Testament? With the notable exception of Leap Over a Wall, Eugene Peterson's meditation on the life of David, this list reflects the evangelical tendency to ignore a huge chunk of the Scriptures. Some of the most important work being done in theology today is beginning to redress this imbalance. (In the process, many scholars are taking up the question of "Jewish-Christian relations" in a new way.) As the book review editor, I don't get to vote, but I hope that among the books recognized in the 1999 CT Book Awards will be Christopher Seitz's Word Without End: The Old Testament As Abiding Theological Witness (Eerdmans).
What do they say about the Cubs? Wait 'til next year.
By John Wilson, Book Review Editor.
1998 BOOK of the YEAR
An excerpt
In the Bible, an evangelist is a person sent by God to announce the Gospel, the Good News; he or she has a spiritual gift that has never been withdrawn from the Church. Methods differ, but the central truth remains: an evangelist is a person who has been called and especially equipped by God to declare the Good News to those who have not yet accepted it, with the goal of challenging them to turn to Christ in repentance and faith and to follow Him in obedience to His will. The evangelist is not called to do everything in the church or in the world that God wants done. On the contrary, the calling of the evangelist is very specific.
WINNERS
1. JUST AS I AM, by Billy Graham; HarperSanFrancisco/Zondervan
2.THE OUTRAGEOUS IDEA OF CHRISTIAN SCHOLARSHIP, by George M. Marsden;
Oxford University Press
3.REVIVE US AGAIN: THE REAWAKENING OF AMERICAN FUNDAMENTALISM,
by Joel A. Carpenter; Oxford University Press
4.WHAT'S SO AMAZING ABOUT GRACE? by Philip Yancey; Zondervan
5.DEFEATING DARWINISM BY OPENING MINDS, by Phillip E. Johnson;
InterVarsity
6.DICTIONARY OF THE LATER NEW TESTAMENT AND ITS DEVELOPMENTS,
edited by Ralph P. Martin and Peter H. Davids; InterVarsity
6.JESUS CHRIST, by Donald G. Bloesch; InterVarsity
7.NEARER, MY GOD: AN AUTOBIOGRAPHY OF FAITH, by William F. Buckley, Jr.;
Doubleday
8.TURNING POINTS: DECISIVE MOMENTS IN THE HISTORY OF CHRISTIANITY,
by Mark A. Noll; Baker
9. THE OXFORD DICTIONARY OF THE CHRISTIAN CHURCH, 3RD ED.,
edited by F. L. Cross and E. A. Livingstone; Oxford University Press
9.THEIR BLOOD CRIES OUT, by Paul Marshall with Lela Gilbert; Word
10.A HISTORY OF HEAVEN, by Jeffrey Burton Russell; Princeton University Press
10. AN INTRODUCTION TO THE NEW TESTAMENT, by Raymond E. Brown;
Doubleday
11.THE COMPLETE BOOK OF EVERYDAY CHRISTIANITY, edited by Robert Banks
and R. Paul Stevens; InterVarsity
11.THE GOSPEL OF LUKE, by Joel B. Green; Eerdmans
11.THE MORAL QUEST: FOUNDATIONS OF CHRISTIAN ETHICS, by Stanley J. Grenz;
InterVarsity
12.MALCOLM MUGGERIDGE, by Gregory Wolfe; Eerdmans
12.THE UNIVERSE NEXT DOOR: A BASIC WORLDVIEW CATALOG, by James W. Sire;
InterVarsity
12.WRITTEN ON THE HEART: THE CASE FOR NATURAL LAW, by J. Budziszewski;
InterVarsity
13.THE FABRIC OF FAITHFULNESS, by Steven Garber; InterVarsity
13.LEAP OVER A WALL: EARTHY SPIRITUALITY FOR EVERYDAY CHRISTIANS,
by Eugene H. Peterson; HarperSanFrancisco
14.HOW WIDE THE DIVIDE? A MORMON AND AN EVANGELICAL IN CONVERSATION, by Craig L. Blomberg and Stephen E. Robinson; InterVarsity
14.SUBVERSIVE SPIRITUALITY, by Eugene H. Peterson; Eerdmans
15.THE HOLINESS-PENTECOSTAL TRADITION, by Vinson Synan; Eerdmans
15.THE ONE AND THE MANY: AMERICA'S STRUGGLE FOR THE COMMON GOOD,
by Martin E. Marty; Harvard University Press
Have something to add about this? See something we missed? Share your feedback here.
Our digital archives are a work in progress. Let us know if corrections need to be made.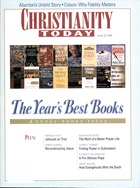 This article is from the April 27 1998 issue.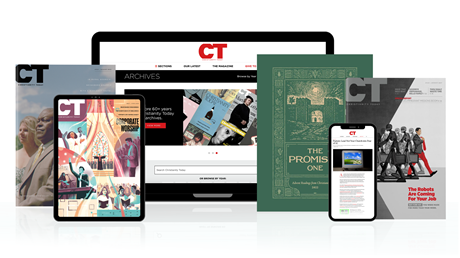 Annual & Monthly subscriptions available.
Print & Digital Issues of CT magazine
Complete access to every article on ChristianityToday.com
Unlimited access to 65+ years of CT's online archives
Member-only special issues
Subscribe
1998 Christianity Today Book Awards
1998 Christianity Today Book Awards