The Gift of Salvation," a document expressing significant theological agreement between evangelicals and Roman Catholics, is drawing mixed reactions from leading evangelicals.
The document (CT, Dec. 8, 1997, p. 34) represents signers' ability "to express a common faith in Christ and so to acknowledge one another as brothers and sisters in Christ." It has been signed by 16 Roman Catholic leaders and 19 leading evangelicals, including theologians Thomas Oden, J. I. Packer, and Timothy George; seminary presidents Richard Mouw (Fuller) and Kent Hill (Eastern Nazarene); scholars Mark Noll and Os Guinness; Bill Bright, Campus Crusade for Christ; author Max Lucado; and Robert Seiple, World Vision.
Signers of the document, released November 12, gave assurances that "for the first time in 450 years, evangelical Protestants and Roman Catholics have publicly agreed to a common understanding of salvation."
Some scholars outside the drafting process have applauded the effort. Roger Nicole, of Reformed Theological Seminary in Orlando, told CT, "Although I might have used a slightly different expression in a few places, I am so pleased with the context and mood of this document."
However, several leading Southern Baptists disagree. "The document appears to be inherently inconsistent," says Phil Roberts, director of interfaith witness for the sbc North American Mission Board. "The basic agreements regarding salvation appear to be nullified by the questions which the document says require further exploration. How is it that sacramental grace is still an outstanding question [when] salvation by faith alone is affirmed by the document?"
Mark Coppenger, president of Midwestern Baptist Theological Seminary, Kansas City, Missouri, agrees. "I loved most of what I read in this document, both the content and the spirit," Coppenger says. But he did not sign it, he says, because it appeared that what Catholics agree to in one section they hedge on in another. "How can those matters [of a sacramental system and purgatory] be open when the matter of 'faith alone' is settled?" Coppenger asks.
R. Albert Mohler, Jr., president of Southern Baptist Theological Seminary in Louisville, Kentucky, says, "Justification by faith alone, if genuinely affirmed by Catholics and evangelicals, would require repudiation of baptismal regeneration, purgatory, indulgences, and many other issues presently affirmed by Roman Catholic doctrine."
FIRST DECLARATION: "The Gift of Salvation" is the second major public document to emerge from a nearly six-year process initiated by Prison Fellowship founder Charles Colson and Catholic leader Richard John Neuhaus of the organization Religion and Public Life.
The first document, "Evangelicals and Catholics Together," received much criticism in conservative evangelical circles following its release, prompting two sbc leaders to withdraw their names (CT, May 15, 1995, p. 53). Critics contended it did not sufficiently grapple with potentially unbridgeable differences between evangelical and Catholic theology.
Colson says that in facilitating the process that produced "The Gift of Salvation," he was determined to come up with a document that would pass evangelical muster. "After my experience with ECT I," Colson says, "I made a decision: I would not allow us to arrive at any document that was not satisfactory to John Woodbridge, Timothy George, and J. I. Packer." All three theologians approved the document.
REPEAT PERFORMANCE? Colson recalls circulating the first document prior to its public release and receiving no negative responses initially. He hopes history does not repeat itself with "The Gift of Salvation."
Among the concerns critics have expressed is that public statements do not accurately represent the Catholic church. According to this argument, the evangelical public might be wrongly led to believe the Catholic church has conformed to a Reformational position on justification when, in fact, the only ones who have changed are the handful of people who sign these documents.
However, Hill maintains that this line of reasoning does not take into account the stature of those who have signed the document or the involvement of the Roman Catholic ecclesiastical representatives.
Roberts points out, "No presiding bishop or member of the Ecumenical Secretariat nor representative of the National Conference of Catholic Bishops signed the document. It should therefore be taken with a grain of salt." Nevertheless, Hill says, "Based on my reading of the Catholic catechism and on my knowledge of Catholic leaders who have endorsed this process, I'm convinced that this document reflects official Catholic doctrine on soteriology. Otherwise, those Catholics who were part of this dialogue could not have signed the statement."
A DIFFERENT ERA: Catholics and evangelicals alike maintain that Vatican II ushered in a new era in Protestant-Catholic relations. Hill says, "I want to be careful not to overstate my belief that God has been involved in this process, but in some of the meetings we had a clear sense that someone else was seated at the table."
Instead of ignoring or downplaying important differences between Catholic and evangelical doctrine, "The Gift of Salvation" candidly acknowledges them, saying they "require further and urgent exploration."
Despite the criticism Colson encountered as a result of the 1994 statement, he is appreciative. Their voices, he says, resulted in a stronger statement, one that, because of its essentially theological nature, has far wider implications for evangelical-Catholic unity. In fact, he says, more than one person has suggested to him that had this kind of agreement been achieved five centuries earlier, the Protestant-Catholic split might not have taken place.
Have something to add about this? See something we missed? Share your feedback here.
Our digital archives are a work in progress. Let us know if corrections need to be made.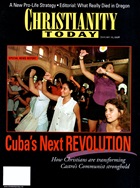 This article is from the January 12 1998 issue.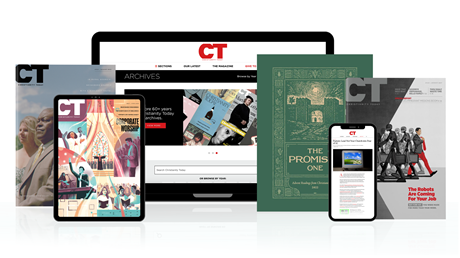 Subscribe to Christianity Today and get access to this article plus 65+ years of archives.
Home delivery of CT magazine
Complete access to articles on ChristianityToday.com
Over 120 years of magazine archives plus full access to all of CT's online archives
Subscribe Now
Evangelicals, Catholics Issue Salvation Accord
Evangelicals, Catholics Issue Salvation Accord