In a major ministry realignment, Promise Keepers (PK) will trim its full-time staff by 28 percent, from 250 to 180, as of October 31.
Last fall, the men's movement, which is now eight years old, announced plans for a radical transition from fee-based to donation-based operations along with a shift in emphasis from emotionally charged stadium events to working in closer partnership with denominations, local churches, and grassroots networks.
"It's a case of tapering and posturing ourselves so that we can be poised to move quickly and do what we were called to do," PK founder Bill McCartney told CT. "As we see more clearly our vision, we don't think we need as many staff to pull it off."
That vision includes helping spark similar movements abroad, staging a simultaneous gathering at state capitol buildings on January 1, 2000, and continuing to promote racial reconciliation.
McCartney, who earlier served as chief executive officer of the Denver-based ministry, is now overseeing three divisions as president and founder. Randy Phillips has moved from president to the new position of vice president for global ministries, and Tom Fortson from chief operating officer to executive vice president of administration and operations. Raleigh Washington is now vice president of reconciliation.
ROLLER COASTER EMPLOYMENT: Following PK's climactic Stand in the Gap rally in Washington, D.C., one year ago (CT, Nov. 17, 1997, p. 62), McCartney promised his staff they would stay together through the 1998 conference season. In February, McCartney announced that all 345 workers would be laid off on March 31 unless donations made up for a shortfall caused by eliminating the conference fees (CT, April 6, 1998, p. 18). The layoff came, but most of the workers returned two weeks later as $4 million in contributions gushed into the ministry (CT, May 18, 1998, p. 29). Through attrition the staff decreased to its current total of about 250.
Fortson says that last fall PK employees were told to expect downsizing, though the exact number of jobs had not been determined.
"We have identified core positions that we need for what we call 'Team 2000,' " Fortson says. "We will give employees here at Promise Keepers the opportunity to interview for those positions."
Some PK observers think the organization may have fulfilled its purpose as a catalyst for bringing men back into their families and their churches and should avoid the temptation of self-perpetuation.
Ken Abraham, author of Who Are the Promise Keepers? (Doubleday, 1997), says he looked for such a temptation in researching his book but could not find it. "I found a hands-off attitude [within PK], saying: 'Hey, whatever the Lord wants us to do here, that's what we want to do.' I still hear that from many who signed on with Promise Keepers: 'This is where I'm going to serve for the next five, ten years.' Now suddenly they're out of work."
McCartney concedes that the changes will not be easy. "Morale is kind of up one day and down the next," he says. "But I think God's going to do this in a way in which people will feel like they've heard from God and are doing what they're supposed to be doing."
RALLY ATTENDANCE DIPS: Attendance is down at stadium events this year despite—or perhaps because of—elimination of fees, an attempt to encourage men to invite their non-Christian friends. Through 14 of the 19 scheduled conferences, half of the events have paid for themselves, but PK says it will meet its $48 million budget through additional income from resource sales, corporate sponsorships, and individual donations. Last year's budget, supporting 452 workers, amounted to $117 million. "Our lifeblood is the month-to-month gifts," says PK spokesperson Steve Chavis.
Abraham thinks that making the events free has not had its desired effect. "There is a perceived value when guys were paying $60 to go to an event; that's not there when you take away that fee," he says. "And for those who say, 'Well, you were excluding certain parts of society,' I was amazed at how many free admissions PK used to provide."
This year, PK has attracted a different slice of the demographic pie. First-time attendees are more ethnically diverse, have lower incomes, and are slightly younger, Chavis says. Through the mid-August conference in Houston, 5,707 men have made decisions to become Christians.
PK will continue holding conferences, but they will be smaller and based on a Billy Graham crusade model that requires an invitation from a local network of churches that do most of the groundwork.
"In the past, convention and visitors bureaus may have been the leaders in soliciting a PK conference and church unity might have been a component of that presentation," Chavis says. "We'd like to flip that around and see churches leading the charge."
Some of those invitations may come from overseas. PK has launched national organizations in Australia, Canada, Germany, New Zealand, South Africa, and the United Kingdom (CT, June 16, 1997, p. 58).
In June, weekend conferences in Europe drew mostly favorable national media attention. In Denmark, 500 men attended what organizers believed to be the largest gathering of Christian men in the country's history. Some 1,800 men met in Bern, Switzerland. Many came from other countries, including the Czech Republic. About 250 men gathered in Dijon, France.
Smaller scale activities, including training, have begun in Austria, Brazil, Costa Rica, Ghana, Kenya, Mexico, Peru, Sweden, and Zimbabwe.
FUTURE EVENTS: The organization has also formed strategic alliances with groups such as Campus Crusade for Christ and Christianity Today International, providing a ready-made network of contacts and support.
But PK still has a penchant for high-profile events such as Stand in the Gap, possibly the largest religious gathering in U.S. history. At stadium events this year, participants are being recruited for a turn-of-the-millennium gathering of families at state capitols across the country. Some 90 percent of conference attendees say they will show up January 1, 2000, and most promise to invite 10 other families.
Racial reconciliation remains high on the agenda. Mary Stewart Van Leeuwen, resident scholar at the Center for Christian Women in Leadership at Eastern College in Saint Davids, Pennsylvania, says, "I give them credit for doing better than just about any other evangelical organization in keeping [reconciliation] front and center and not changing their message when they go to the South—simply saying: 'God wants this, get used to it.' "
But she wishes the message on gender reconciliation would be equally as clear. "They would never dream of trying to pull off racial reconciliation by having only white males speak for them," she says. "But they think they can advance a new model of gender reconciliation without any input from women. I see it as being inconsistent."
Fortson says that no women participate in top-level strategizing, but PK has female input from many sources, including his administrative assistant.
Van Leeuwen thinks Promise Keepers is fulfilling a continuing need. "The kind of questions that helped to bring about organizations like this still haven't been resolved," she says. "Men are still saying, 'What does it mean to be masculine in a postfeminist, postindustrial world?' "
Have something to add about this? See something we missed? Share your feedback here.
Our digital archives are a work in progress. Let us know if corrections need to be made.
This article is from the October 5 1998 issue.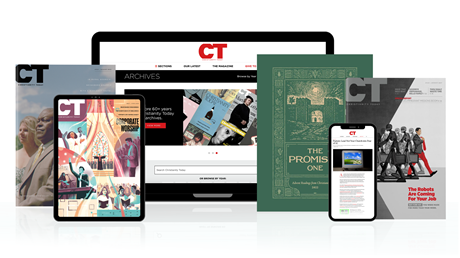 Subscribe to Christianity Today and get access to this article plus 65+ years of archives.
Home delivery of CT magazine
Complete access to articles on ChristianityToday.com
Over 120 years of magazine archives plus full access to all of CT's online archives
Subscribe Now
More PK Downsizing
More PK Downsizing