In the wake of the impeachment trial, we were assailed by friends incredulous at the tone of hopefulness in our January column. The polls showed 80 percent of Americans thought the President committed perjury and obstruction of justice (not to mention adultery)—and it didn't seem to matter. How can anyone believe there is enough moral fiber left for cultural renewal? What makes us believe Christians can turn things around in the next millennium?
Admittedly, the forces arrayed on the battlefield appear overwhelmingly against us. The cultural centers of power are firmly in the grip of secularists: from Washington to Hollywood, from the media to academia. Small wonder Christians often feel lonely and isolated.
But this assessment of the cultural battleground is misleading, for on our side of the lines is a power mightier than anything secularism can muster—the Spirit of him who brought Jesus Christ back from the dead. As we celebrate the Resurrection this month, let us remember that we wage a spiritual campaign with spiritual power.
I witnessed an example of this power recently when I visited Jester II, a wing of a Texas prison, run by Prison Fellowship. Prayers have replaced early-morning pushups, while group Bible studies have pre-empted evening MTV. The near-monastic atmosphere is especially surprising when you consider that most of the inmates who volunteer for the program are hard-core, repeat offenders.
I dropped in on a class on drug and alcohol prevention to hear one of the inmates say, "I've been in three therapy programs, and they don't work, because I'm back in prison." Then he added, "We're not interested in therapy. We're interested in transformation." The room resounded with amens. The inmates are so grateful for the chance to work on spiritual solutions to their problems that some have even voluntarily turned down parole to stay in the program—something ordinarily unheard of.
But the most breathtaking moment in my visit came during a graduation ceremony for inmates who had completed the entire 18-month program. As an inmate approached me for his certificate, out of the corner of my eye I saw a tall, stately woman rise from her seat among the visitors. Her name was Mrs. Washington, and she swept to the front, wrapped her arms around the inmate, and declared to everyone, "This young man is my adopted son."
The place was electrified. I saw hardened criminals and tough corrections officials with tears in their eyes, for they knew that this young man was behind bars for the murder of Mrs. Washington's daughter.
Arriving at this moment had not been easy for either of them. Ron Flowers had maintained his innocence during 15 years in prison. Then he joined the Sycamore Tree project (a Prison Fellowship program that helps offenders to confess their wrongs and make restitution to their victims), and for the first time he admitted his crime and prayed that his victim's family would forgive him.
On her side, every year of Ron's sentence Mrs. Washington had written angry letters to the parole board, urging them to deny him parole. But the same week that Ron confessed, strangely, Mrs. Washington felt an overwhelming conviction that she was to forgive the man who had murdered her daughter. The next day, she wrote the board that she no longer opposed Ron's parole. She then tracked Ron down to express her forgiveness.
Their tearful embrace at the graduation ceremony was the climax of a series of what can only be called miracles. Only the supernatural grace of God could bring together a murderer and his victim's mother; only the resurrection power of Christ can create love where there once was hatred and revenge. I know that in my own power I could never have done what this woman did.
And if a miracle can happen in prison, it can happen anywhere. God's power can penetrate the darkest corners of society bringing radical transformation. This is what we must never forget when we face the solid phalanx of a hostile culture. Like Elisha praying that his servant would see the invisible army of angels in their chariots of fire, we must pray to see that "those who are with us are more than those who are with them" (2 Kings 6:16).
Nor does the story of Mrs. Washington end with that dramatic reconciliation. A friend was so moved that he sent her a gift of $10,000. She promptly sent some of the money to Ron Flowers to get him started in his new life out of prison, and the rest she used to set up a scholarship in her daughter's name at her church. Such generosity can only flow from a profound experience of God's redeeming grace.
So do we have reason for hope as we stand at the dawn of a new millennium? Absolutely. The reason can be stated in three simple words: the empty tomb. Christ has overcome death and sin, and that same power is ours by faith.
We must overcome the temptation to despair. It's true that the forces in the culture war are not evenly matched—for we have an army of angels on our side. And those who are with us will always be far more than those who are in the world.
Have something to add about this? See something we missed? Share your feedback here.
Charles Colson
Charles Colson was the founder of Prison Fellowship Ministries, an outreach to convicts, victims of crime, and justice officers. Colson, who converted to Christianity before he was indicted on Watergate-related charges, became one of evangelicalism's most influential voices. His books included Born Again and How Now Shall We Live? A Christianity Today columnist since 1985, Colson died in 2012.
Previous Charles Colson Columns:
Our digital archives are a work in progress. Let us know if corrections need to be made.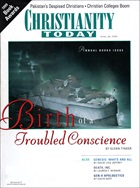 This article is from the April 26 1999 issue.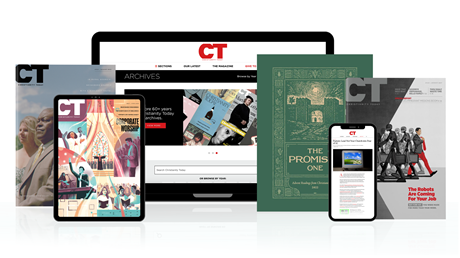 Subscribe to Christianity Today and get access to this article plus 65+ years of archives.
Home delivery of CT magazine
Complete access to articles on ChristianityToday.com
Over 120 years of magazine archives plus full access to all of CT's online archives
Subscribe Now
Why We Should Be Hopeful
Why We Should Be Hopeful