In February, Free Congress Foundation founder Paul Weyrich made headlines with his letter arguing that Christians should separate themselves from today's "hostile" culture. "I no longer believe that there is a moral majority," he said in what has become one of the most quoted lines in years. "I believe that we probably have lost the culture war."
That same month, a remarkably similar letter was sent out by Bob Simonds, founder and president of Citizens for Excellence in Education. Since founding the organization in 1983, Simonds attempted to radically change public education from the inside, mainly by encouraging conservative Christians to run for school boards. Now, he says, that strategy has failed. "The frightened and woeful cries of godly parents have been, and still are, ignored," he wrote. "Therefore, after 15 years of sincere efforts … the Lord has counseled me, and an impressive array of those associated in ministry have confirmed God's leading, that Christians must exit the public schools as soon as it is feasible and possible" (emphasis his).
So Simonds founded Rescue 2010, a plan to empty public education of Christians in 12 years. In doing so, he joined a small but vocal group of organizations bugling the retreat, including Exodus 2000, Exodus Project, and the Separation of School and State Alliance. The groups have the backing of several prominent evangelical leaders and even a congressman, Colorado's Tom Tancredo (who serves on the House Education Committee), in calling for an end not just for Christians in public schools, but for public schools in general.
These organizations will never convince the majority of Christians to abandon public education, but they will convince a few that, in the words of Exodus 2000 director E. Ray Moore, "it is simply not possible to save the public school system. We must come out of that corrupt system just as the children of Israel left Egypt for the Promised Land." Unfortunately, these groups have taken the hyperbolic rhetoric conservative Christians have used against public schools to its illogical conclusion. If public schools are as evil as some talk-radio hosts would have us believe, drastic action would be warranted. But the situation is not that dire.
In fact, public schools on the whole are improving—academically, socially, and even religiously—often due to Christian involvement (see "Chicago Hope," p. 74). The Littleton, Colorado, murders may have grabbed headlines, but they belied the fact that school violence and juvenile homicide rates have dropped significantly. Anecdotes of condom distribution and oral sex in middle schools may outrage parents, but they are far more isolated than the opinion columns suggest. (The journal Family Planning Perspectives recently noted that only 2.2 percent of high schools have condom distribution programs, and 80 percent of these require parental consent.) And murky principles about how much religion is allowed in the public classroom have been fleshed out into concrete guidelines culture warriors on both sides have embraced (they are available at www.ed.gov/Speeches/08-1995/religion.html). Though confusion still pops up occasionally in the schools, the guidelines have significantly eased the path to conflict resolution.
Sabotage the system to save it?
That there remains room for improvement in public education is an idea so universally accepted that it hardly needs to be said. But this must be accomplished by continuing to work with educators, administrators, and governments. Simonds disagrees. In his letter, he wrote, "As the Christian influence exits our public schools (both students and teachers), the liberal establishment will get to see first hand [sic] the massive problems that will run completely out of control without Christian influence."
Even if his assertion is true, Simonds's tactic is hardly a Christian method of influencing society. Sabotage the system, he implies, and they'll be sorry they crossed us.
As journalist Ken Sidey, then Christianity Today assistant editor, wrote a decade ago in "The Blackboard Fumble," "Such an argument not only slights the redemptive reach of God's hand, it ignores Christ's command to be 'salt and light' in our society—a segment of society that includes 90 percent of our nation's children."
Some parents understandably bristle at the "salt and light" argument. "That's all well and good," they say, "but my ten-year-old isn't ready to be a missionary right now." It's natural for parents to be afraid that their young children will be more likely to change themselves than their peers and teachers. But the fear does not negate the duty of both parents and students to minister and evangelize.
In fact, public education's greatest asset, the diversity of its student bodies, will help students' evangelism as they grow older. Having grown up with people of various ethnic, social, and religious backgrounds, these believers will know how to relate to non-Christians. Importantly, they will understand that non-Christians are people created in the image of a God who loves them, not monsters out to do Christians in.
It's a lesson some parents—and some of those calling for this exodus—could stand a remedial course in. School reformers aren't out to create promiscuous gay atheists who have trouble fitting in seances between having abortions and shooting up. But one could get that feeling from some of the horror stories passed around evangelical water coolers. There are valid reasons for educating children at home or in private schools, but fear is not one of them. Education decisions should be based on local choices, not stories about events that happened in one classroom in one school 1,000 miles away five years ago.
Fortunately, the call to drain public schools of Christians is a small, marginalized voice. Conservative Christian organizations like the Christian Coalition and Focus on the Family continue to encourage parents to become more involved in their public schools. They know Simonds is wrong. Voices of parents are often listened to in public schools. Our options to better our children's education and the education of all children are not exhausted.
Have something to add about this? See something we missed? Share your feedback here.
Our digital archives are a work in progress. Let us know if corrections need to be made.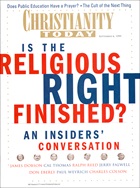 This article is from the September 6 1999 issue.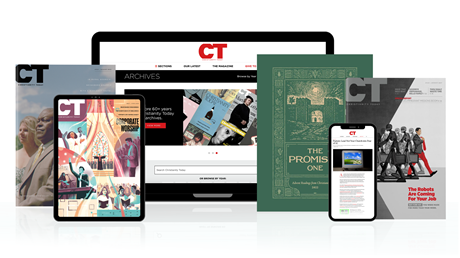 Subscribe to Christianity Today and get access to this article plus 65+ years of archives.
Home delivery of CT magazine
Complete access to articles on ChristianityToday.com
Over 120 years of magazine archives plus full access to all of CT's online archives
Subscribe Now
Stay in School
Stay in School