Zogby International recently conducted a telephone survey on Internet sex for Focus on the Family. One question in particular first struck us as, well, dumb:
"How likely do you think it is to find sexual fulfillment through the Internet?"
Sexual stimulation on the Net? Plenty of that. But sexual fulfillment? Who would look for something that is fundamentally bodily and interpersonal to a medium that is essentially disembodied and impersonal?
But it wasn't such a dumb question. Survey results showed that one in four American men (25.9%) and about one in six women (16.7%) say it is either very or somewhat likely they can find sexual fulfillment online. Nearly one in five Christians (18.68%) gives the same response.
As a society, we're muddleheaded about sex. We need to keep in mind C. S. Lewis's distinction between Eros ("that kind of love which lovers are 'in' ") and Venus (the "animally sexual element within Eros"). "Sexual desire, without Eros, wants. hellip;

the thing in itself

," Lewis wrote. "Eros wants the Beloved."
Sexual fulfillment requires both Venus and Eros. Apart from the intensely interpersonal and mutual experience of Eros, we are alone. And love (even when it can only hope for and anticipate the Beloved) is never fully alone.
The Technology of Temptation
Pornography is a moving target in the Christian fight to keep sex linked to committed interpersonal love. The Internet and cable television have brought the retailing of pornography to the family room. We once lobbied zoning boards to shut down the seedy "adult" bookstore wedged between the convenience store and the Laundromat. Now the adult bookstore inhabits an electronic territory no zoning board can regulate. Christians once pressured the entertainment industry to keep sleaze out of prime time and corporations like 7-Eleven to keep it out of our neighborhoods. But now sleaze is sold by small-cap entrepreneurs who are invulnerable to boycotts and bad publicity.
Porn merchants have been the creative pioneers of e-commerce. They were the first to use shopping-cart technology and credit cards for online payment. They figured out ways to transmit large graphic files despite narrow bandwidth. And they were early adopters of innovations such as streaming video. They also devised ways to disable your browser's "Back" button and to gratuitously open window after salacious window to prevent you from leaving their sites.
The naturally lascivious bent of computer users and the trickery and business sense of the porn merchants have combined to make cybersmut one of the few profitable e-commerce sectors. Online stock trading is the other sector, but its typical profit margins of about 0.2 percent pale next to porn-site profits, which often reach 30 percent. The 1999 revenues of pornographic Web sites were estimated at $1.1-$1.2 billion. Clearly Americans are taking advantage of pornography's new availability. And the numbers are growing, according to a recent U.S. News & World Report article, Nielsen NetRatings for January 2000 showed a 40 percent increase in porn-site traffic compared with four months earlier.
Online Ministry for Online Strugglers
As pornography is increasingly targeted to the private spaces we share with our personal computers, the battle must shift from retailer to consumer and employ a new Christian strategy: an emphasis on ministry to those who are enticed and entrapped by this newest version of "the lust of the eye." Such ministry is appearing in several quarters.
The Christian men's movement, Promise Keepers in particular, has made it acceptable for men to discuss their porn temptations and possible addictions in the context of mutual support, confession, and prayer. The power of such temptation is in secrecy, and shared burdens often bring personal victories.
Focus on the Family has launched a Web-based effort to help those addicted to online pornography ( www.pureintimacy.org). The site offers a self-test to help users determine whether they have become addicted. It offers a variety of essays ranging from singer Clay Crosse's testimony about his struggle with pornography to a help page for struggling Christian leaders. (According to the site, one out of seven calls to the ministry's Pastoral Care Line concerns pornography.) There is even a page to connect spouses of porn abusers with needed resources.
Faithful and True, a 12-stepish ministry to sex addicts and their families, also includes online pornography among its concerns. Its Web site (www.helpandhope.org) includes a helpful list of questions for a Christian sex addict to ask of any potential counselor.
We commend Focus on the Family for committing its considerable resources to this effort, but the anti-pornography cause cannot be limited to national parachurch ministries.
The battle must also be waged locally:
From pulpits, where pastors can highlight the hazards and temptations of porn and the remedies of grace.
In hundreds of thousands of small groups, where people pray and support each other.
In homes, where filtering software can help us "make no provision for the flesh, to gratify its desires."
In the counseling office, where Christian counselors help abusers grow in insight and learn to live free of the bondage of sin.
In the human heart. There, though the technology of temptation may metamorphose, the healing power of grace is unchangingly available to the sin-sick soul.
Related Elsewhere
Focus on the Family's PureIntimacy.org has areas both for those struggling with online pornography and for those who know someone who is.
HelpandHope.org is mainly geared at getting people involved with the Christian Alliance for Sexual Recovery.
Another Focus on the Family site offers a solid overview of how Christians should deal with online pornography.
Christian psychologist Gregory Jantz's book, Hidden Dangers of the Internet, discusses online sexual addiction and how to escape.
iBelieve offers a two-part article with helpful advice for men looking to break free from their addiction to pornography (part 1, part 2).
In Leadership, a Christian leader discussed his struggles with lust.
The Center for On-Line addiction looks at the reasons why some people become snared by cybersex. Jantz's Center for Counseling and Health Resources and The Center for On-Line Addiction deal with online addiction, including addiction to pornography.
In June, U.S. presidential hopeful George W. Bush sat down with ZDNET to discuss his views on cyberspace, including so-called cybersmut. Last fall, Donna Rice Hughes and a former porn star debated the value of cyberporn.
Time magazine's watershed 1995 cover story on cyberporn is still available, as is criticism of its reporting.
The Four Loves, the book in which C.S. Lewis discusses the various types of love, is available at the Christianity Online Bookstore. Other books on the subject of Christians and sex include: The Sexual Man, Sexual Ethics, and False Intimacy.
Yahoo! offers an extensive list of filtering software and filtered Internet service providers.
Previous CT reporting on pornography includes:
Internet Pornography Use Common in many Libraries, Report Says | Librarian-researcher claims American Library Association thwarted study (March 21, 2000)
Christian Singer Shares Struggles with Pornography | Secret sin of Clay Crosse's youth reappears in midst of ministry (Feb. 11, 2000)
Smut Magazine Publishers Convert (April 26, 1999)
Have something to add about this? See something we missed? Share your feedback here.
Our digital archives are a work in progress. Let us know if corrections need to be made.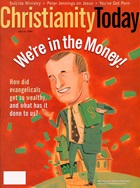 This article is from the June 12 2000 issue.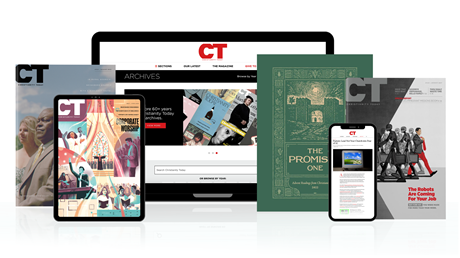 Subscribe to Christianity Today and get access to this article plus 65+ years of archives.
Home delivery of CT magazine
Complete access to articles on ChristianityToday.com
Over 120 years of magazine archives plus full access to all of CT's online archives
Subscribe Now
We've Got Porn
We've Got Porn